Best 1988 Adventures (10)
By: Joshua Glenn
March 29, 2020
One in a series of 10 posts identifying Josh Glenn's favorite 1988 adventure novels.
*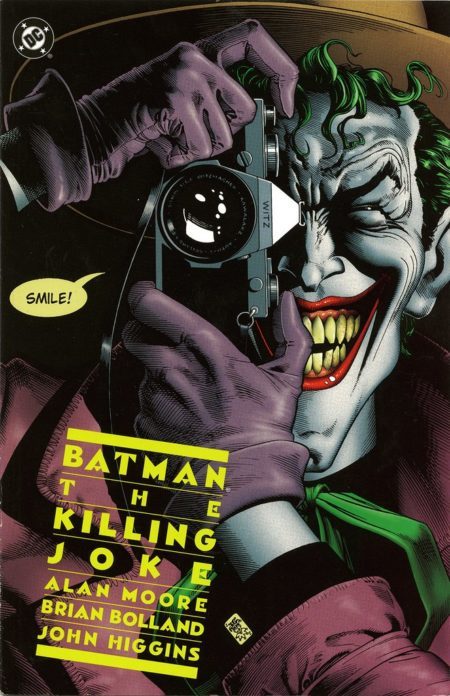 Alan Moore and Brian Bolland's Batman adventure Batman: The Killing Joke.
After Frank Miller rebooted DC's iconic Batman character with The Dark Knight Returns (1986) and Batman: Year One (1987), there was just one question left to answer. If Batman hadn't chosen to find meaning in life — after the random, tragic murder of his parents — by fighting crime, what kind of monster might he have instead become? Alan Moore, who'd fallen out with DC after creating Watchmen (1986–1987), was tempted back the opportunity to explore how Batman and the Joker are, psychologically speaking, "mirror images of each other" (as he'd put it). An unnamed chemical company engineer quits his job to become a stand-up comedian, only to fail miserably. Not only that, his pregnant wife dies in an accident. While participating unwillingly in a burglary at the plant he's frightened by Batman, and jumps into the chemical waste… which bleaches his skin white and dyes his hair green. Years later, the Joker escapes from Arkham Asylum and attempts to prove that anyone could become a monster… by torturing Commissioner Gordon, and crippling Barbara Gordon. Moore's Joker story is a nasty piece of work, hard to stomach, but it has proven influential.
Fun facts: The Killing Joke was awarded an Eisner Award, for best graphic novel of 1988. Tim Burton and Christopher Nolan have acknowledged the graphic novel's influence on their respective Batman movie adaptations; Todd Phillips has stated that the Joker's descent into madness after an unsuccessful career as a stand-up comedian in The Killing Joke helped inspire his 2019 film Joker.
***
JOSH GLENN'S *BEST ADVENTURES* LISTS: BEST 250 ADVENTURES OF THE 20TH CENTURY | 100 BEST OUGHTS ADVENTURES | 100 BEST RADIUM AGE (PROTO-)SCI-FI ADVENTURES | 100 BEST TEENS ADVENTURES | 100 BEST TWENTIES ADVENTURES | 100 BEST THIRTIES ADVENTURES | 75 BEST GOLDEN AGE SCI-FI ADVENTURES | 100 BEST FORTIES ADVENTURES | 100 BEST FIFTIES ADVENTURES | 100 BEST SIXTIES ADVENTURES | 75 BEST NEW WAVE SCI FI ADVENTURES | 100 BEST SEVENTIES ADVENTURES | 100 BEST EIGHTIES ADVENTURES | 75 BEST DIAMOND AGE SCI-FI ADVENTURES | 100 BEST NINETIES ADVENTURES (in progress) | 1994 | 1995 | 1996 | 1997 | 1998 | 1999 | 2000 | 2001 | 2002 | 2003 | NOTES ON 21st-CENTURY ADVENTURES.