Best 1987 Adventures (5)
By: Joshua Glenn
March 6, 2020
One in a series of 10 posts identifying Josh Glenn's favorite 1987 adventure novels.
*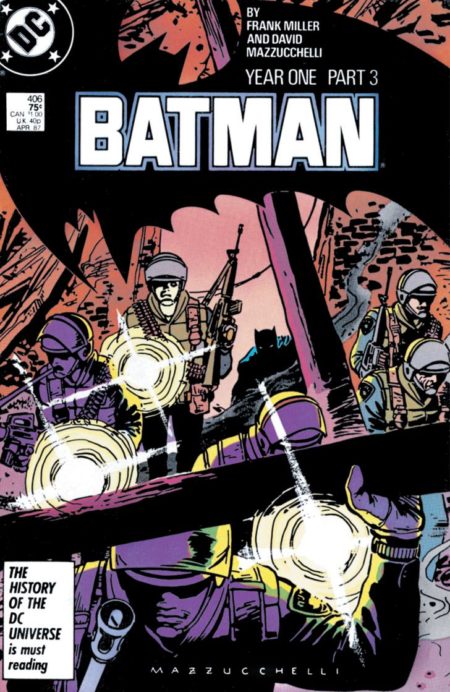 Frank Miller's "Year One" Batman story arc (1987, issues 404–407; illustrated by David Mazzucchelli, colored by Richmond Lewis).
Expanding on Bob Kane and Bill Finger's 1939 Batman origin story, Frank Miller — who in 1986 helped kickstart the grim and gritty "Dark Age" of comics with The Dark Knight Returns — here gives us a startup superhero who hasn't yet got everything figured out. The arc now known as Batman: Year One tells two parallel stories: Bruce Wayne's efforts to reinvent himself as a caped crusader, and James Gordon's struggle to maintain his integrity as a police detective and husband in a corrupt Gotham City. Batman underestimates the criminals he pursues; his costume doesn't work quite right; the cops nearly catch him. Gordon's partner, Detective Flass, assaults an African-American teen for fun; and Gordon's own life is at risk, too. Selina Kyle, pre-Catwoman, is a dominatrix; she doesn't appreciate his meddling in her world, no matter how good his intentions may be. When Batman announces his intention to bring the city's corrupt politicians and crime bosses (including Carmine "The Roman" Falcone) to justice, the police commissioner orders Gordon to bring him in, dead or alive. Mazzucchelli's artwork is gritty, shadowy, exciting.
Fun facts: "Year One" was nearly adapted as a live-action movie by Joss Whedon, Joel Schumacher, and Darren Aronofsky. In the end, Christopher Nolan adopted aspects of Miller's story — including characters like Flass and Falcone — with his 2005 Batman Begins reboot. The second half of the fourth season of the Batman-based TV series Gotham is inspired by "Year One"; and there is also a 2011 animated adaptation of the story.
***
JOSH GLENN'S *BEST ADVENTURES* LISTS: BEST 250 ADVENTURES OF THE 20TH CENTURY | 100 BEST OUGHTS ADVENTURES | 100 BEST RADIUM AGE (PROTO-)SCI-FI ADVENTURES | 100 BEST TEENS ADVENTURES | 100 BEST TWENTIES ADVENTURES | 100 BEST THIRTIES ADVENTURES | 75 BEST GOLDEN AGE SCI-FI ADVENTURES | 100 BEST FORTIES ADVENTURES | 100 BEST FIFTIES ADVENTURES | 100 BEST SIXTIES ADVENTURES | 75 BEST NEW WAVE SCI FI ADVENTURES | 100 BEST SEVENTIES ADVENTURES | 100 BEST EIGHTIES ADVENTURES | 75 BEST DIAMOND AGE SCI-FI ADVENTURES | 100 BEST NINETIES ADVENTURES (in progress) | 1994 | 1995 | 1996 | 1997 | 1998 | 1999 | 2000 | 2001 | 2002 | 2003 | NOTES ON 21st-CENTURY ADVENTURES.