Best 1986 Adventures (7)
By: Joshua Glenn
February 18, 2020
One in a series of 10 posts identifying Josh Glenn's favorite 1986 adventure novels.
*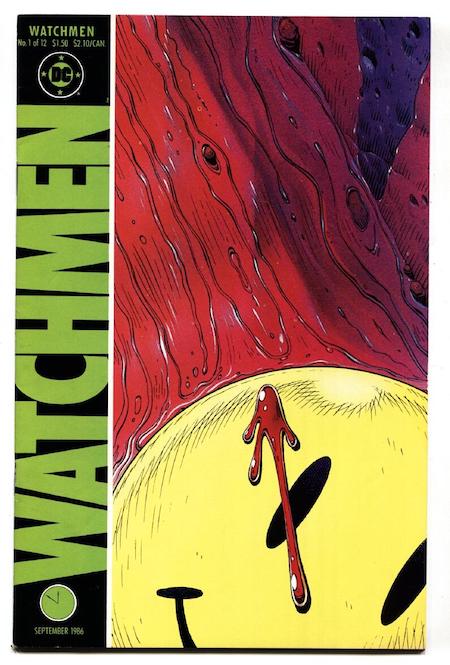 Alan Moore and Dave Gibbons's graphic novel Watchmen (serialized 1986–1987).
In an alternate-history version of the present day, nearly all freelance costumed vigilantes have been outlawed; so the superheroes who'd emerged from the 1940s through the 1960s are now dead or retired. However, when Edward Blake, a right-wing, gun-toting Vietnam vet and paramilitary agent, is murdered, one of his former comrades — the ruthless crime-fighter Rorschach, who is the only remaining active masked vigilante — begins an investigation. Against a backdrop of impending nuclear war between the US and the USSR, Rorshach's efforts bring Nite Owl, Rorschach's former crime-fighting partner, and Silk Spectre. Though flashbacks, we learn the sometimes sordid history of the Minutemen, a 1940s superhero group whose number included Captain Metropolis, the original Silk Spectre, Hooded Justice, the original Nite Owl, Silhouette, Dollar Bill, Mothman, and The Comedian; and we learn about the origin of Dr. Manhattan, the only truly superhuman character in the story — whose godlike powers, and ability to perceive time in a non-linear fashion, causes him to grow increasingly detached from human affairs. Slowly it becomes evident that the former hero known as Ozymandias (Adrian Veidt), known as "the smartest man on the planet," is up to something that may change the course of history… but for better or worse? Moore and Gibbons rely heavily on synchronicity, coincidence, and repeated imagery to create an atmosphere of paranoia, nostalgia, and cosmic awe… and it's also a thrilling mystery. Wow.
Fun facts: Moore's original idea for Watchmen used superhero characters that DC had acquired from Charlton Comics: the two Nite Owl characters were based on two versions of Blue Beetle; Silk Spectre was inspired partially by Nightshade, one of the earliest female superheroes; Ozymandias was inspired by Peter Cannon (aka Thunderbolt), who'd attained "the highest degree of mental and physical perfection"; and Rorschach was based on the Question, a ruthless, faceless character developed by Steve Ditko. Watchmen, which has been called one of the best and most influential graphic novels of all time, was adapted as an OK 2009 Zack Snyder movie. The 2019 Watchmen TV show, created by Damon Lindelof, is pretty great so far.
***
JOSH GLENN'S *BEST ADVENTURES* LISTS: BEST 250 ADVENTURES OF THE 20TH CENTURY | 100 BEST OUGHTS ADVENTURES | 100 BEST RADIUM AGE (PROTO-)SCI-FI ADVENTURES | 100 BEST TEENS ADVENTURES | 100 BEST TWENTIES ADVENTURES | 100 BEST THIRTIES ADVENTURES | 75 BEST GOLDEN AGE SCI-FI ADVENTURES | 100 BEST FORTIES ADVENTURES | 100 BEST FIFTIES ADVENTURES | 100 BEST SIXTIES ADVENTURES | 75 BEST NEW WAVE SCI FI ADVENTURES | 100 BEST SEVENTIES ADVENTURES | 100 BEST EIGHTIES ADVENTURES | 75 BEST DIAMOND AGE SCI-FI ADVENTURES | 100 BEST NINETIES ADVENTURES (in progress) | 1994 | 1995 | 1996 | 1997 | 1998 | 1999 | 2000 | 2001 | 2002 | 2003 | NOTES ON 21st-CENTURY ADVENTURES.