Best 1984 Adventures (10)
By: Joshua Glenn
January 13, 2020
One in a series of 10 posts identifying Josh Glenn's favorite 1984 adventure novels.
*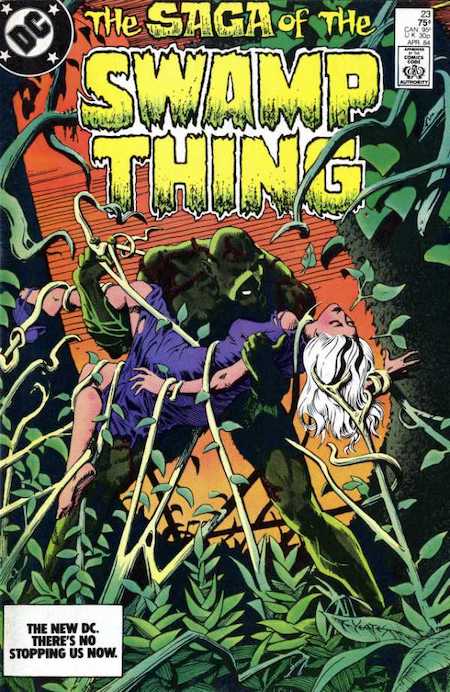 Alan Moore's Saga of the Swamp Thing comic series (1984–1987).
The Swamp Thing — an anthropomorphic mound of vegetable matter, originally a scientist named Alec Holland — first appeared in House of Secrets in 1971, before getting his own series. In 1982, DC Comics revived the moribund series, attempting to capitalize on the Wes Craven film of the same name; however, the series was headed for cancelation when Alan Moore — then a relatively unknown writer for the British comics magazine 2000 AD — was given free rein to revamp the character. Moore's Swamp Thing is not a transformed human, but a monster — albeit one which has absorbed Alec Holland's knowledge, memories, and skills. What's more, this Swamp Thing is the latest in a long line of designated defenders of "the Green," an elemental community connecting all plant life on Earth. Moore's run on the title — the first mainstream comic book series to completely abandon the Comics Code Authority — is a horror story on a semi-mythic level. Swamp Thing Annual #2, during which the Swamp Thing encounters the occult DC characters Deadman, the Phantom Stranger, the Spectre, and Etrigan in the Underworld, is modeled on Dante's Inferno. Moore has a lot of fun, here: Human/plant romance and intercourse; vampires, zombies, and a werewolf; and a crossover with Walt Kelly's Pogo and his swamp-dwelling friends.
Fun facts: In the wake of Moore's run on Swamp Thing and his Watchmen series, the visionary DC editor Karen Berger recruited Neil Gaiman, Dave McKean, Peter Milligan, and Grant Morrison, among other artists later described as the "British Invasion." Characters spun off from Moore's Swamp Thing — e.g., The Sandman, Hellblazer, The Books of Magic — gave rise to DC's Vertigo comic book line.
***
JOSH GLENN'S *BEST ADVENTURES* LISTS: BEST 250 ADVENTURES OF THE 20TH CENTURY | 100 BEST OUGHTS ADVENTURES | 100 BEST RADIUM AGE (PROTO-)SCI-FI ADVENTURES | 100 BEST TEENS ADVENTURES | 100 BEST TWENTIES ADVENTURES | 100 BEST THIRTIES ADVENTURES | 75 BEST GOLDEN AGE SCI-FI ADVENTURES | 100 BEST FORTIES ADVENTURES | 100 BEST FIFTIES ADVENTURES | 100 BEST SIXTIES ADVENTURES | 75 BEST NEW WAVE SCI FI ADVENTURES | 100 BEST SEVENTIES ADVENTURES | 100 BEST EIGHTIES ADVENTURES | 75 BEST DIAMOND AGE SCI-FI ADVENTURES | 100 BEST NINETIES ADVENTURES (in progress) | 1994 | 1995 | 1996 | 1997 | 1998 | 1999 | 2000 | 2001 | 2002 | 2003 | NOTES ON 21st-CENTURY ADVENTURES.