Best 1979 Adventures (8)
By: Joshua Glenn
December 12, 2019
One in a series of 10 posts identifying Josh Glenn's favorite 1979 adventure novels.
*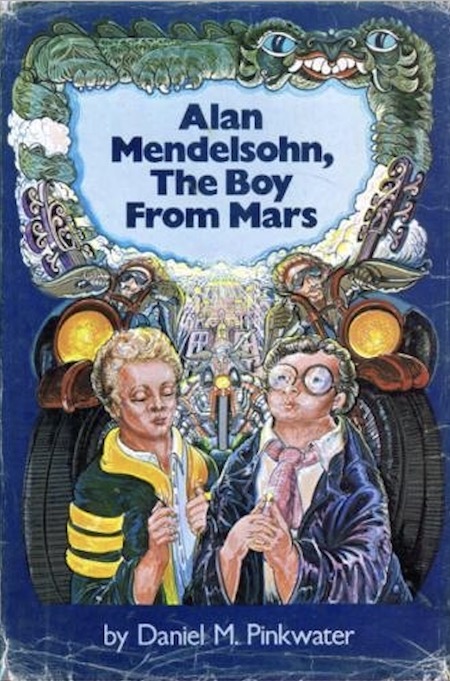 Daniel Pinkwater's YA sci-fi/fantasy adventure Alan Mendelsohn, The Boy from Mars.
The first Pinkwater novel I ever read, and still my favorite. Leonard Neeble is an awkward, nerdy social outcast at Bat Masterson Junior High; his family has moved from the Bronx to the suburbs, where Leonard is miserable. His psychiatrist is worse than useless, his parents and teachers neglectful. So far, so Judy Blume. Then Alan Mendelsohn shows up. Entirely unconcerned about social status, Alan befriends Leonard — and starts a school-wide quarrel when he claims to be a Martian. Both boys are suspended, during which time they explore funky downtown Hogboro, where the owner of an occult bookstore sells them a bogus kit meant to enable telepathy and psychokinesis. Mirabile dictu, Leonard and Alan develop these powers — which they deploy subversively, back at school. Soon, the two are studying lost civilizations such as Atlantis and Lemuria, along with a copy of Yojimbo's Japanese-English Dictionary… which helps them increase their newfound powers. An encounter with Yojimbo himself reveals that the true purpose of his Dictionary is to enable travel to Waka-Waka, a parallel Earth/lost continent… whose inhabitants have fallen under the control of invisible extraterrestrials! I enjoy the whole yarn, as silly as it gets — but particularly the boy's escape from the suburbs, and exploration of Hogboro — with its eccentrics, comic book shop, and Bermuda Triangle Chili Parlor, and overgrown Hergeschleimer's Oriental Gardens. Pinkwater's message: Break free, and things will get better. What kind of adventure is this? A survivalist one: about making it through adolescence.
Fun facts: Pinkwater sets a number of his stories in Hogboro-like neighborhoods reminiscent of Chicago, where he grew up. Also recommended: Lizard Music (1976), Yobgorgle: Mystery Monster of Lake Ontario (1979), and The Snarkout Boys and the Avocado of Death (1982).
***
JOSH GLENN'S *BEST ADVENTURES* LISTS: BEST 250 ADVENTURES OF THE 20TH CENTURY | 100 BEST OUGHTS ADVENTURES | 100 BEST RADIUM AGE (PROTO-)SCI-FI ADVENTURES | 100 BEST TEENS ADVENTURES | 100 BEST TWENTIES ADVENTURES | 100 BEST THIRTIES ADVENTURES | 75 BEST GOLDEN AGE SCI-FI ADVENTURES | 100 BEST FORTIES ADVENTURES | 100 BEST FIFTIES ADVENTURES | 100 BEST SIXTIES ADVENTURES | 75 BEST NEW WAVE SCI FI ADVENTURES | 100 BEST SEVENTIES ADVENTURES | 100 BEST EIGHTIES ADVENTURES | 75 BEST DIAMOND AGE SCI-FI ADVENTURES | 100 BEST NINETIES ADVENTURES (in progress) | 1994 | 1995 | 1996 | 1997 | 1998 | 1999 | 2000 | 2001 | 2002 | 2003 | NOTES ON 21st-CENTURY ADVENTURES.