Best 1959 Adventures (1)
By: Joshua Glenn
September 17, 2019
One in a series of 10 posts identifying Josh Glenn's favorite 1959 adventure novels.
*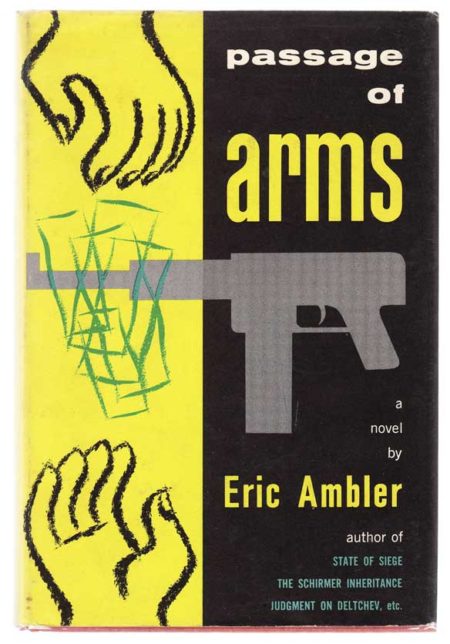 Eric Ambler's Robinsonade/crime adventure Passage of Arms.
At the tail end of the so-called Malayan Emergency — a guerrilla war fought by the Malayan National Liberation Army and the military arm of the Malayan Communist Party — a Tamil plantation clerk discovers a cache of arms abandoned by Communist insurgents in the Malayan jungle. Looking to raise money (in order to start his own local bus service), he collaborates with Chinese brothers — located in Malaya, The Philippines and Singapore — in transferring the arms to Indonesia. When the shipment is held up, en route, a representative of the family offers to pay Greg Nilsen, who runs a small manufacturing company in Baltimore, a handsome fee if he'll travel to Singapore to act as the shipment's bonded recipient. Nilsen and his wife, Dorothy, were on a South China Sea cruise at the time, but he was looking for more excitement. He finds it! Although this is a slow burner, Nilsen will learn more than he ever wanted to know about the shipment of illegal weapons across borders as he encounters Communist agitators, anti-Communist rebels, prison and probable torture on Sumatra. (He's not the quiet American — just a thoughtless, thrill-seeking one — though Graham Greene's novel is referenced, humorously.) I've classified it as a crime adventure, but Passage of Arms has also been described as a travelogue that turns into a horror story; and there's enough here about the Tamil clerk's aspirations to qualify it as an entrepreneurial Robinsonade à la Nevil Shute. The real action takes place in the final third of the book; there is a battle scene which no doubt owes its authenticity to Ambler's wartime service.
Fun facts: Ambler, who'd introduced a new realism to the espionage thriller genre with his 1936–1940 output before enlisting in the British army during WWII, would later often turn to stories involving corporate-political shenanigans in exotic Third World settings. This is the first example the second, post-war phase of Ambler's oeuvre. PS: The book's title is a pun on the 15th-century "passage of arms," a knight's challenge to traveling knights.
***
JOSH GLENN'S *BEST ADVENTURES* LISTS: BEST 250 ADVENTURES OF THE 20TH CENTURY | 100 BEST OUGHTS ADVENTURES | 100 BEST RADIUM AGE (PROTO-)SCI-FI ADVENTURES | 100 BEST TEENS ADVENTURES | 100 BEST TWENTIES ADVENTURES | 100 BEST THIRTIES ADVENTURES | 75 BEST GOLDEN AGE SCI-FI ADVENTURES | 100 BEST FORTIES ADVENTURES | 100 BEST FIFTIES ADVENTURES | 100 BEST SIXTIES ADVENTURES | 75 BEST NEW WAVE SCI FI ADVENTURES | 100 BEST SEVENTIES ADVENTURES | 100 BEST EIGHTIES ADVENTURES | 75 BEST DIAMOND AGE SCI-FI ADVENTURES | 100 BEST NINETIES ADVENTURES (in progress) | 1994 | 1995 | 1996 | 1997 | 1998 | 1999 | 2000 | 2001 | 2002 | 2003 | NOTES ON 21st-CENTURY ADVENTURES.