Best 1954 Adventures (10)
By: Joshua Glenn
September 14, 2019
One in a series of 10 posts identifying Josh Glenn's favorite 1954 adventure novels.
*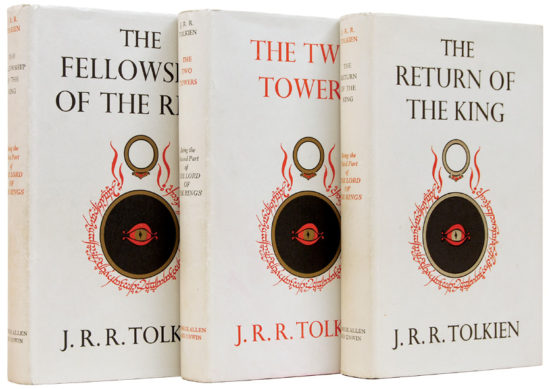 J.R.R. Tolkien's fantasy adventure The Lord of the Rings (w. 1937–1949, p. 1954–1955).
Frodo Baggins, an unassuming hobbit, inherits a magical ring from his uncle, Bilbo; their wizard friend, Gandalf, discovers that it's none other than the One Ring, forged by the Dark Lord Sauron thousands of years ago, and used to corrupt and control the elves, dwarves, and men who wore subsidiary rings of power. Accompanied by his loyal friends Sam, Merry, and Pippin, Frodo carries this terrible artifact to Elrond, one of the most powerful elves remaining in Middle Earth; en route, the hobbits are aided by the immortal Tom Bombadil, and by a mysterious and grim Ranger, Aragorn. Though Frodo is badly wounded by Sauron's Black Riders, who are on the trail of the ring, the hobbits attend the Council of Elrond. It is decided that the ring must be destroyed by casting it into the fire of Mount Doom, in Sauron's far-off and foreboding stronghold, Mordor; Frodo reluctantly but courageously volunteers to carry the ring. Accompanying him are his hobbit friends, Aragorn, Gandalf, Gimli the Dwarf, Legolas the Elf, and the human warrior Boromir. Forced to take a perilous path through the Mines of Moria, they are attacked by a host of orcs and an ancient demon; meanwhile, Boromir begins to desire the ring for himself — so Frodo decides to flee the fellowship. Orcs capture Merry and Pippin, and Aragorn, Gimli and Legolas pursue them. Gandalf rouses the King of Rohan to ride to the ancient fortress of Helm's Deep; tree-people known as Ents lead an attack on the stronghold of a turncoat wizard; Gollum, a twisted hobbit-creature whom we've met before, guides Frodo and Sam via secret paths to Mordor… but leads them into the lair of a giant spider. Epic! I've written about The Return of the King, the rousing final volume of The Lord of the Rings, elsewhere.
Fun facts: This three-part book, which began as a sequel to Tolkien's 1937 fantasy novel The Hobbit, was the final movement of a larger epic on which the author had worked since 1917; it is probably the most influential work of fantasy of the 20th century. Half of the book was adapted by Ralph Bakshi as a creepy animated movie in 1978; it is now a cult classic. Peter Jackson's live action adaptations (2001–2003) were a box-office smash.
***
JOSH GLENN'S *BEST ADVENTURES* LISTS: BEST 250 ADVENTURES OF THE 20TH CENTURY | 100 BEST OUGHTS ADVENTURES | 100 BEST RADIUM AGE (PROTO-)SCI-FI ADVENTURES | 100 BEST TEENS ADVENTURES | 100 BEST TWENTIES ADVENTURES | 100 BEST THIRTIES ADVENTURES | 75 BEST GOLDEN AGE SCI-FI ADVENTURES | 100 BEST FORTIES ADVENTURES | 100 BEST FIFTIES ADVENTURES | 100 BEST SIXTIES ADVENTURES | 75 BEST NEW WAVE SCI FI ADVENTURES | 100 BEST SEVENTIES ADVENTURES | 100 BEST EIGHTIES ADVENTURES | 75 BEST DIAMOND AGE SCI-FI ADVENTURES | 100 BEST NINETIES ADVENTURES (in progress) | 1994 | 1995 | 1996 | 1997 | 1998 | 1999 | 2000 | 2001 | 2002 | 2003 | NOTES ON 21st-CENTURY ADVENTURES.