Best 1939 Adventures (10)
By: Joshua Glenn
July 13, 2019
One in a series of 10 posts identifying Josh Glenn's favorite 1939 adventure novels. Happy 80th anniversary!
*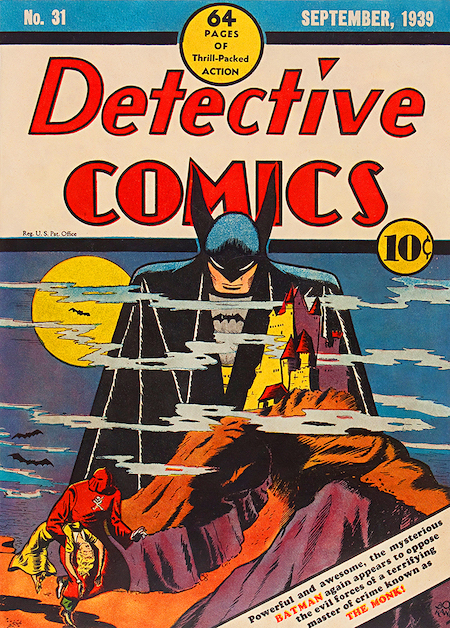 Bob Kane and Bill Finger's Batman comics (serialized in Detective Comics and other titles, 1939–present).
In 1939, Detective Comics Inc., the company that had introduced Superman the year before, was looking for another hit. Drawing on inspirations from Sherlock Holmes and Dick Tracy (brilliant detectives) to the Scarlet Pimpernel, Zorro, and the Gray Seal (seemingly idle, foppish rich men who donned masks when meting out vigilante justice on behalf of the downtrodden) to the Lone Ranger (murdered family), the Phantom (whose costume lent him an aura of fearsome mystery), and the Shadow (a dark knight motivated by revenge), 22-year-old artist Bob Kane and his 21-year-old ghostwriter, Bill Finger, conjured up Bruce Wayne and his costumed alter ego, the Batman, "weird menace to all crime." The character first appeared in Detective Comics #27; the plots of his crudely drawn first stories are drawn from pulps and Poe: Batman knocks a murderous businessman into a vat of acid; Batman torches the laboratory of a mad scientist, Doctor Death; a cowled monk with hypnotic powers (who turns out to be a werewolf-vampire) hypnotizes Wayne's girlfriend and lures her to his Hungarian castle… where he's shot by Batman, whose gun is loaded with silver bullets! Batman's origin story appears in issue 33, as prelude to a particularly lurid sci-fi yarn about a death ray-firing Dirigible of Doom. Robin, one of comics' first teen sidekicks, made his debut in 1940 — a wise-cracking, joyous Watson to Batman's Holmes. Sales doubled. Batman received a solo title, stopped carrying a gun… and one of the most popular comic-book characters of all time was launched.
Fun facts: Amateur comic-book exegetes have done a masterful job of elucidating Kane and Finger's inspirations/plagiarisms: the Shadow story "Partners Of Peril"; "The Grim Joker," a story by the same author; panels from Alex Raymond's Flash Gordon strip; panels from Henry E. Vallely's 1938 Big Little book Gang Busters In Action; the silent movie The Man Who Laughs; and more. PS: The Batmobile, introduced in 1949, redefined and modernized Batman; and the yellow circle around the bat logo on his costume was introduced in 1964.
***
JOSH GLENN'S *BEST ADVENTURES* LISTS: BEST 250 ADVENTURES OF THE 20TH CENTURY | 100 BEST OUGHTS ADVENTURES | 100 BEST RADIUM AGE (PROTO-)SCI-FI ADVENTURES | 100 BEST TEENS ADVENTURES | 100 BEST TWENTIES ADVENTURES | 100 BEST THIRTIES ADVENTURES | 75 BEST GOLDEN AGE SCI-FI ADVENTURES | 100 BEST FORTIES ADVENTURES | 100 BEST FIFTIES ADVENTURES | 100 BEST SIXTIES ADVENTURES | 75 BEST NEW WAVE SCI FI ADVENTURES | 100 BEST SEVENTIES ADVENTURES | 100 BEST EIGHTIES ADVENTURES | 75 BEST DIAMOND AGE SCI-FI ADVENTURES | 100 BEST NINETIES ADVENTURES (in progress) | 1994 | 1995 | 1996 | 1997 | 1998 | 1999 | 2000 | 2001 | 2002 | 2003 | NOTES ON 21st-CENTURY ADVENTURES.