Best 1944 Adventures (9)
By: Joshua Glenn
June 28, 2019
One in a series of 10 posts identifying Josh Glenn's favorite 1944 adventure novels.
*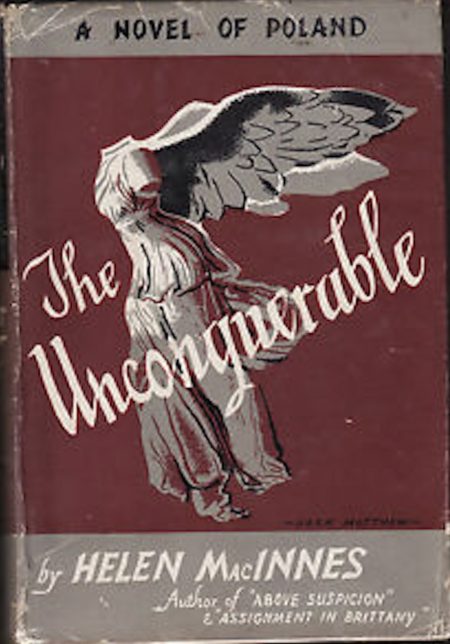 Helen MacInnes's WWII espionage-romance adventure The Unconquerable (aka While We Still Live).
Sheila Matthews, a young British woman, spends the summer of 1939 in Poland — to figure out whether she truly loves her Polish beau, with whose family she's staying. Although she doesn't figure out the answer to that one, she does fall in love with the man's family. So when Germany invades in September, and lays siege to Warsaw — the German occupation would continue until near the end of the war, in 1945 — Sheila sticks around. One comes away with a vivid impression of the seige… and of the valor of the Polish people during it. Once the Germans arrive, Sheila is mistaken for Madalena Koch, a look-alike who (it turns out) is a German agent… and winds up working for the invaders, while passing along secrets to the Polish resistance. Who let her know that her father, who she'd never known, was a Polish spy killed in WWI. Neither side entirely trusts her — so when she is pursued by a German counter-intelligence officer through the forest, Sheila is more or less on her own. There are perhaps too many dramatic conversations and speeches, for many readers' taste, but MacInnes's admiration for Poland's people — and her concern for their plight, as of the time of the novel's writing — is heartwarming. Eventually, Sheila joins a guerrilla group and falls in love; Diane Keaton's "Erno" scenes, in Sleeper, poke fun at this, I think.
Fun facts: MacInnes, who was born in Scotland, immigrated to the United States in 1937, where her husband, Gilbert Highet, taught at Columbia while working as a British intelligence agent. Highet's work for MI6, in addition to MacInnes's research and traveling, made The Unconquerable such an intimate depiction of the Polish resistance that some reviewers thought she was leaking classified information. Serialized at HILOBROW in 2014–2015.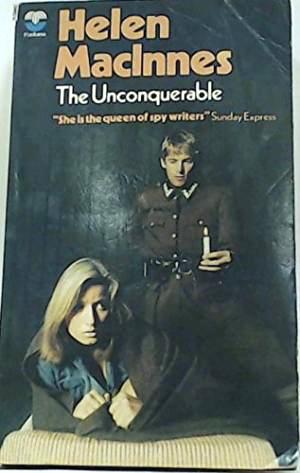 ***
JOSH GLENN'S *BEST ADVENTURES* LISTS: BEST 250 ADVENTURES OF THE 20TH CENTURY | 100 BEST OUGHTS ADVENTURES | 100 BEST RADIUM AGE (PROTO-)SCI-FI ADVENTURES | 100 BEST TEENS ADVENTURES | 100 BEST TWENTIES ADVENTURES | 100 BEST THIRTIES ADVENTURES | 75 BEST GOLDEN AGE SCI-FI ADVENTURES | 100 BEST FORTIES ADVENTURES | 100 BEST FIFTIES ADVENTURES | 100 BEST SIXTIES ADVENTURES | 75 BEST NEW WAVE SCI FI ADVENTURES | 100 BEST SEVENTIES ADVENTURES | 100 BEST EIGHTIES ADVENTURES | 75 BEST DIAMOND AGE SCI-FI ADVENTURES | 100 BEST NINETIES ADVENTURES (in progress) | 1994 | 1995 | 1996 | 1997 | 1998 | 1999 | 2000 | 2001 | 2002 | 2003 | NOTES ON 21st-CENTURY ADVENTURES.