Best 1934 Adventures (10)
By: Joshua Glenn
June 14, 2019
One in a series of 10 posts identifying Josh Glenn's favorite 1934 adventure novels.
*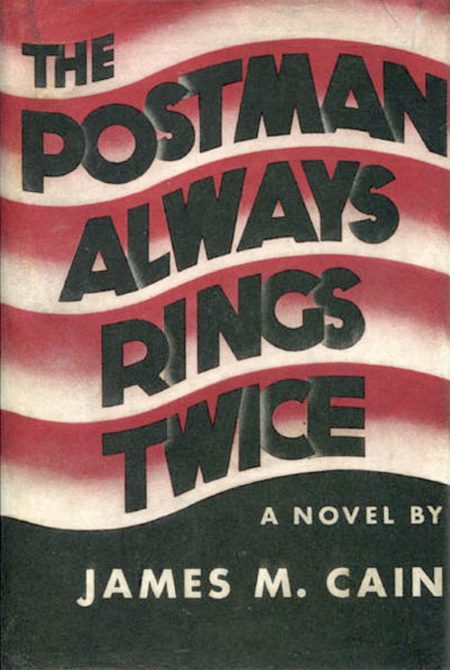 James M. Cain's crime adventure The Postman Always Rings Twice.
When Frank Chambers, a small-time con man looking to go straight, winds up stranded outside of Los Angeles, he accepts a job pumping gas and washing dishes at a roadside filling station and tavern. The proprietor, Nick, is an older Greek immigrant; Nick's wife, Cora, is young and disturbingly sexy. As with Walter and Phyllis in Cain's Double Indemnity (1943), Frank and Cora are a volatile admixture. Alone, neither of them would have contemplated murdering Nick; together, though, they become a murderous duo. Their affair is a torrid one: "Her eye was all black, and her breasts weren't drawn up and pointing up at me, but soft, and spread out in two big pink splotches. She looked like the great grandmother of every whore in the world." Frank wants Cora to run away with him, but she knows she'll just end up working in another greasy spoon. When Nick winds up dead, the local prosecutor suspects that something's fishy, and turns Frank and Cora against one another; however, a clever attorney gets Cora a suspended sentence. Will they live happily ever after?
Fun facts: Writing for HILOBROW, Luc Sante opined: "Cain, who wrote about crime without being a crime writer, was instead a kind of sawed-off Zola, a stranger to mystery." The best movie adaptation of Postman is neither Bob Rafelson's 1981 version (Jack Nicholson and Jessica Lange), nor Tay Garnett's well-known 1946 film noir (Lana Turner and John Garfield), but — according to Sante — Luchino Visconti's unauthorized Ossessione (1943). The novel was banned in Boston.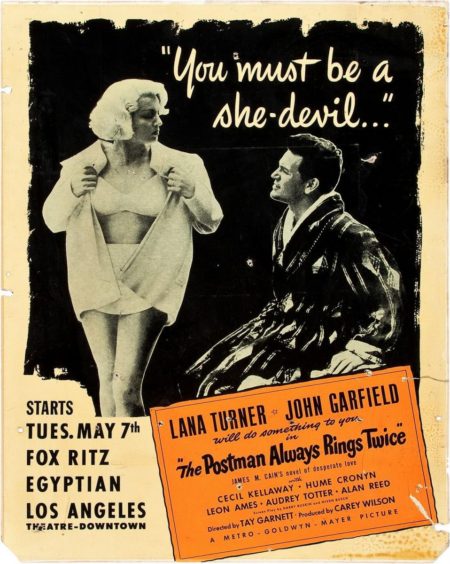 ***
JOSH GLENN'S *BEST ADVENTURES* LISTS: BEST 250 ADVENTURES OF THE 20TH CENTURY | 100 BEST OUGHTS ADVENTURES | 100 BEST RADIUM AGE (PROTO-)SCI-FI ADVENTURES | 100 BEST TEENS ADVENTURES | 100 BEST TWENTIES ADVENTURES | 100 BEST THIRTIES ADVENTURES | 75 BEST GOLDEN AGE SCI-FI ADVENTURES | 100 BEST FORTIES ADVENTURES | 100 BEST FIFTIES ADVENTURES | 100 BEST SIXTIES ADVENTURES | 75 BEST NEW WAVE SCI FI ADVENTURES | 100 BEST SEVENTIES ADVENTURES | 100 BEST EIGHTIES ADVENTURES | 75 BEST DIAMOND AGE SCI-FI ADVENTURES | 100 BEST NINETIES ADVENTURES (in progress) | 1994 | 1995 | 1996 | 1997 | 1998 | 1999 | 2000 | 2001 | 2002 | 2003 | NOTES ON 21st-CENTURY ADVENTURES.