Best 1924 Adventures (2)
By: Joshua Glenn
April 19, 2019
One in a series of 10 posts identifying Josh Glenn's favorite 1924 adventure novels. Happy 95th anniversary!
*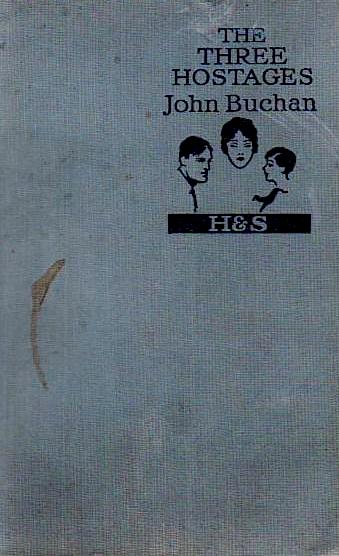 John Buchan's Richard Hannay adventure The Three Hostages.
The first three Hannay adventures — The Thirty-Nine Steps (1915), Greenmantle (1916), and Mr Standfast (1919) — form a trilogy set just before and during the First World War. Along the way, he's acquired as comrades Sandy Arbuthnot, British agent and master of disguise and Mary Lamington, a British agent with whom he falls in love. In this, his fourth outing, Hannay — now living in rural wedded bliss, is called upon to investigate the kidnapping of three young persons. Hannay must infiltrate a diabolical criminal gang, whose leader, Medina, is a master hypnotist seeking to control the disordered minds left over from the war. ("The barriers between the conscious and the subconscious have always been pretty stiff in the average man. But now with the general loosening of screws they are growing shaky and the two worlds are getting mixed. It is like two separate tanks of fluid, where the containing wall has worn into holes, and one is percolating into the other. The result is confusion, and, if the fluids are of a certain character, explosions.") Hannay pretends to be under the mastermind's evil sway — which makes for a somewhat passive narrative, compared with the previous books. Sandy and Mary also go undercover, unbeknownst to Hannay. In the end, there is an exciting hunted-man episode, as Medina stalks Hannay across the craggy Scottish highlands. Marred, alas, by the author's racist attitude towards Jews and blacks.
Fun facts: The excellently named English actress Diana Quick, who portrayed Julia Flyte in the 1981 Brideshead Revisited miniseries, plays the brave, courageous Mary Hannry in the 1977 BBC adaptation of The Three Hostages.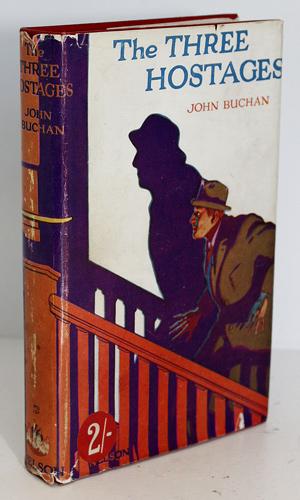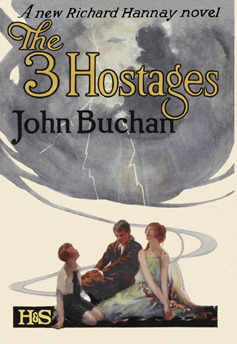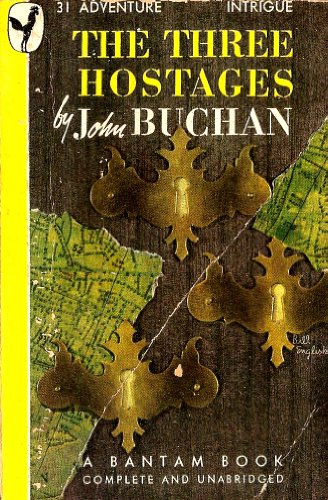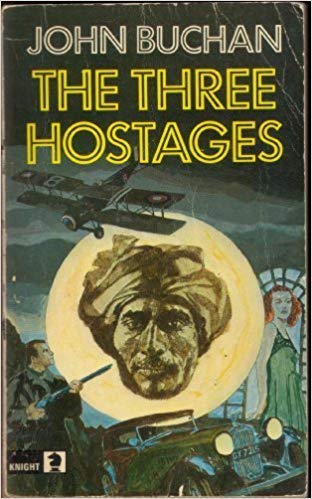 ***
JOSH GLENN'S *BEST ADVENTURES* LISTS: BEST 250 ADVENTURES OF THE 20TH CENTURY | 100 BEST OUGHTS ADVENTURES | 100 BEST RADIUM AGE (PROTO-)SCI-FI ADVENTURES | 100 BEST TEENS ADVENTURES | 100 BEST TWENTIES ADVENTURES | 100 BEST THIRTIES ADVENTURES | 75 BEST GOLDEN AGE SCI-FI ADVENTURES | 100 BEST FORTIES ADVENTURES | 100 BEST FIFTIES ADVENTURES | 100 BEST SIXTIES ADVENTURES | 75 BEST NEW WAVE SCI FI ADVENTURES | 100 BEST SEVENTIES ADVENTURES | 100 BEST EIGHTIES ADVENTURES | 75 BEST DIAMOND AGE SCI-FI ADVENTURES | 100 BEST NINETIES ADVENTURES (in progress) | 1994 | 1995 | 1996 | 1997 | 1998 | 1999 | 2000 | 2001 | 2002 | 2003 | NOTES ON 21st-CENTURY ADVENTURES.