Best 1919 Adventures (8)
By: Joshua Glenn
January 11, 2019
One in a series of 10 posts identifying Josh Glenn's favorite 1919 adventure novels. Happy 100th anniversary!
*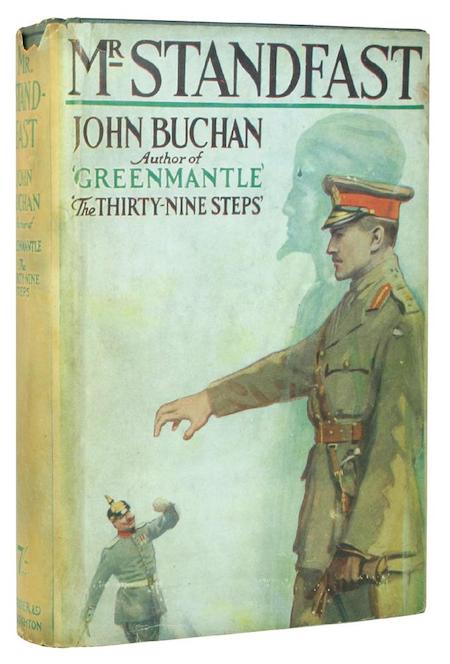 John Buchan's Richard Hannay adventure Mr. Standfast.
In his third outing, Richard Hannay — the unwilling British agent who exposed a German spy ring (in The Thirty-Nine Steps, 1915) and thwarted a German-backed Muslim uprising (in Greenmantle, 1916), is recalled from active service on the Western Front, where he is a Brigadier General, and tasked with raveling around Great Britain in his least likely undercover role yet: a conscientious objector! There's a dangerous German spy at large, an officer of the Imperial Guard who can effortlessly pose as everything from a leading pacifist thinker to a Kansas City journalist; the military-minded Hannay must now infiltrate England's community of bohemian, intellectual pacifists and objectors. The American agent John Blenkiron (from Greenmantle) plays an important role, and the Boer ne'er-do-well and hunter Peter Pienaar becomes an ace pilot — and the book's moral center. Meanwhile, we meet for the first time the brave British agent Mary Lamington — with whom both Hannay and the German spy fall in love; and in Scotland, Hannay runs afoul of Geordie Hamilton, a tough Fusilier who later will become Hannay's personal aide. Another terrific character is the pacifist and mountaineer Launcelot Wake. There are codes to be broken, amazing chase scenes and close shaves, and an eerie chateau near the Western Front!
Fun facts: Buchan's subsequent Richard Hannay novels are The Three Hostages (1924) and The Island of Sheep (1936).
***
JOSH GLENN'S *BEST ADVENTURES* LISTS: BEST 250 ADVENTURES OF THE 20TH CENTURY | 100 BEST OUGHTS ADVENTURES | 100 BEST RADIUM AGE (PROTO-)SCI-FI ADVENTURES | 100 BEST TEENS ADVENTURES | 100 BEST TWENTIES ADVENTURES | 100 BEST THIRTIES ADVENTURES | 75 BEST GOLDEN AGE SCI-FI ADVENTURES | 100 BEST FORTIES ADVENTURES | 100 BEST FIFTIES ADVENTURES | 100 BEST SIXTIES ADVENTURES | 75 BEST NEW WAVE SCI FI ADVENTURES | 100 BEST SEVENTIES ADVENTURES | 100 BEST EIGHTIES ADVENTURES | 75 BEST DIAMOND AGE SCI-FI ADVENTURES | 100 BEST NINETIES ADVENTURES (in progress) | 1994 | 1995 | 1996 | 1997 | 1998 | 1999 | 2000 | 2001 | 2002 | 2003 | NOTES ON 21st-CENTURY ADVENTURES.