THIS: 2400-Year Party People
By: Adam McGovern
September 25, 2017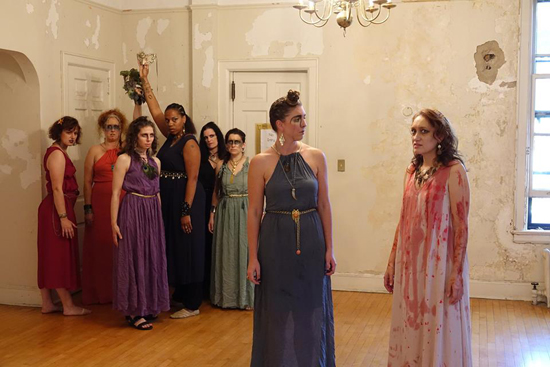 Greek tragedy to me is festivity, release — the psychic arena in which our most dangerous thoughts are sacrificed. Later kings would cast wars as games of chess; today our video avatars do our dying for us — and drones with unreflective eyes do our killing. But in antiquity, we looked straight at our fears. Some of them were things, and people, we shouldn't be afraid of to begin with (or who had real reasons to fear those watching); some were feelings it was foolish to think we could ever extinguish. The Bacchae, freely adapted and liberatingly updated from Euripides' original, follows the persecuted, all female cultists of the god of abandoned barriers, as the paternal state tries to silence them and they find their own unsuppressable strength.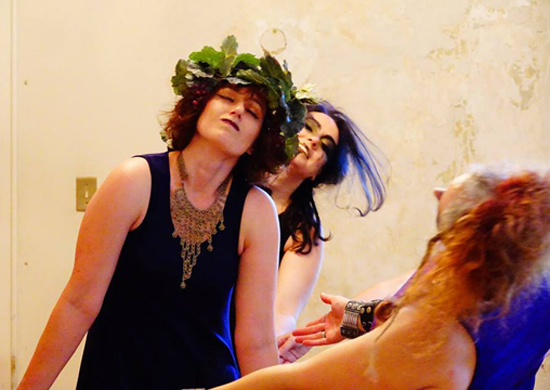 Performed as public ritual, the play starts on the porch and amongst the trees outside an empty 19th-century house at a former military base turned national park; Greek revival in more ways than one. The followers of Dionysus are called to their rites by unearthly operatic invocation (the magisterial one-woman chorus Nicole Lee Aiossa; also the show's composer) and apocalyptic oratory (the confidently crazed Brianna Tyson); inside the house and through its deserted rooms, the open spaces of societal margins and the sealed strongholds of hierarchical thought are conjured by the ensemble, a ritual which invites and implicates all who attend.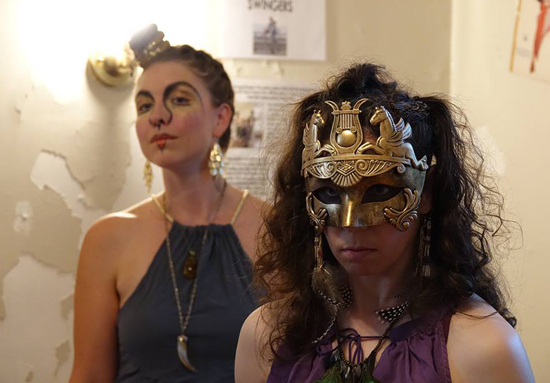 Aiossa and Emily Edwards' choreography taps the joy and attunement of a culture at a much shorter remove from nature than our own, as well as the roots of religious mannerism in seizure and compulsion (at least as it appears to outsiders). The intrigues of the king (a steely, panicked Heather Lee Rogers) and sundry elites (a sagely buffoonish Stephanie Cox-Williams and a wily, blustering Mim Granahan) are another kind of dance; civil clockwork to the Bacchae's communal fervor. The cultists' exaltation of nature (theirs and that around them) rather than worship of cultural command, their self-sustaining rather than male-dependent society, is a threat to the king's authority, so both the Bacchae and even Dionysus him/herself (incarnated with wise hauteur by Rachel Grundy) are jailed and break free time and again, before first an uprising against the monarch and then a disillusioned rejection of the deity.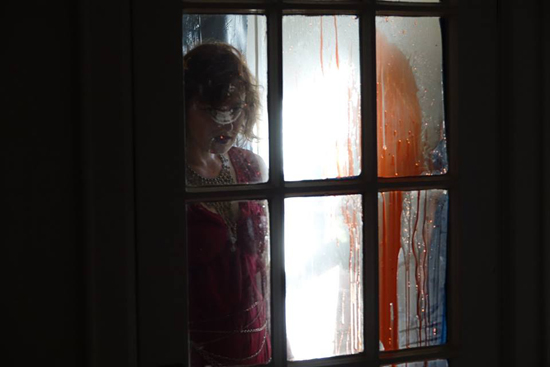 This painful birth of true independence comes at the cost of identification with the violence they've opposed, a sacrifice of self-concept borne with particular weight by the queen-mother (a guignol aria of underplayed hysteria from Jennifer Gill). The mystic voice and unsparing insight of the original play is matched uncannily, and the social point of view repaired expansively, in director Amy Overman's re-reading and new creation of the text (adapted with Rogers and Tyson); the antique, allegorical costuming collects entire worlds around the cast. The edifices of patriarchy are brutal and the truths of human aspiration and contact are raw; this restored classic of European tribal culture rips at the roots of discontent we're even now not high enough to escape being shaken by.
The Bacchae's first (free!) run continues through Oct. 1, 2017; all details here
Photos: Jose Terrero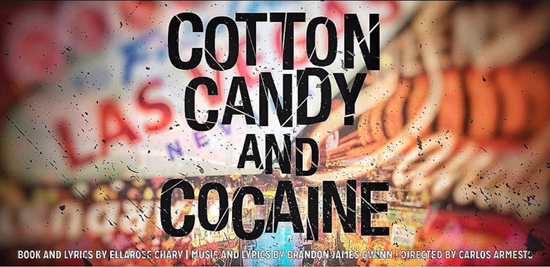 Tides of time have a way of crashing into each other in both directions along human history, and if Brecht had lived to write a Times Square tourist musical, it might be Cotton Candy and Cocaine! by EllaRose Chary (book & lyrics) and Brandon James Gwinn (music & lyrics). Its time has not completely come, since I saw it in a workshop version, or more precisely warehouse version, in the square cavern of Long island City's Plaxall Gallery, immersing the audience in the bars, cafes, casinos, main drags and back alleys of a fictional Vegas vacation development. We're witnesses to the conference-rooms of power and the "stolen streets" of small-scale operators (prostitutes, costume-characters, wait-staff) being squeezed into extinction by another theme-park commercial avenue. Irresistible, imperviously unenlightenable real-estate playa Tad Park (Daniel K. Isaac) is looking to seal the deal for his new urban wonderland while 99-percent picketers try desperately to bring down his towers and his mood; the battle is like the Sharks and the Jets if one were a French monarch and the others were the rabble from Les Mis. The electropop-opera score could credibly be booming out of Tad's clubs, and is a candy glaze on clever wordplay and perceptive manifestos and oral histories of the service economy's modern serfs (especially well delivered by Azudi Onyejekwe as the construction-union loyalist Michael; Courtney Bassett as the embattled low-wage waitress Ashley; and Jose Candelaria as "Minnie," the unauthorized Disney street-mascot trying to be their own person while wavering in and out of dependence on abusers, drugs, and the American daydream of wealth). Cotton Candy and Cocaine! is a circus of dance, sex, spectacle, song and sly critique that in its full form could run in Times Square, Vegas or Branson for ten years — and is too much fun to be run out of town.
Cotton Candy and Cocaine!'s first (sold out!) run concludes Sept. 25, 2017, but all details are here
***
MORE POSTS by ADAM McGOVERN: OFF-TOPIC (2019–2023 monthly) | textshow (2018 quarterly) | PANEL ZERO (comics-related Q&As, 2018 monthly) | THIS: (2016–2017 weekly) | PEOPLE YOU MEET IN HELL, a 5-part series about characters in McGovern's and Paolo Leandri's comic Nightworld | Two IDORU JONES comics by McGovern and Paolo Leandri | BOWIEOLOGY: Celebrating 50 years of Bowie | ODD ABSURDUM: How Felix invented the 21st century self | CROM YOUR ENTHUSIASM: C.L. Moore's JIREL OF JOIRY stories | KERN YOUR ENTHUSIASM: Data 70 | HERC YOUR ENTHUSIASM: "Freedom" | KIRK YOUR ENTHUSIASM: Captain Camelot | KIRB YOUR ENTHUSIASM: Full Fathom Five | A 5-part series on Jack Kirby's Fourth World mythos | Reviews of Annie Nocenti's comics Katana, Catwoman, Klarion, and Green Arrow | The curated series FANCHILD | To see all of Adam's posts, including HiLo Hero items on Lilli Carré, Judy Garland, Wally Wood, and others: CLICK HERE