THIS: Unchanted
By: Adam McGovern
July 31, 2017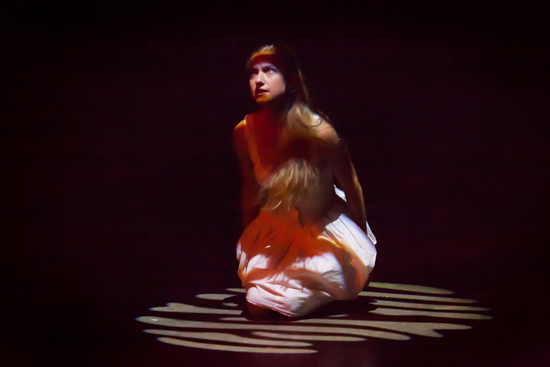 There may be no second acts in public life, but for the inner life, there is no end. Traditional tragedy was about great men and women with a void at their center; when these scenarios were repeated as absurdity in the mid-last century (see: Fellini's 8½), they were more about celebrities who are all roiling, troubled core, with a somewhat indistinct array of accomplishments orbiting around it.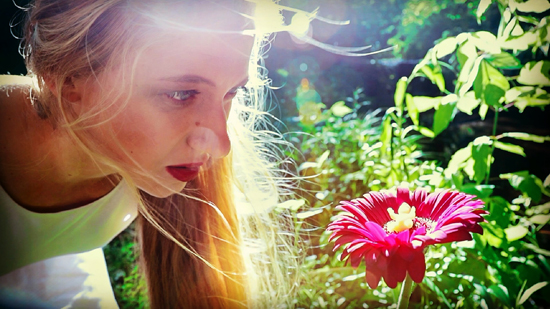 Garden of Delights takes us to the eternal middle of such a saga, at the center of the psyche of mythic yet only broadly outlined actress Lais (Tana Sirois). An orphan, Lais is the tabula rasa of Western identity, at one early point remarking how this absence allowed her to envision all kinds of origins, including famous monarchs as parents, or her Athena-like emergence "from the imaginings of a poet," which of course, she did — Fernando Arrabal, at this point a legend himself for pioneering works of molded consciousness like this one (written in 1968).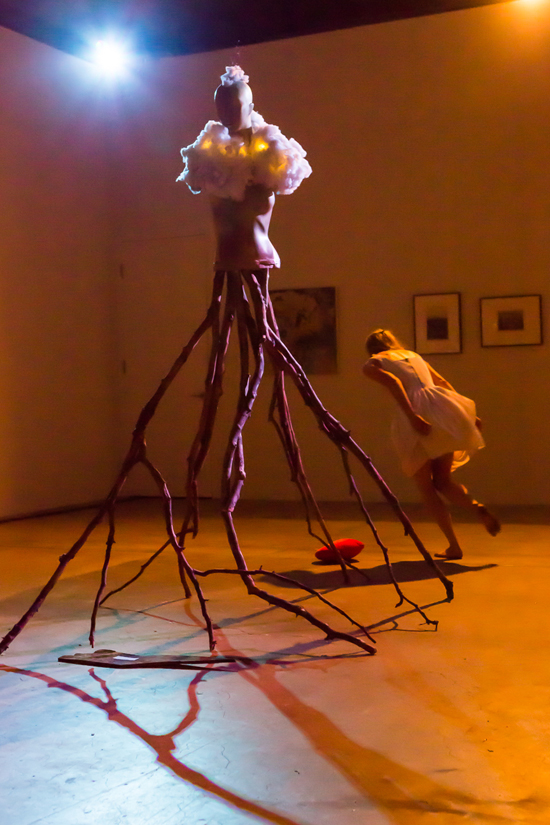 In a feat of rare, cerebral physicality by director Maria Swisher, the play travels trough the cavern of an ex-industrial space in Queens, NY, with the audience called on to change their vantage point from time to time. An accompanying thematic exhibit covers the walls and spills into the action with the totemic sculptures and cotton clouds laced with LED lightning by designer Giannina Gutierrez, which share the space and serve as settings and props for the play. The cumulative avant-carnival feel lets you experience what was happening at modernist "happenings," with zero pretension or Disney-Broadway cheese, though the author and re-imaginers have a wide eye for pop-culture references and a circus-like lack of self-importance and authentic eagerness to please and entertain.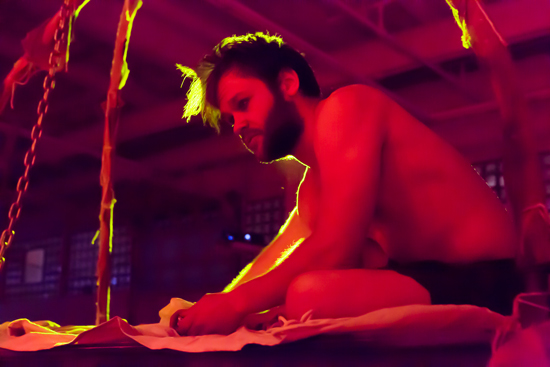 Disney itself is no minor touchpoint in this tale of people who never outgrow their childhood no matter how cramped it gets. Lais is the paragon in the castle, with stardom being the new royalty and the repressive nun-ruled orphanage of her youth standing in for the evil stepsisters. She has escaped to a bigger, shinier cage, where she keeps, in a much less figurative one, a feral manchild (Zenon, played by Adam Giannone) whose care and captivity compels her to be a Howard Hughes-ish recluse. We are never sure (though we likely can be) if every other character is a projection of Lais' scattered psyche, with this mate/hostage embodying the id she's tried to seal off since her guilt-inducing upbringing. Many of the incidents we perceive through Lais' eyes have very different interpretations when we hear them retold by the occasional outsider, as if her self-reproach for hostilities and desires has gone as far as falsifying her own memories to magnify her role in these transgressions (à la Who Is Harry Kellerman or The Criminal Life of Archibaldo de la Cruz), and her lavish mansion is the prison she's sentenced herself to.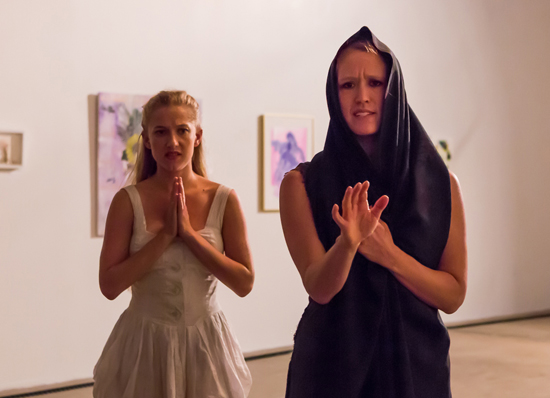 The child-self Lais left behind is incarnated by Miharca (played by Swisher), her best friend in the orphanage and the contrasting personality (or side of Lais) that favors the comfort of the familiar, with all it restraints, to the anxiety of exploration and all its risks. Whether Miharca is holding her back or Lais is abandoning Miharca, or both, is the central faultline of human aspiration whether or not they are intended to be two people or one; and the spirit of that perilous possibility, as refined as Zenon is savage, is Teloc (Olivier Renaud), a pied-piper/imp/satyr figure Lais meets in the wilderness beyond the orphanage walls. He is the Faustian presence through which she effects her escape and ascension to worldwide fame (and also its alternate form of seclusion).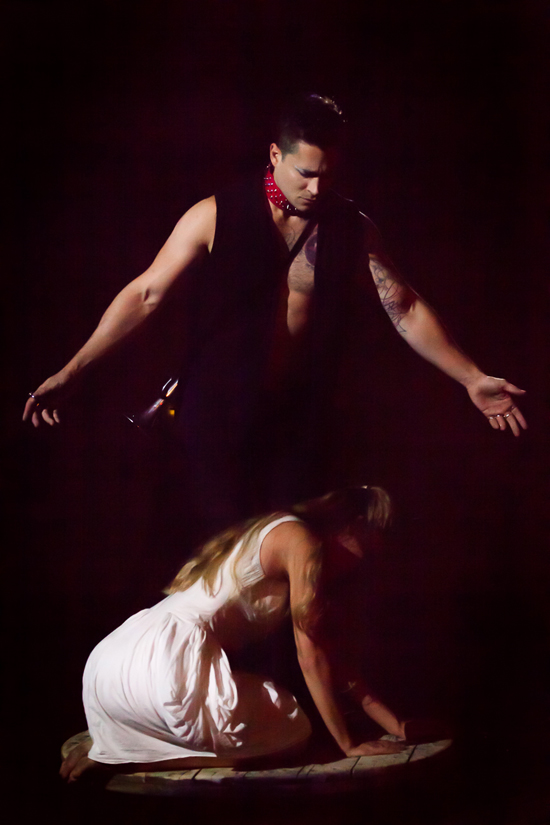 Though he's not too refined — Arrabal and Swisher's shared penchant for dream-vérité counters every deep-rooted tragedy and trauma with the trivial preoccupations that lurk right next to them in the subconscious, as in a memorable duet in which Lais' sublimely vocalized "Ave Maria" is accompanied by Teloc's virtuosic farts.
Renaud maintains utter self-seriousness during this scene, and he and Sirois have a particular weight to carry in seeming realistic through completely surreal circumstances. In Renaud's case, this is to stay just a bit more imposing than he is ridiculous (as the trickster figure this is no small task, but Renaud has a gift of commanding camp that is way beyond the sum of Freddie Mercury and Tim Curry); in Sirois', to remain the innocent no matter how dangerous her situations or damaging her behavior (and she fills out Lais' humanity by putting total trust in the text, each word of which Lais believes too, investing the Alice-in-Wonderland observations with magnetic, in-the-moment suspense and empathy).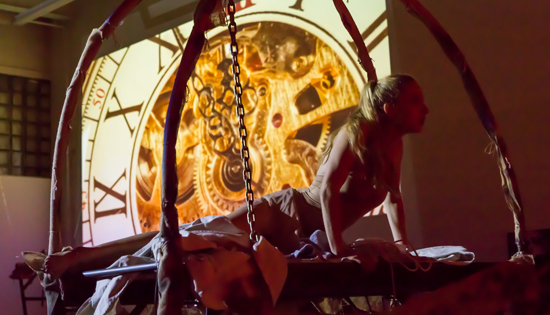 This is how the mood can modulate from farce to ordeal without ever being frivolous or grueling — Giannone's primal pain is fearsome to behold and familiar from almost anyone's troubled childhood or worst relationship; Swisher's single-minded resentments as Miharca, strangling every better impulse in her personality, are what we all keep from seeping through the cracks of our civilized psyches.
A Red Shoes-like, strobe-lit ballet-seizure by Sirois, followed by a dance duet of desperate grasping and mutual collapse between her and Renaud, are kinetic paintings of pure tragedy; in contrast, the bizarre love-quadrangle of the play's second half seems a demonic send-up of daytime soaps with plots twisted by Agatha Christie, and Teloc's cartoonish lusts undermine the seductions of the subject-matter in a way that could make Mr. Grey safe for Saturday-morning TV.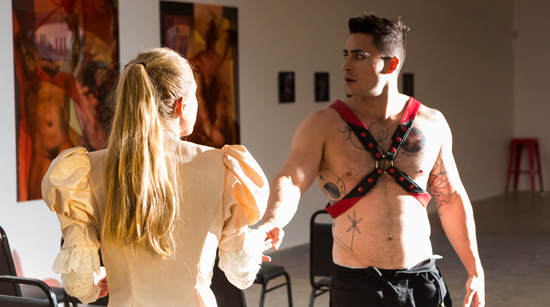 The clashes and coordination with a well-chosen kaleidoscope of video images is inspired, as is the full use of everything from old-school overhead-projector to model-train technology (you'll hafta be there). The troupe of Edward Gorey sex-dungeon guides, leading the audience from site to site and occasionally trampling through the action, are fine demigods-ex-machina, especially when painter-by-day (and extensive contributor to the accompanying artshow) Yelena Tylkina does a walk-on (lurch-on) as a Bergmanesque bummer-spirit in crow mask, funeral showgirl feathers and dragged-along vintage rocking-horse. And then the end comes on a note of childish euphoria that disclaims mass-culture's enforced happiness while feeling like a relievingly lightened-up version of the finale from Bowie & Walsh's Lazarus.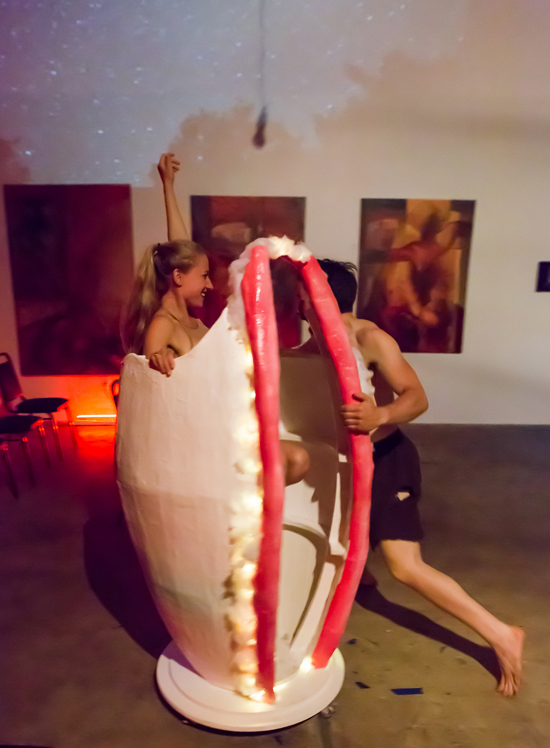 Sirois gives a performance of superhuman intensity and deceptive ease, keeping Lais the center of attention in ways the character never foresaw. But we neither get to truly know the heroine, nor can we possibly separate ourselves from the wavering path of all-too-recognizable decisions she takes. In this fairytale, there are no walls, and the mirror is turned toward us.
The current run of Garden of Delights continues through August 13, 2017 at The Plaxall Gallery, Long Island City, NY; details here.
Photos: Mikiodo (www.mikiodo.com)
***
MORE POSTS by ADAM McGOVERN: OFF-TOPIC (2019–2023 monthly) | textshow (2018 quarterly) | PANEL ZERO (comics-related Q&As, 2018 monthly) | THIS: (2016–2017 weekly) | PEOPLE YOU MEET IN HELL, a 5-part series about characters in McGovern's and Paolo Leandri's comic Nightworld | Two IDORU JONES comics by McGovern and Paolo Leandri | BOWIEOLOGY: Celebrating 50 years of Bowie | ODD ABSURDUM: How Felix invented the 21st century self | CROM YOUR ENTHUSIASM: C.L. Moore's JIREL OF JOIRY stories | KERN YOUR ENTHUSIASM: Data 70 | HERC YOUR ENTHUSIASM: "Freedom" | KIRK YOUR ENTHUSIASM: Captain Camelot | KIRB YOUR ENTHUSIASM: Full Fathom Five | A 5-part series on Jack Kirby's Fourth World mythos | Reviews of Annie Nocenti's comics Katana, Catwoman, Klarion, and Green Arrow | The curated series FANCHILD | To see all of Adam's posts, including HiLo Hero items on Lilli Carré, Judy Garland, Wally Wood, and others: CLICK HERE