THIS: Alice, alas, at-last
By: Adam McGovern
May 22, 2017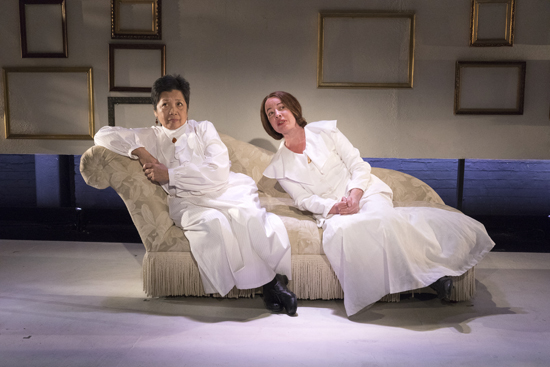 I told myself I wouldn't write more about my wife. Not premise my impressions of art, of life, in the frame of loss. Fill that frame in, like her own canvases, instead. The Marriage of Alice B. Toklas by Gertrude Stein put me in mind of it again. Toward the end of her life on Earth, Lynn would sometimes refer to herself as "she" rather than "I," as if she was speaking in the moment while her higher self was observing from the near future, or more precisely, the encircling astral plane. A frame within a frame, reverberating outward. Empty frames to be filled by living memory were a theme of a memorial installation I did later, and happen to adorn the back wall of The Marriage of Alice B. Toklas. These stand in for actual canvases by Picasso and others of Stein and Toklas' circle; narrating much of the play, Stein is conscious and contemplative of the shell she will leave behind, and the bubble of fame that has already expanded beyond her. Through sheer will and wisdom she seems to be witnessing her story from after its end, but with not all details filled in, or desired. Her koan-like inquiries, her serial needle-skips of phonetics and meaning, are an eternal asking, not an arbitrary resolving. It befits her purported final utterance, "What is the answer? Very well then, what is the question?" Which is where the story starts for Edward Einhorn. The Marriage of Alice B. Toklas by Gertrude Stein is by him, frames within frames, and all its characters, who were real people, announce their artifice throughout the play, noting which person they are pretending to be, including the one they are.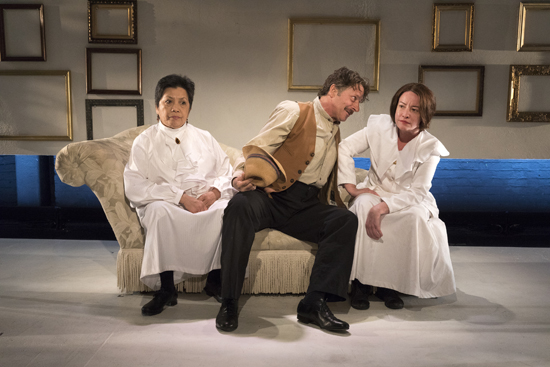 The play is a reverberant phantom of scenes we can fill in between the specifics and impressions left behind on paper and canvas and photo and memory (themselves solidified apparitions) by the participants, like the radio-remnants of Caesar's and Jefferson's voices said to be drifting past faroff stars. We feel it is running eternally somewhere, circling itself, as Ernest Hemingway foresees his own as-yet undecided-on suicide and Pablo Picasso prophecies the future artists who will cultivate the seeds of his ideas and Stein and Toklas concentrate on the core of their present existence and their projected legend.
Hemingway and Picasso orbit and never quite touch down into their own lives; Stein and Toklas are the private, genuine women behind curtains of their own making and society's. The men feel obligated to a greatness which is illusory and imbalanced; the women insist on an ordinariness that won't be accepted until generations after them (if then, if now).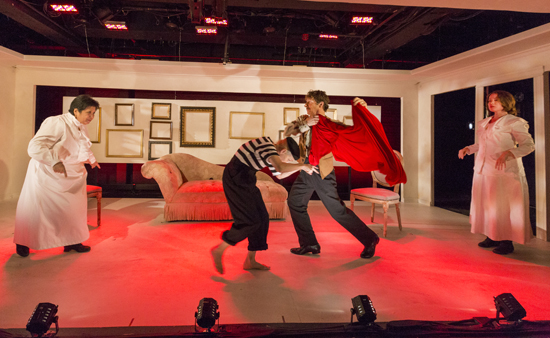 Stein is the eye of this storm, played with magisterial humility by Mia Katigbak. She is the oracular center on which her coterie of geniuses base their self-attention. This whirlwind is largely populated by two other actors, Grant Neale and Jan Leslie Harding, who in addition to incarnating Hemingway and Picasso respectively, run through a demonic-possession vaudeville of Beckett and Elliot and Thornton Wilder and Ezra Pound and Sylvia Beach to name a fraction and their sundry spouses and lovers. Toklas is the under-noticed, uncommonly observant afterthought of these great thinkers, played with antic whimsy and monumental contained suffering by Alyssa Simon, whose precision yet unpredictability is one of the wonders of indie theatre. Within and around Simon, Toklas is playing at least a dual role as herself, showing the rest of the cast the cheery surface they expect of her while revealing to us her worries and wounds and the warnings and welcomes of her dreams. Neale as Hemingway is a self-satire tottering on the precipice of tragedy, a tour de force of tortured élan; Harding as Picasso and everybody else is a genius of self-importance and shtick painted thinly over remorse and ambivalence; she's all five Marx Bothers and a funeral. And Katigbak is quietly titanic as Stein, a masterwork of grandeur without pretension, which is how this paragraph started, but she bears repeating.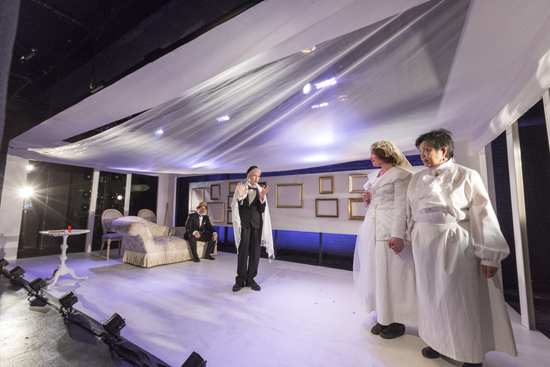 Hemingway at one point blurts a soliloquy about the terror of outliving your beloved, countered by a mantra of Toklas' about the endless breadth of the love you give and receive while living; both are as close to a gospel of my own survival as I can bring myself. Toklas speaks later with exquisite melancholy about the fictionality, in conventional society's eyes, of the marriage we see realized in this play; a story that will not begin to come true until long after her's and her true spouse's has ended. At the end of Einhorn's story of them, the frames come down, with one left behind. Picasso famously painted Stein's face from memory, when she was away from the studio; it wells up as a projection inside this one frame, put there in light, immaterial, indestructible. Not all love stories are ghost stories, some are grace stories, and lay your soul to rest.
The Marriage of Alice B. Toklas by Gertrude Stein continues until it ends at HERE Arts Center in Greenwich Village, NYC; details at this place.
Photos: Richard Termine
***
MORE POSTS by ADAM McGOVERN: OFF-TOPIC (2019–2022 monthly) | textshow (2018 quarterly) | PANEL ZERO (comics-related Q&As, 2018 monthly) | THIS: (2016–2017 weekly) | PEOPLE YOU MEET IN HELL, a 5-part series about characters in McGovern's and Paolo Leandri's comic Nightworld | Two IDORU JONES comics by McGovern and Paolo Leandri | BOWIEOLOGY: Celebrating 50 years of Bowie | ODD ABSURDUM: How Felix invented the 21st century self | CROM YOUR ENTHUSIASM: C.L. Moore's JIREL OF JOIRY stories | KERN YOUR ENTHUSIASM: Data 70 | HERC YOUR ENTHUSIASM: "Freedom" | KIRK YOUR ENTHUSIASM: Captain Camelot | KIRB YOUR ENTHUSIASM: Full Fathom Five | A 5-part series on Jack Kirby's Fourth World mythos | Reviews of Annie Nocenti's comics Katana, Catwoman, Klarion, and Green Arrow | The curated series FANCHILD | To see all of Adam's posts, including HiLo Hero items on Lilli Carré, Judy Garland, Wally Wood, and others: CLICK HERE