THIS: Black Tie Entrails
By: Adam McGovern
April 10, 2017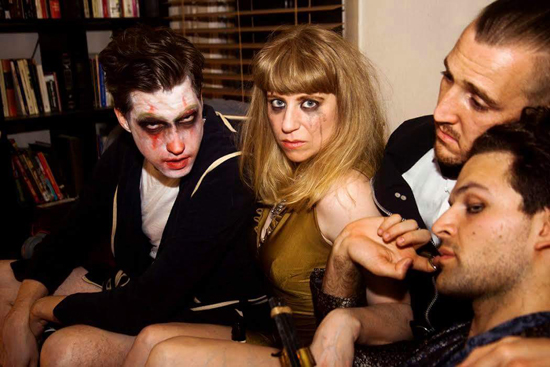 In the elevator after the show, someone asked Jenny Harder if that was really her last name; fair enough, since it only does approximate justice to the hardest-working woman in several genres of fringe theatrics. When I myself first met Harder, I hadn't realized there was only one of her; the trumpeter in neo-powerpop band Supermajor had in fact been seen in the same place as the comic actress I'd enjoyed in many productions, and this was even before her long stretch in the cast-of-hundreds mardi-gras ensemble Hungry March Band and her world-tour as a frontliner with Gypsy-punk juggernaut Gogol Bordello. Since then she's taken over more new and lost worlds as neo-Vaudevillian, internet-radio personality, and sought-after guest-star in any number of deeper-than-downtown storytelling, cabaret-hosting, and variety-show shenanigans.
On the night in question I was at a cozy theatre just over the edge of Broadway to see the first incarnation of Harder's adaptation of the bacchanalian classic The Wild Party (1928) by Joseph Moncure March, rebranded as The Wild Party's Over and acting out March's book-length verse with a demimonde greatest-hits playlist interspersed. The past needs to flash before our eyes at the speed of shorter attention-spans these days, so the text is condensed to three of its central characters (stage-dancer Queenie; her brutal beau, a professional clown named Burrs; and Burrs' rival for her affections, Mr. Black), as well as a more in-the-wings one, Jackie, the faintly demonic dandy.
The quartet become their own entertainment and audience, reciting, trading off and dancing to the lurid, murder-ballad libretto and punctuating this acted-out life as a four-piece band with a foxtrot "Heart of Glass," an opium-den "Venus in Furs," a folk-shred "Fashion" and a grand finale of Pulp's "This Is Hardcore." The cast poses like the title-card for a rockstar-brat reality show for a hilarious half-second at beginning and end (the second time worse-for-wear, but ready to pop back up like the next round in a shooting gallery), and are dressed in a slim-spectrum wardrobe from flapper to punk to Dorian Gray/funeral-director. The minimal set backdrops itself with two white-space screens in which shadows at times play out a parallel narrative, and the corporeal cast flickers in its Jazz-Age/No-Future netherworld vividly.
Harder is omni-talented and irresistibly disastrous as Queenie; Stephen Heskett brings real menace to Burrs, matching walking-dead body-language to his killer-clown makeup-mask; Charley Layton radiates celeb self-importance (and can't conceal his real-life musical genius) as Mr. Black; and Natti Vogel, as Jackie, becomes the MC/Greek-chorus/jester/mastermind, narrating and serially invading the action, driving the storyline on piano as in some deranged Movin' Out, and seducing all viewers as much as the manipulated characters. Vogel's own composition, "Barracuda," is a sinisterly sublime showstopper, and it fits since, as he told me afterward, the show's whole setlist is at once about "lust and sadness"; "he's enjoying this more than the players," Vogel said of Jackie, and he tried to deliver the lines which open the tale of Queenie "like she was a dead person."
I spoke at greater length with Harder, in the midst of her own multiple lives: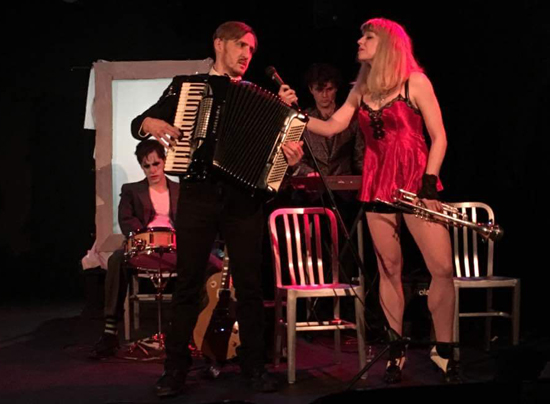 HARDER: This began as a one-woman show, but then I realized I only play trumpet, and this is also a love-triangle, and I'm not Anna Deavere Smith. [laughs] It started off that I like the poem, a lot, and of course, I'm a blonde, and I'm in Vaudeville, and I've had a string of nasty ex-boyfriends kinda like… sadistic, evil, alcoholic, abusive clowns, I went through that phase. And then… I get these little vignettes in my head, like music videos that I wanna do onstage. And the last song we do, "This is Hardcore" by Pulp, I had been wanting to do that since around February of 2014, and I'd reached out to other performing artists to maybe do it, and everybody just thought, "that's a lot of work, for not a lot of payoff," and I was like, well, it's burning inside my head. Maybe there's a life after this short run of three shows, we could do it as a weekly thing, at a nightclub… like a Rocky Horror Show, everybody comes and dresses up and has a good time — I dunno, "immersive" is so overdone, but maybe?
HILOBROW: There's a kind of built-in immersiveness in the way you have this outside bard figure, in Jackie…
HARDER: Oh yeah, deus ex machina; I always felt that I wanted Jackie to take the role of the two piano players — the character of Jackie does play piano, but not in the poem —
HILOBROW: In the poem, he plays the piano-players!
HARDER: I wanted him to be the puppet-master. Because, I got the grant to do this show, and then the political climate changed and I thought, "Why the HELL did I say I was gonna do a show about these people who are selfish, and destructive, and they don't care about anything except themselves and a good time," so I sat on it for a long time, for nine months, until I started really working on it —
HILOBROW: Nine months is appropriate!
HARDER: Omygod, yeah!
HILOBROW: [In whiny clinic-protestor voice] "WEEE love your baby!" So I'm glad you went through with it…
HARDER: But then I realized, if I tell the story like it's a fucked-up morality play — which it kind of is — like, "Wake up, or you're just gonna have a terrible Groundhog Day of this repeating itself over and over."
HILOBROW: Do you think the writer looked down on the characters though, or admired them?
HARDER: I think they were all of his friends, and probably a little bit of himself. William S. Burroughs said that that poem was what made him want to be a writer; so it's just dripping with drugs and sex and violence, and insanity, and no-good, and people who are just blind to their faults, so they live them out in a black hole.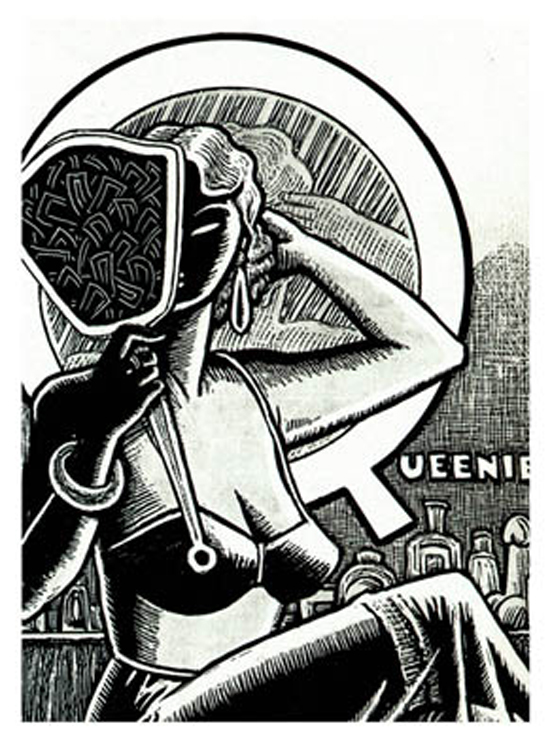 HILOBROW: It resonated with me how you described Jackie as the puppet-master, because there's that one scene where Queenie hatches her plot which, in the verse, is her idea, but in the staging, is spoken by him behind her back like someone else's lightbulb going off…this sense of the characters being in a scripted destiny…
HARDER: Chris Rozzi, who's the director — [in musical cadence] phenomenal! — it was his idea to get a narrator, and Natti Vogel jumped right in and said "Oh, I'll do it," and then I was like, "Oh, it's Jackie" — I thought he was gonna be that kind of character in just "This is Hardcore," but then I realized that, "Oh, we have a through-line all of sudden, folks!"
HILOBROW: I guess Jackie is the closest thing to a stable character in that narrative…
HARDER: Much like in any of those stories where the gods are messing with your world, I think at the end of the story, he just goes home and goes to bed; because his work is done until tomorrow. We [the other characters], much like Westworld; we are like, dead, we need to get rebuilt before we wake up from our blackout, and do it all again, not realizing what happened; but Jackie, he was only sipping the booze —
HILOBROW: He's like the imp at the end of the Red Shoes movie…
HARDER: Um-hm.
[Jenny is called away to move some scenery, and re-emerges with what everyone onstage was sipping or guzzling; some brand of "soda water" with a vintage, micro-brewery-ish label, which she assures me she got at suburban product-warehouse Big Lots.]
HILOBROW: Wow — artisanal, small-batch seltzer!
HARDER: Small-batch, BIG Lots. [laughter]
HILOBROW: I'd never heard this text spoken, and was fascinated by the Shakespearean weight this frivolous verse can take on.
HARDER: Like I said, a fucked-up morality play; it's everyman, and woman, who's not, what do the kids say today, "woke AF"? Nope, they're not woke; these characters didn't even vote, let alone who did they vote for; they didn't even get out of bed, they were hungover until it was time to do their show at 11 o'clock at night. [laughs] I originally wanted to set it in 1979, CBGB style; I wanted it to be Sid and Nancy, and Billy Idol, and David Bowie; and I realized I didn't have the budget or the time to do the research. One of those years, that was the most violent summer in New York City history…
HILOBROW: You kept their soundtrack, though. 'Cuz even Jarvis Cocker fits in that crowd.
HARDER: In a way. It's just an iconic song; the first time I visited London, was in…'98? And it was with a symphony orchestra, the Flint Youth Symphony Orchestra, and that album was coming out soon. And the image of like this dead, or just severely blacked-out, sex-doll type woman on the cover was just everywhere, and so evocative, that one of the trumpet-player guys was just, "I don't know WHAT that is, but I have to buy it." [laughs]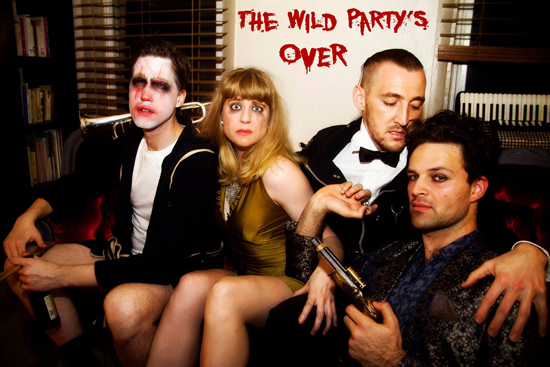 HILOBROW: It interests me that this show had its roots in an aspirational music-video, since there were certain points at which it seems like the whole reality of the story is taken over by some off-the-rack media reference, like the final time Queenie is dancing with Black, it's like straight outta some '80s dancefloor-romance montage.
HARDER: [Laughs] Absolutely, especially when he comes into the song "Fashion," it's very Dirty Dancing, very "let's break out in song and then go right back into the story." I did write a few of the lines myself, like "There were others of course/A dozen or so/Enough for the cast of an off-Broadway show." [laughter]
HILOBROW: Shadows are like a supporting cast in the poem…
HARDER: Candlelight is huge in that poem, I have the Art Spiegelman illustrated version, and shadows and art deco and the noir aspect are just huge; but you can't have candles in the theatre…
HILOBROW: The screens really make that statement, though.
HARDER: Chris Rozzi really fought for those screens; I actually cut the screens twice, freaking out as a producer, saying, "We need to focus on the acting," but Chris was like, "No. I'll handle the shadows." And it worked.
The Wild Party's Over ain't over 'til April 20, and is destined to start again; details here.
Photos/images (top to bottom): Sasha Sumner, Linus Gelber, Art Spiegelman, Linus Gelber.
***
MORE POSTS by ADAM McGOVERN: OFF-TOPIC (2019–2022 monthly) | textshow (2018 quarterly) | PANEL ZERO (comics-related Q&As, 2018 monthly) | THIS: (2016–2017 weekly) | PEOPLE YOU MEET IN HELL, a 5-part series about characters in McGovern's and Paolo Leandri's comic Nightworld | Two IDORU JONES comics by McGovern and Paolo Leandri | BOWIEOLOGY: Celebrating 50 years of Bowie | ODD ABSURDUM: How Felix invented the 21st century self | CROM YOUR ENTHUSIASM: C.L. Moore's JIREL OF JOIRY stories | KERN YOUR ENTHUSIASM: Data 70 | HERC YOUR ENTHUSIASM: "Freedom" | KIRK YOUR ENTHUSIASM: Captain Camelot | KIRB YOUR ENTHUSIASM: Full Fathom Five | A 5-part series on Jack Kirby's Fourth World mythos | Reviews of Annie Nocenti's comics Katana, Catwoman, Klarion, and Green Arrow | The curated series FANCHILD | To see all of Adam's posts, including HiLo Hero items on Lilli Carré, Judy Garland, Wally Wood, and others: CLICK HERE