THIS: One Year
By: Adam McGovern
January 16, 2017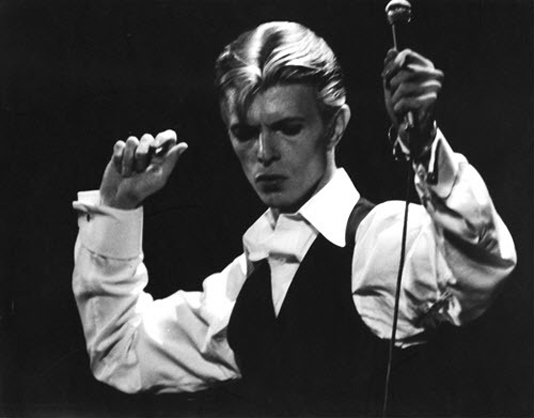 David Bowie was on his surest footing when balancing on an edge. He called his own hit album Young Americans "plastic soul," but nobody questioned the simulacrum that came next. Station to Station's icy/simmering hybrid of obsolescent European dramatics and ever-renewing African-American funk improvisation existed in a chasm he knew he couldn't cross all the way, so like the Nietzschean figure his cocaine-fired mind then fancied him to be, he stayed suspended over it. His ghostly croon and his band's sleek soulful adventure incarnated a longing for connection even as their differences were not denied and their distinctness was valued. As individuals, that is — the mostly Black players were unique talents, Bowie needed no validation as a whiteguy in general, and for a while he sacrificed his rep to the satire of white-supremacy that his fascist stage-character that year was — even as the stark black-and-white set-design and costuming sent a signal of the combinations that could be made.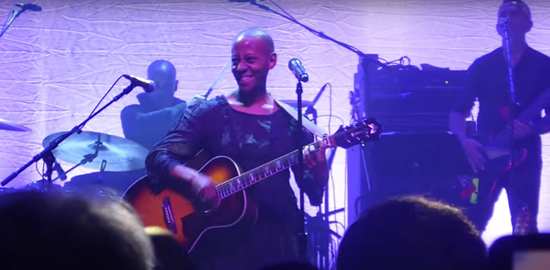 Bowie's relationship to otherness, and neitherness, is what still endears him to anyone whose life is spent on a line, and his dialogue with Blackness (as opposed to just displacement of it by contemporaries like Elvis or the BeeGees) was ascendant on the New York City stop of a world tour to commemorate the first year of his afterlife. The pillars of the performance were Black soloists and ensembles, particularly longtime Bowie bass-player and duettist Gail Ann Dorsey, who did four songs (in addition to playing the whole show), and Stones-associate (and superior) Bernard Fowler, who did six. Dorsey was, for me, the quintessential Bowie alter-ego/onstage foil in a decades-long line, and for him too in the last twenty years of his life; her serene siren voice and alien guardian-angel demeanor could not be more perfect and personal on elegies like "Space Oddity" and "Aladdin Sane," sung unforgettably this night. Fowler was a larger-than-life figure of biblical abandon, commanding yet ecstatic on the more classic-rock end of Bowie's spectrum ("Rebel Rebel," "Diamond Dogs") as well as heaven-sent soul ("Win").
That last one, and several other songs, were also accompanied by the Harlem Gospel Choir, surfacing a strong strand in the DNA of Bowie music from Young Americans' R&B ensembles to less-obvious incarnations like the choral commentary on "Teenage Wildlife" and the multi-part hysteria on "Jump They Say." Bowie's roots in Sun Records leanness and Little Richard's ur-Glam also run through Living Colour, who played "I'm Afraid of Americans" like a tuned H-bomb.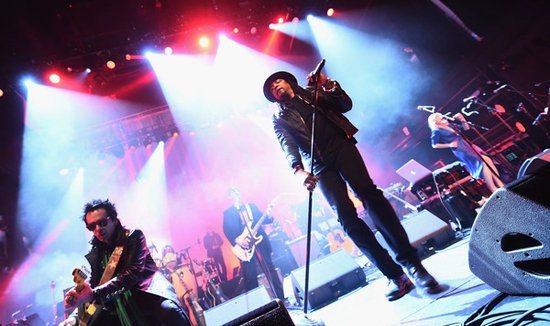 That band's vanguard outsider status underscored the kinship of misfits throughout the show, which of course is a consciousness that can cut across cultures. "I'm Afraid of Americans" is a politically defiant, sonically take-no-prisoners song that Living Colour was born to play, and equally, it turned out, was "DJ" for avant-guitarist and perennial Bowie collaborator Adrian Belew, whose yelping, anxious vocals were perfect for that paranoid anthem, as were his post-noise pyrotechnics for burning up "Boys Keep Swinging," which it segued into for the evening's other most memorable meltdown. And in some ways literally outside of yet belonging to all cultures, astronaut Chris Hadfield (the guy who once sang "Space Oddity" on-location) did a lovely job with "A Better Future," elevating everyone's belief in the title, as the one pop singer probably any of us have ever seen who left Earth and made it back.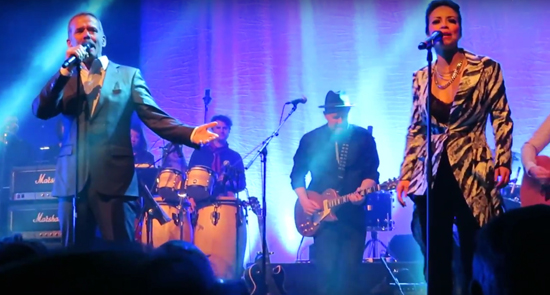 The threads were held in place by Mike Garson, whose inimitable piano style itself weaves in a lot of blues and Latin jazz; the show's host and heart, his instincts and inspirations play well with all others. Taking Bowie's theatrical and transgressive tendencies to the unprecedented levels that are the lesson of his legacy, Fishbone's Angelo Moore did two songs as two sides of his one-night-only stage persona "Nigga Stardust," first in a black-caped, natty outfit with top-hat and blackface mask like a minstrel Fantomas, then in a brighter outfit and painted-on pierrot-face (that time, for an astounding gravity-denying "Moonage Daydream"); a sequence of surfaces that stripped away the lie of categories imposed from outside yourself.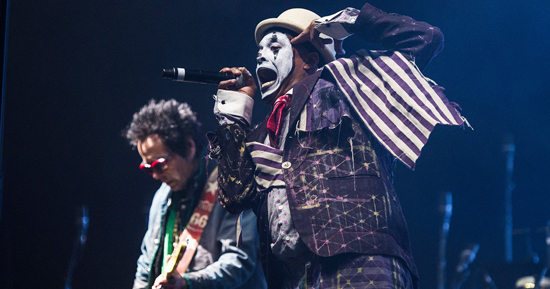 As feel-good and hits-oriented as the concert could get (and there were plenty rarities as well as unique or even definitive adaptations of standards), it wasn't only Garson and Dorsey who were feeling the melancholy weight of the moment; on a number of songs, otherwise seldom-distinguishable vocalists like Joe Sumner, Holly Palmer and Gabby Moreno would finish up with otherworldly keening that truly touched the stratospheric heights of lamentation; almost everyone onstage and off knew that we won't never say bye-bye.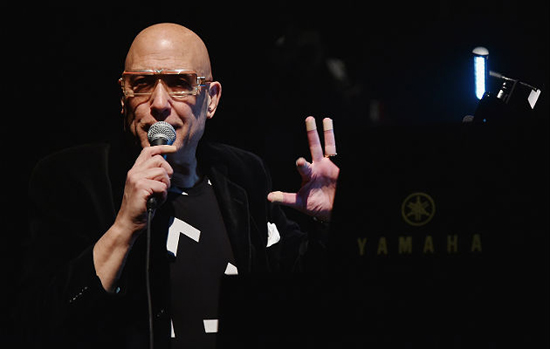 Then again, in one of the most distinctive and heartfelt versions of "'Heroes'" I've ever heard, Fowler made me believe that just one day, or night, can't ever be taken away, and Dorsey's final song, a delicate acoustic "Dead Man Walking," had rebirth in its very name (as well as bravery and Bowie-esque irreverence in its very presence). And Garson's recurring role in Bowie's life story — as a defining collaborator on his mid-1970s masterworks, and again 20 years from then in his late-1990s renewal, and now 15 years later as a major caretaker of his posterity — makes life seem more like an orbit than a line with one start and stop. The concert had several finales; any of the last seven songs could have been the last word, but then, I'm happy I didn't miss the next ones, and I understand both artists' and audience's reluctance to leave. David Bowie brought his time on Earth to an artful, mystic close, leaving a lot of world for us; it's our job to not know when to end.
Pictured in photos (top to bottom): Bowie 1976; Gail Ann Dorsey; Bernard Fowler with Earl Slick; Chris Hadfield with Emm Gryner; Angelo Moore with Earl Slick; Mike Garson; all 2017
***
MORE POSTS by ADAM McGOVERN: OFF-TOPIC (2019–2023 monthly) | textshow (2018 quarterly) | PANEL ZERO (comics-related Q&As, 2018 monthly) | THIS: (2016–2017 weekly) | PEOPLE YOU MEET IN HELL, a 5-part series about characters in McGovern's and Paolo Leandri's comic Nightworld | Two IDORU JONES comics by McGovern and Paolo Leandri | BOWIEOLOGY: Celebrating 50 years of Bowie | ODD ABSURDUM: How Felix invented the 21st century self | CROM YOUR ENTHUSIASM: C.L. Moore's JIREL OF JOIRY stories | KERN YOUR ENTHUSIASM: Data 70 | HERC YOUR ENTHUSIASM: "Freedom" | KIRK YOUR ENTHUSIASM: Captain Camelot | KIRB YOUR ENTHUSIASM: Full Fathom Five | A 5-part series on Jack Kirby's Fourth World mythos | Reviews of Annie Nocenti's comics Katana, Catwoman, Klarion, and Green Arrow | The curated series FANCHILD | To see all of Adam's posts, including HiLo Hero items on Lilli Carré, Judy Garland, Wally Wood, and others: CLICK HERE