THIS: The Joni That Matters
By: Adam McGovern
November 28, 2016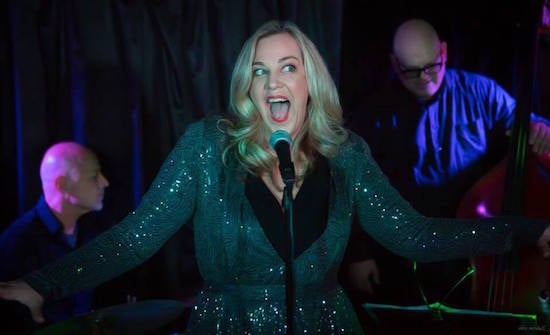 There are parts of ourselves we leave so far behind we forget they're still there, and others that finally meet us for the first time. Neo-cabaret diva/arthouse-accordionist/pop-empowering singer-songwriter Rembert "Remy" Block is at home in many selves, and starts her sympathetic biography of the distances between, On a Lonely Road: Travelin' with Joni, by performing a song that Joni Mitchell herself left to others and didn't put on an album of her own 'til three decades later, "Urge for Going." That old, immaculate recording was two identities of the same person, youthful and mature, speaking to each other across time — and still just having questions to ask. Since others had made it their own for so long, it's a good point for Block to depart from.
The song has a lovely melody and a yearning (yet ever-removed) lyric that almost anyone could inhabit, but only a singer of Block's innate drama and painterly spectrum of vocal and emotional colors could so fill with life. The tidal conflict between attachment and exploration is a constant in Mitchell's storytelling and self-chronicle, though since opposites are what activate this canon, Block's narrative in-between songs is about harmonizing the two impulses as seeking, while Mitchell so often dramatizes (fruitful) fleeing. In conversation Block says travelling "into the psyche…[is] where Joni is more of a guide," and thinks they both find "the act of being in motion a way to access the inner landscape. Maybe physically moving through the world is a way of trying to stay out of sight… in order to create the space to go within and listen."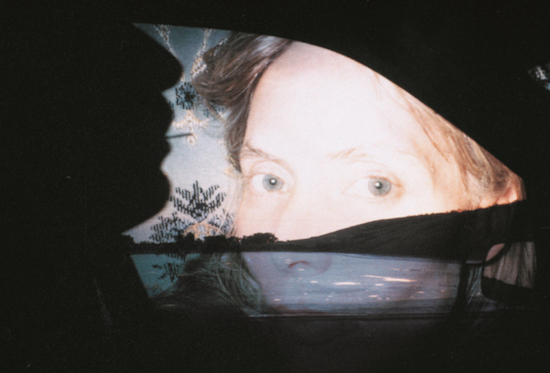 Onstage, "Urge" is followed by the title song from "The Hissing of Summer Lawns," which is about not flight but luxurious captivity. Then "Big Yellow Taxi" is, of course, about what and who leaves you. Block's autobiographical interludes, alternating youthful mind-expansion and later enlightenment-seeking (hash and India, respectively), are in part about what person gradually comes into being and becomes recognizable to yourself; correspondingly, the jazz instincts and aesthetics Mitchell says were in her songs from the start are here brought to beautiful fruition even on songs which predate Mitchell's full stylistic turn in that direction.
"Big Yellow Taxi" is a song I didn't think I could "hear" anymore, after decades of hit-record revisitings, but the reflective, somber reading Block and her musical collaborators give it finds new things for it to say. It could be that this cheery counterculture-era song, not the inherently tragic "Both Sides, Now," is the one that is best sung in downbeat retrospect. It works well as jazz (an inspired sort of reversal of the gospel-to-rock progression between Joni's own and Crosby, Stills, Nash & Young's much better-known reading of "Woodstock," though that song is not sung here). The intuition Block and the ensemble have for the form's fluidity and assured surprise make a song that was jazzy to begin with, like "Hissing," my new favorite version.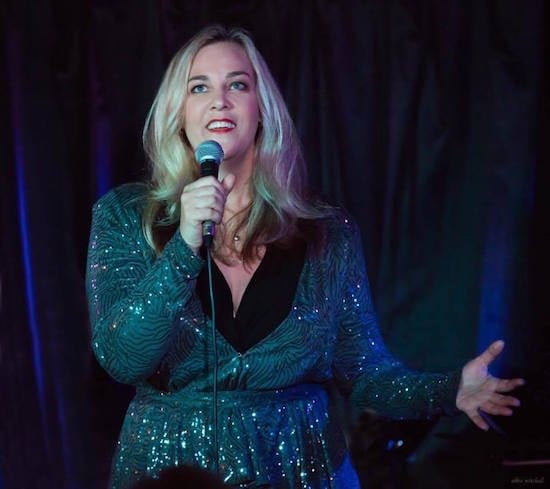 Block's vignettes of memoir chronicle how her creative sensibility comes to be influenced and at times entwined with Mitchell's, and the songs too grow parallel and arc away from the author's interpretations. "All I Want" (from whose lyrics the show's title derives), a buoyant affirmation on record, is fascinatingly reassembled from an ethereal, sultry perspective by Block and the band; "People's Parties" gets a wistfully desolate reading that stands up to and apart from the original.
Block told me that she had to limit selections from Mitchell's Hejira album, which has flight in its very title, lest songs that were too perfectly fitting be leaned on, so it's intriguing that pianist/musical director Gregory Toroian re-paces "Refuge of the Roads" from its recorded forward-flowing drone to a repeated staccato figure, segmenting time in counterpoint to the way Mitchell cycled it. This dynamically asymmetrical sensitivity is a natural setting for Block's agile navigation of the ambivalences in "A Case of You" — which also displays her bravery in not avoiding Mitchell's most-covered songs. But in every case, Block builds an audience all her own whether or not the song has one built-in; the stalking remorse of "Last Chance Lost" is even better than the chill melancholy of this haunting yet little-known song's recorded version, and the deep-cut "Down to You" is made even less familiar when it swerves to a disco-ish tempo at one point — in this case, a surfacing not of Mitchell's own leanings, but those of the pop-culture context soon to surround her when this neo-classical lamentation first came out.
On the more sacred-text end, Block incants a propulsive "Black Crow" with the best of its other interpreters, and is the singer fate intended to swing "The Dry Cleaner from Des Moines" to the stratosphere. For reasons I can't articulate (which likely means it's the elusive logic of mere taste), "Night Ride Home" is the one in the whole set that feels delivered wholly packaged rather than replenished from its source…Block seems a bit disconnected from the storytelling, but in this case maybe it's just the too-perfect factor prevailing? In any case, the show ends with a tonally truthful, fully invested "Both Sides, Now," another song that says so much that only an interpreter of Block's empathetic imagination could open our minds' conversation with it wider. Ending with this signature piece is, paradoxically and magically, the mark of a truly distinct artist; a gamble that we all leave the richer for.
Block is a compelling presence in speech as well as song, and in humor as well as conflict; her eye for existential absurdity and self-satirizing assumptions as well as intimate pathos is sharp, and her phrasing is worthy of Mitchell herself: "buzzing cicadas and humming powerlines" (for Block's native Dallas), "like spirits seeping out of the walls" (for a holy place — and its contradictions — that she finds herself amidst). The counterpoint between personal story and the mass narratives it can intersect with (be it the Bible or the Vedas or the complete boxed set of The Sopranos or the collected works of a popstar) grants a loose structure to revealing both artists' essences that I feel may be the most fitting; we see many a jukebox revue (Twyla Tharp and Billy Joel's Movin' Out; even Bowie and Enda Walsh's Lazarus) that often force hit songs and favorite rarities into a narrative, while works like On a Lonely Road achieve a truer tribute by just creating a resonant, not necessarily "resolved" context. (As does a Bowie-based show itself, Me & Mr. Jones, by Raquel Cion, who, perhaps more than coincidentally, directed On a Lonely Road).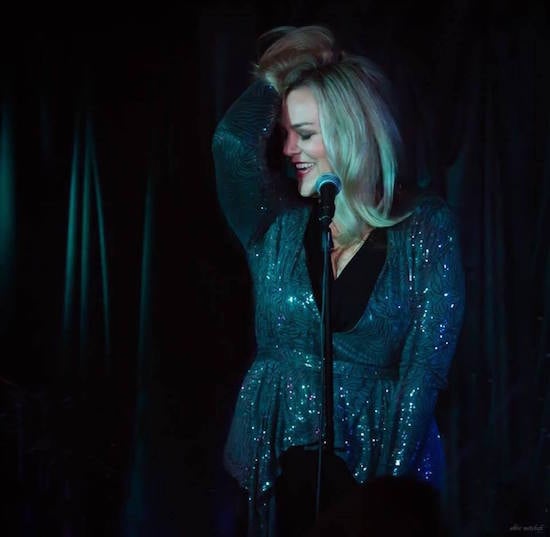 The charged space between notes, between creative minds, is bright matter in the inventive, crystalline playing of Toroian, the cerebral acrobatics of Ron Tierno's drumming and the sensual eloquence of Steve Millhouse's bass; with the atmospherics of Block's heavenly, fearless voice, they cover whole countries of very new ground.
Bookending an early, endearingly stoned proclamation by her younger self that Joni writes her songs just for Remy, toward the end Block quotes Mitchell as saying that "If you listen to this music and you see me, you're not getting anything out of it…you have to see yourself; otherwise there is no value." On a Lonely Road: Travelin' with Joni shows us an especially strong self to take example (but no answers) from. And as the second half of the title suggests, being yourself doesn't always put you on a road you have to walk alone.
The show plays next on Dec. 8, 2016; to follow Remy's solo work click here, and her own band, click here.
***
MORE POSTS by ADAM McGOVERN: OFF-TOPIC (2019–2020 monthly) | textshow (2018 quarterly) | PANEL ZERO (comics-related Q&As, 2018 monthly) | THIS: (2016–2017 weekly) | PEOPLE YOU MEET IN HELL, a 5-part series about characters in McGovern's and Paolo Leandri's comic Nightworld | Two IDORU JONES comics by McGovern and Paolo Leandri | BOWIEOLOGY: Celebrating 50 years of Bowie | ODD ABSURDUM: How Felix invented the 21st century self | CROM YOUR ENTHUSIASM: C.L. Moore's JIREL OF JOIRY stories | KERN YOUR ENTHUSIASM: Data 70 | HERC YOUR ENTHUSIASM: "Freedom" | KIRK YOUR ENTHUSIASM: Captain Camelot | KIRB YOUR ENTHUSIASM: Full Fathom Five | A 5-part series on Jack Kirby's Fourth World mythos | Reviews of Annie Nocenti's comics Katana, Catwoman, Klarion, and Green Arrow | The curated series FANCHILD | To see all of Adam's posts, including HiLo Hero items on Lilli Carré, Judy Garland, Wally Wood, and others: CLICK HERE