THIS: Bowielogy 9 of 7
By: Adam McGovern
October 31, 2016
When HiLobrow started the 7-part series on the works and lives of David Bowie, we knew that he would be providing years more food for thought, but didn't foresee how — "Part 8 of 7" joined the worldwide social seminar on his passing and significance, and the first of his posthumous releases provides new insights and questions. "Lazarus," after all, is the name of someone whose life went on…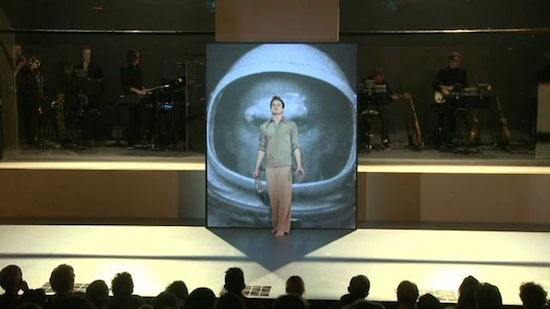 David Bowie left a piece of himself in the future to come back to us later, and to listen to what he himself had to tell it. The original cast album to his valedictory stage musical, Lazarus, was released a week ago last Friday, and to the hall of mirrors that that show already was, the album holds up… another mirror.
Attention has centered (as it rightfully should) on the three songs most people had not heard 'til now (the "most" who couldn't make it into the swiftly sold-out, relatively small-theatre show) — and Bowie's own interpretations of them, which many were hoping had even been recorded.
The cast versions of each are worth hearing — Michael C. Hall's channeling of Bowie's animus on the grating, bitter "Killing a Little Time" is astonishing (and fairly scared the crap out of me at the show); Sophia Anne Caruso's reading of "No Plan" is celestial like all her other performances; and Hall and Krystina Alabado are affirmatively incendiary on "When I Met You." These recitations and the lean and edgy onstage band arrangements get you ready for the synthesized sublime of "No Plan"; punk-bop, gorgeously choreographed cacophony of "Killing a Little Time"; and funky, folky industrial affirmation of "When I Met You" by Bowie and his own band.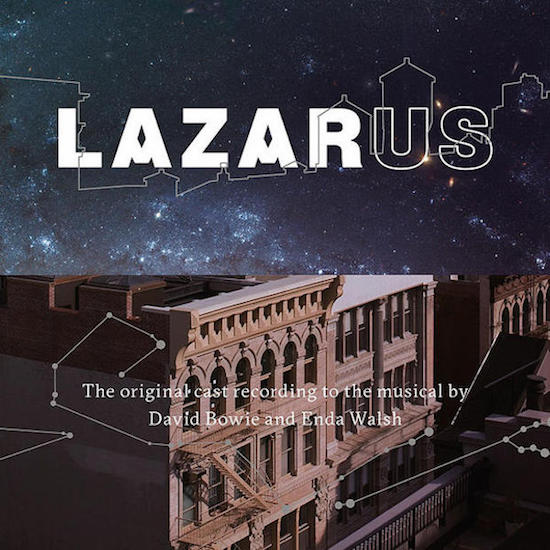 Bowie does "No Plan" by himself, but on choruses a separately-recorded him cuts in; the cracked-mirror effect is subtly ingenious, and makes me hope some YouTuber will hasten to embed some of Sophia in this — the Newton character in the stage show was a doppelganger for Bowie himself, addicted, creatively repressed, forgotten, and apparently living in the same apartment building; Hall was the ultimate stage-character for Bowie, detached like a tulpa to take on a post-life of his own; Caruso's otherworldly orphaned-muse character Marley was the better angel (or ghost, or hallucination) of Newton's own nature, so the split would make sense. But Bowie puts across one of his most uncompromised, unselfconsciously lovely melodies (and serene, knowing zen lyrics) just fine by himself; the other hand to clap is out there somewhere.
"Killing a Little Time" always sounded to me like a sequel to the mad, brilliant, choppy "If You Can See Me" from The Next Day, and retains that agitation here; it's like Bowie's equivalent to "Warrior King" from Lou Reed's Magic and Loss, though both more urgent and more reflective, because not just the speaker in the song knows he may be dying. Hall's reading is pure fury, while Bowie astonishingly croons his rage; it's like a manic verso to the sublime acceptance of "Dollar Days" from ★, suited to the shadow-self that Newton seems to be for Bowie; it also put me in mind of a third parallel reality, in which Bowie had done Lazarus as an all-new concept album rather than a canon-surveying stage revue — but then Marley would most likely be gone, and the show is really about her, and not any self of Bowie's.
The Bowie on the other side of the mic feared for the future of his own daughter (roughly Marley's age), and understood that his posterity, and his peace of mind, were his responsibility alone. And alone he is on "When I Met You," the new-to-us track that diverges farthest from its theatrical arrangement, and one of Bowie's masterpieces. The peaceful handoff of vocals in his version of "No Plan" here becomes a crashing argument he's on both sides of; a perilous commotion of sound in the midst of a relentlessly infectious melody — the essence of Bowie's lifelong project to reconcile the mass-appealing and the individualistically, rewardingly risky; a harmony of dissonance.
His final self would soon be face-to-face with him, and, looking inward as never before and further out than the living can conceive, he may have felt he fully met himself at last. The rest of us will spend a happy lifetime getting to know and understand him better.
***
MORE POSTS by ADAM McGOVERN: OFF-TOPIC (2019–2023 monthly) | textshow (2018 quarterly) | PANEL ZERO (comics-related Q&As, 2018 monthly) | THIS: (2016–2017 weekly) | PEOPLE YOU MEET IN HELL, a 5-part series about characters in McGovern's and Paolo Leandri's comic Nightworld | Two IDORU JONES comics by McGovern and Paolo Leandri | BOWIEOLOGY: Celebrating 50 years of Bowie | ODD ABSURDUM: How Felix invented the 21st century self | CROM YOUR ENTHUSIASM: C.L. Moore's JIREL OF JOIRY stories | KERN YOUR ENTHUSIASM: Data 70 | HERC YOUR ENTHUSIASM: "Freedom" | KIRK YOUR ENTHUSIASM: Captain Camelot | KIRB YOUR ENTHUSIASM: Full Fathom Five | A 5-part series on Jack Kirby's Fourth World mythos | Reviews of Annie Nocenti's comics Katana, Catwoman, Klarion, and Green Arrow | The curated series FANCHILD | To see all of Adam's posts, including HiLo Hero items on Lilli Carré, Judy Garland, Wally Wood, and others: CLICK HERE