THIS: The Fathergod, Part II
By: Adam McGovern
October 10, 2016

In the beginning is the name, but what everyone has to watch out for is the second draft of history. Correcting the mythological record is the lifetime project of history's proverbial "losers," even though one of two recent theatrical works prompting this reflection is titled The God Projekt. Inscription and erasure is what gives the divine spark and takes it away from earthly beings, and even from divinities themselves; a mythic creature like the golem could be animated by having the Hebrew word for "truth" carved in its forehead, and rendered inert by erasing the one letter at the front that leaves the word for "death"; the four letters at the end of "Goddess" were removed to change the earth from an environmental garden to a war-scarred wasteland.
It's now well known that in humanity's naturalistic past, the feminine was the prized paradigm for what life and the land generated; with the advent of technology (however rudimentary), the male paradigm of "taming" and ruling took (that is, stole) precedence. As Kevin Augustine, creator of The God Projekt notes in its program, "…the status shift [is] revealed in burial sites as women were now entombed beneath their mate instead of beside him, his weapons clutched to the top of his chest." This was reflected in models of worship, as a retroactive validation: "The Queen of Heaven was reduced to a handmaiden of the Lord"; before the so-called fall of Man, Woman was pushed.
Augustine labors to re-set the record straight (joined by co-writer and –director Edward Einhorn, for this new evolution of a work first presented under a different title in 2008). Augustine plays "The Father," a solitary, serially demented God who's always been able to assume a captive audience; to this end, he's often dressed like some bad Catskills casino comedian, and this is neither as snarky nor as affectionate as it sounds: there is genuine menace in this archetype of the take-my-wife-please, organized-crime-patriarch, racist-holiday-dinner-grandpa figure. In wraparound shades The Father is in an endless retirement, but not to Miami or even an underworld that warm. We are in paradise, but it isn't what it used to be; The Mother was dispatched long ago, and took with her the capacity for giving life; like the Greek winters in the legend of Persephone or the worldwide cesspool that spreads after Cain's first confirmed kill in Jason Aaron & R. M. Guéra's graphic novel The Goddamned, heaven is now a barren badlands.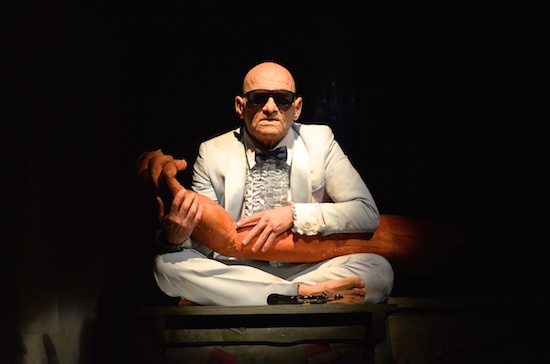 The Father spends the first half of the play trying to remind his audience and himself of his past glories, half-remembering how to make a human (apparently always a male one) and getting as far as a grotesque anatomical dummy with rudimentary cognition. The God Projekt (like the mortal world?) is part macabre puppet show, and Augustine's creations are masterfully unsettling, crawling about doggedly before their Father has made them legs, or reduced to a head that still babbles are-we-there-yet questions about the final peace of Judgment Day. The set echoes this: platforms knocked together, random machinery, bare wiring; skeletal in design, viscerally unfinished.
The Father keeps losing his place because prayers are flowing in on a cosmic switchboard, run by Einhorn on one of the catwalks as "Heaven's Assistant"; these exchanges run from heartbreaking to slapstick. The play, and The Father, get more serious as he dons his comedian-costume for Act Two, where we learn the gang-rubout-like fate of all the other gods before him, and especially the Goddess that he felt in the shadow of (the pro-active patriarch doesn't just let there be light). The Father's forgetfulness is, in some significant areas, self-willed by belated guilt, and this text is his confessional to whatever human ears there are to hear it. We see him cradle a grand, scary severed arm of his once-beloved, and he has a plan for how to finally transfer the universe to better hands. Through use of simple props and quietly magical effects this is set in motion in a way which takes an angry, perceptive, hilarious, gloomy narrative to an unexpectedly, unforgettable moving conclusion — or at least a new beginning of possibility; The God Projekt is an open-ended testament worth trusting.
Continuing through Oct. 16, 2016 at La MaMa's Ellen Stewart Theatre, 66 E. 4th St., New York, NY — more details.
*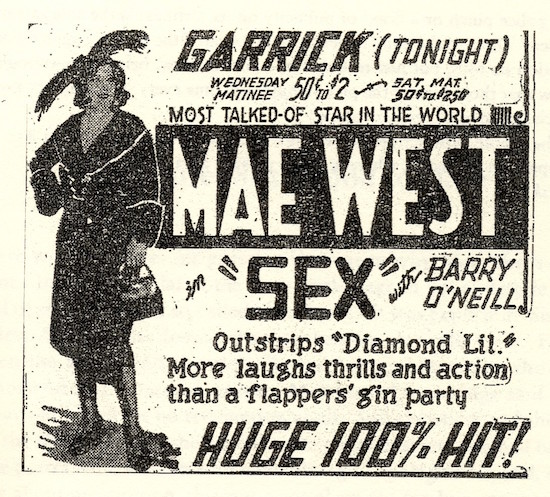 Patriarchy has its ruling deity, and egalitarianism its patron sinners from the world we really live in. Premiered in 1926, leading to a ban of the play and the brief jailing of its writer, SEX by early-20th-century icon of female independence Mae West has seldom been staged since. Put on for a short run of full-costume, minimal-set readings by feminist theatre collective The Dirty Blondes in late-September/early-October, the play is like a rediscovered gospel that changes the dispossessed's claim on history.
As an informed and frank presentation of fringe culture to mainstream audiences, it has few precedents; as a Broadway show written, directed, produced by and starring a woman, it may still have no successors. Set in a brothel and centered on a prostitute portrayed with nuance and neutrality, SEX weaves classic drawing-room-comedy strands of clever plot and tangled consequences in a story about the main character Margy's courting by one (rich and unworldly) man who's oblivious to her "reputation," and another whose lifestyle is likened to hers in the text (a roving sailor, I didn't say seaman). Most of the men can look down on the women no matter (or maybe in proportion to) how low on the rungs of respectability the men are, and the Darwinian class tensions between "society ladies" and Margy's crowd, and between the sex-workers' current life and their ideas about the more acceptable but less fulfilling existences they left behind, are drawn with a sharp and steady eye; social station may have been one reason this unsparing comedy from three years before the stock-market crash was whisked off the stage.
The demimonde-vérité depiction of unmarried sex, and of financially independent women who support men as well — and the honest accounting of how much more widespread and natural many behaviors relegated to "red light" discourse really are — put his show decades ahead of its time. In an audience talkback after the performance I saw, one cast member said (of Margy and society-dame-with-a-secret Clara), "there's nothing that separates these women except what people think." That's the truth, but not all of it; Margy has more understanding of both the privileged and disadvantaged echelons of existence, and that kind of cultural empathy is what makes SEX revolutionary. Clara, visiting the brothel as a form of rich-person recreation, seeks occasional release from "the usual course of life"; Betty Friedan's problem-that-has-no-name articulated in advance as part of a theatrical statement that was silenced.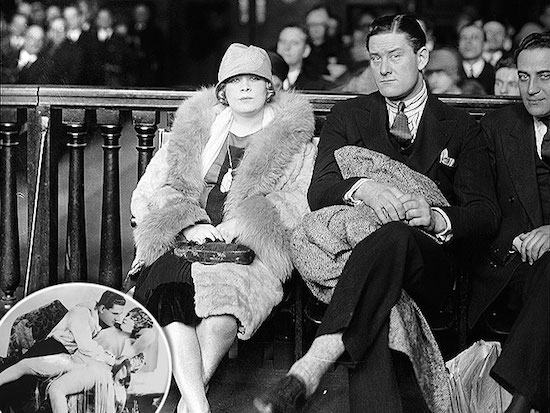 One audience member said "all violence is shame redirected," and there are drug-overdoses, suicides and murders both avoided and not in this play; West's clear-eyed unhesitancy to acknowledge such realities allows her to evaluate drugs, self-destruction, sex-for-sale, and the traditional male-female transaction in both their rewards and consequences. One reading is that Margy has internalized some shame, but my impression was that, when Margy contemplates a change or regrets a decision, both she and Mae West are weighing options and outcomes rather than capitulating to one-size-fits-all morality; choice is what terrifies the dominant.
There's a remarkable soliloquy by Margy about men as primal predators (clutching their weapons again, burying you under them), and how she was finally able to open her heart to some; what's truly scandalous about SEX is not what rules it transgresses but what realities it normalizes. Nature should take its course, but human nature can always use some work.
The play is closed as of this writing, but archived information can be found here.
God Projekt photos by Emily Boland
***
MORE POSTS by ADAM McGOVERN: OFF-TOPIC (2019–2022 monthly) | textshow (2018 quarterly) | PANEL ZERO (comics-related Q&As, 2018 monthly) | THIS: (2016–2017 weekly) | PEOPLE YOU MEET IN HELL, a 5-part series about characters in McGovern's and Paolo Leandri's comic Nightworld | Two IDORU JONES comics by McGovern and Paolo Leandri | BOWIEOLOGY: Celebrating 50 years of Bowie | ODD ABSURDUM: How Felix invented the 21st century self | CROM YOUR ENTHUSIASM: C.L. Moore's JIREL OF JOIRY stories | KERN YOUR ENTHUSIASM: Data 70 | HERC YOUR ENTHUSIASM: "Freedom" | KIRK YOUR ENTHUSIASM: Captain Camelot | KIRB YOUR ENTHUSIASM: Full Fathom Five | A 5-part series on Jack Kirby's Fourth World mythos | Reviews of Annie Nocenti's comics Katana, Catwoman, Klarion, and Green Arrow | The curated series FANCHILD | To see all of Adam's posts, including HiLo Hero items on Lilli Carré, Judy Garland, Wally Wood, and others: CLICK HERE