THIS: Daddy Gets Home
By: Adam McGovern
July 25, 2016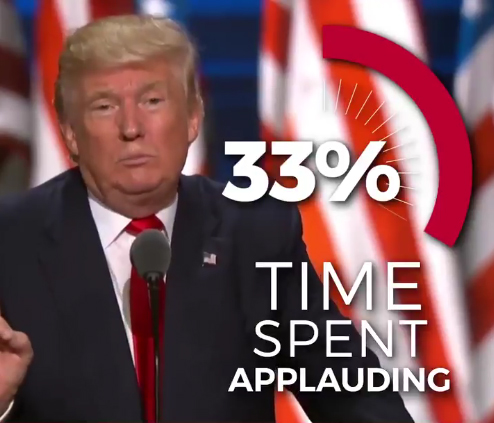 I'm writing this sitting on a New York ferry across from a guy reading a book on George Washington whose back-cover copy promises insights from "America's founding CEO." But an earlier era's commonplaces had it more accurately: Americans hate a boss, but we're always looking for a father.
We left the first one's palace when we split from King George, and life got a lot harder on our own. The image of "Founding Fathers" spread the concept between, at least, a council, but we'll always settle for one.
Much was made by the punditry about the strength and mutual loyalty of Donald Trump's family as displayed at the Republican National Convention. But this was not a demonstration of his character in the absence of clear policy concepts and prior qualifications for the job; this is his qualification for the job.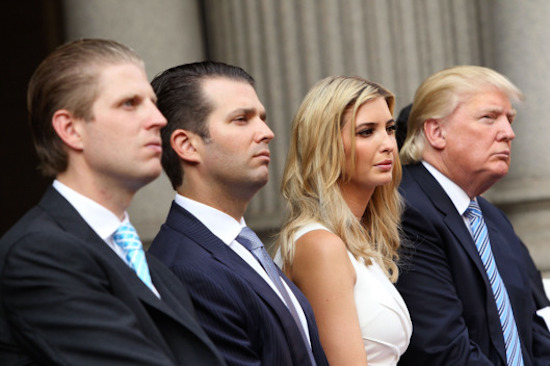 When a father leaves, we mourn idyllically for him, and blame the mother who was left behind to actually raise is. Americans resent the tradeoffs and businesslike briskness of Hilary Clinton — she wants our whole village to participate in civic life. (Ironically, she's the much realer corporate-exec type in this race, while trying to project a family-woman persona, and Trump is a serially bankrupt and bailed-out grifter whose only success seems to have been as a parent.) In a stereotypically standard household, the father steps in to administer discipline and bring home treats; Trump's acceptance speech, reeling between promises of apparently-socialized workplace childcare and vows of totalitarian race-war, was the classic manifesto of the father, holding attention with random wrath and lavish dispensations, neither of which you can know when to expect.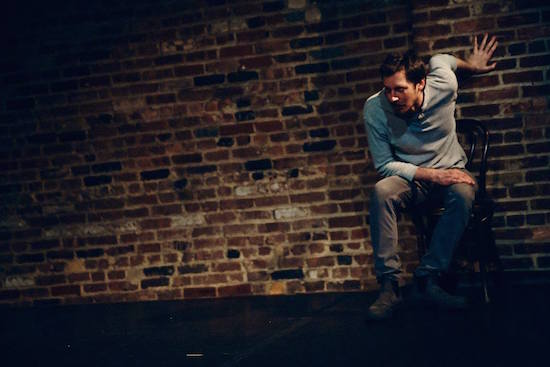 The stolen patrimony is a constant of Western imagination. Would Hamlet have been any more contented had the King lived? That's irrelevant, because he'll never have to prove it. This basic text of family drama saw a lot of recurrence in the New York area during the summer of Trump, one signal re-reading being Hamlet, Or I Shall Mourn the Rivers, directed by Patrice Miller at Brooklyn's The Brick. (At this writing there is one workshop performance remaining, on August 2, with a fuller production to come.)
The natural command and parallel self-dramatizing tendencies of both Donald and Dane were embodied with neurotic zeal by Nat Cassidy in the title role. Cassidy understands that leisure, not leadership, is the birthright of the elite (think of Trump's relaxed, slouching style); his Hamlet is not a solemn insurrectionist but a social heckler, full of mischievous ticks as much as pensive trauma. Hamlet, of course, is also genuinely damaged, but unlike Trump, he never transitions to his father's throne, or the trappings of adulthood; he seems incapable of seeing beyond his psychological adolescence, and, in Cassidy's deadly distraction, seems a kind of self-recruited child soldier, his mission to rejoin his lost father in suicide.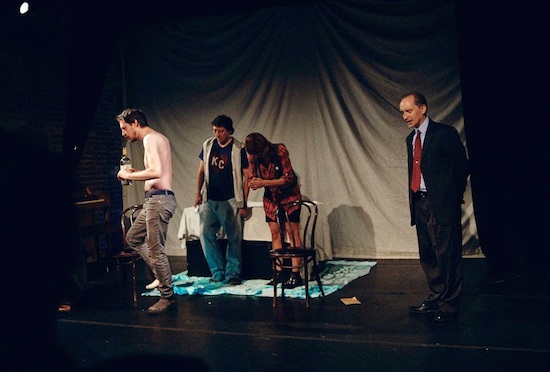 That is the likely outcome of real-life crusades to restore what was never there, and they don't call it "the kingdom of heaven" for nothing, but in America we like to think we can have our reward on this earth. All we have to do is follow.
Hamlet feels that a mantel has been robbed from him, but Ophelia seeks to be truly independent, and is exiled beyond reality for it, the removal from social routine an event-horizon her psyche can't process. That "madness" can be a pastime for privileged males, but dissonance a natural hazard for women like this constrained and manipulated heroine, is drawn with sharp empathetic perception by Anna Stefanic, who portrays Ophelia's distress not as detachment but as a lonely awareness (with the mournful songs set memorably by Stefanic herself); the best, most present and persevering performance of the character I've seen.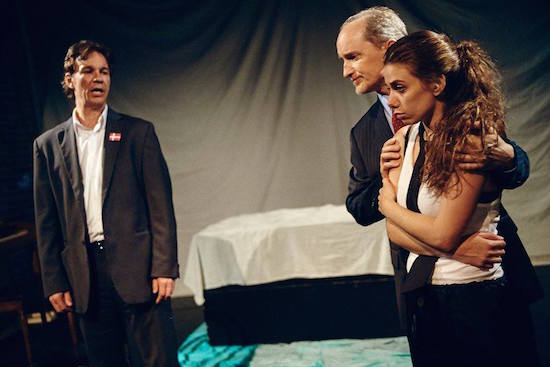 Ophelia, of course, is also devoted to Hamlet, her self-worth tied to his fortunes as his destiny sinks. At the Convention, Trump's daughters and sons often mentioned the "skylines" he has created (the modern, metropolitan battlement); not one of Trump's buildings is considered significant or distinctive except for its occasional heights of tasteless excess or imposition on its environs, but those who are dependent on him are invested in the idea of his creativity — the structures he built had better be worthy and singular, or else what might that say about the people he built?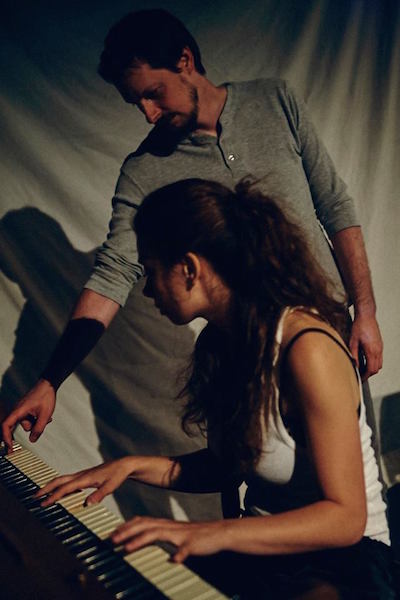 Miler's production utilizes projected video of real-time backstage scenes — not particularly successfully, with all the action and evident psychological layers right onstage, but then again, there is a continual wallpaper of visual noise none of us pays much attention to, as both its spectacle and its meaningful events crawl by. More pointed is the production's use of sound; at several points the dialogue is recorded and ambient, while characters mouth it or stay tightlipped; this often happens during political plotting, so, when plans and feelings are concealed, they rise up around everyone like an engulfing tide of ill will anyway.
Hamlet, of course, is famous for talking out loud to himself. Something I realized like never before from this interpretation is that he 's seldom if ever listening to himself. To the rest of us, this will sound familiar both from stage and podium.
"I am your voice," said Trump, and over on the other side of court, Hillary has chosen a running mate who is not Spanish in heritage, but speaks it. And who also supported parental consent laws for young women seeking abortion in his state. Father knows best.
The way Trump speaks, qualifying and contradicting himself several times in a given sentence, is the pattern of someone whose paramount concern is to hold their audience. This comes from an unfamiliarity with the transaction of conversation outside of one's own tight circle. I recognize it from the bunker formation of my own, socially-outlying family. Reality shifts to match the moment, because people beyond you and yours will come and go, but what your motives are and your actions result in, really just have to sound good to yourself. Those other people can hear you, but you don't notice this, and maybe they'll agree not to listen too closely. It's only an echo chamber if the abyss even bothers to answer.
***
MORE POSTS by ADAM McGOVERN: OFF-TOPIC (2019–2020 monthly) | textshow (2018 quarterly) | PANEL ZERO (comics-related Q&As, 2018 monthly) | THIS: (2016–2017 weekly) | PEOPLE YOU MEET IN HELL, a 5-part series about characters in McGovern's and Paolo Leandri's comic Nightworld | Two IDORU JONES comics by McGovern and Paolo Leandri | BOWIEOLOGY: Celebrating 50 years of Bowie | ODD ABSURDUM: How Felix invented the 21st century self | CROM YOUR ENTHUSIASM: C.L. Moore's JIREL OF JOIRY stories | KERN YOUR ENTHUSIASM: Data 70 | HERC YOUR ENTHUSIASM: "Freedom" | KIRK YOUR ENTHUSIASM: Captain Camelot | KIRB YOUR ENTHUSIASM: Full Fathom Five | A 5-part series on Jack Kirby's Fourth World mythos | Reviews of Annie Nocenti's comics Katana, Catwoman, Klarion, and Green Arrow | The curated series FANCHILD | To see all of Adam's posts, including HiLo Hero items on Lilli Carré, Judy Garland, Wally Wood, and others: CLICK HERE