THIS: No Angel
By: Adam McGovern
June 27, 2016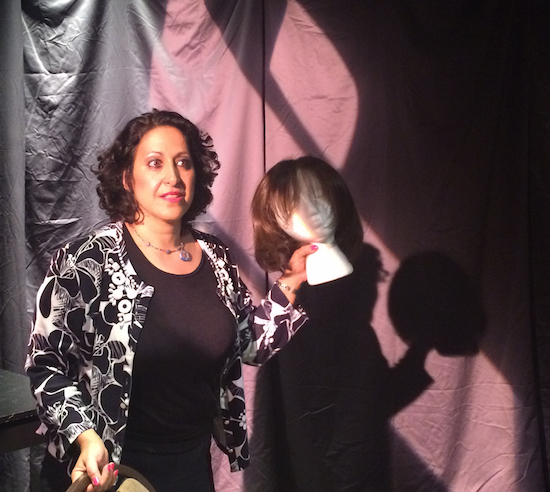 Cancer patients so rarely get to "inspire" themselves. The third-person narratives of those who die are taken over as exhibitions of what others "learn" from them; the most popular first-person stories of those who live tend to be the ones that can make the unafflicted feel triumphal about their fortunate health.
What other people want to hear about breast cancer is especially conflicted — the social value placed on that body-part and the widespread news of the condition's "curability" put a burden of blame on those who get the disease or lose the breasts, while one-size-fits-all artifacts of ideal femininity (pink roses, dolls) block out individual voices and the truth each has to express.
Feel-good narratives about the worst thing someone can feel are a pop piety that's been getting tipped off its pillar for a while now, from the radical realism of Barbara Ehrenreich to the relentless hilarity of Tig Notaro. Writer/actor Valerie David has two title matches to her name — overcoming lymphoma in the late 1990s only to get and beat breast cancer over the past two years — and in her one-woman, strength-of-hundreds show The Pink Hulk, she faithfully recollects the battles she went through and fearlessly faces the life-sequel she now enjoys.
David has the charisma of a motivational speaker and the raw honesty of the most confessional comedian. The show is like one long barroom joke that never fails to hold your attention, and a personal epic by a streetcorner bard. David is all over the stage, not just talking with her hands but her whole being. Much of the narrative involves her celebratory post-cure or cathartic pre-treatment searches for sex, which is just part of the uproarious humor with which she refuses to make anyone feel sorry for her — though we really can't agree to refuse, since we come to know and root for her so well, and worry along with every moment of her uncertainties and hurts (quack doctors, bad reactions, a new job the day after diagnosis, abandonment by friends) in-between these festive adventures.
The moment is this narrative's medium — everything is delivered in present-tense, which makes us all relive times when we had no way of knowing what might next get better or worse.
David is a master of intense emotion without overstatement. This keeps us conscious of what she must be feeling inside, for the outer manifestations, while triumphant and agonized, are contained, traced in a way that makes us look closer. Her swells of elation and descents of pain and melancholy embody those emotions but don't encase them — this is alive theatre, and the genuineness yet artful shaping and navigation of the feelings empowers, rather than overpowers, those who are there to hear.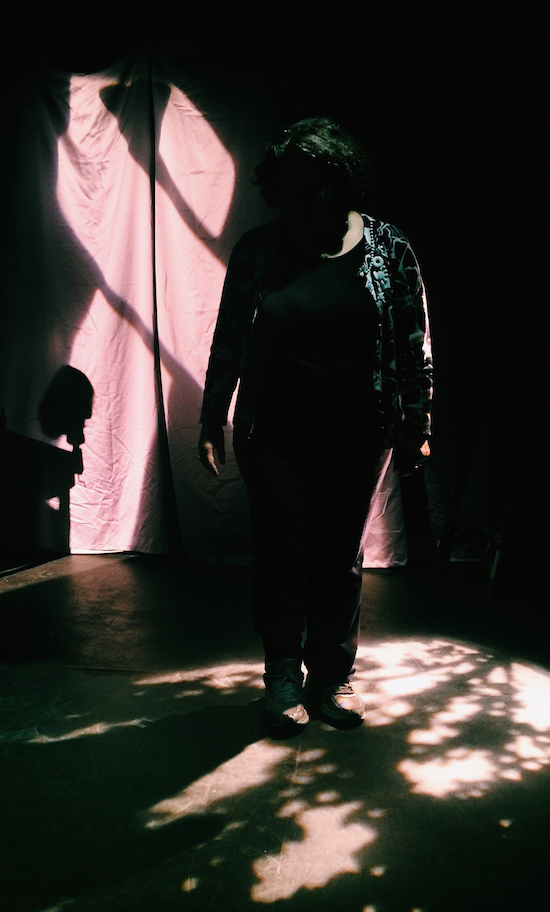 David is a vérité dramatist who sees the storylines in life, connecting dots that bookend ebullience and misery or just sketch serendipitous setups and punchlines in her private history — the opening scenario of her on an escape to Aruba before she gets her second diagnosis is later mirrored by her much-needed shrink happening to be away on a cruise once she gets the disease; a ledger of men she might enlist for a bon-voyage boff before her chemo starts all seem to have storybook alliterative names and occupations — Carl the Comedian, Larry the Lawyer, etc.
A river runs through it, too — the image first appears in Aruba (where her dream-hunk rises from the surf of Marriott's simulated "lazy river" winding pool); then when David has to bow out of the original Urinetown (soon to be a monster hit without her) for her first illness but we see her sing the semi-gospel showstopper "I See a River"; later on, she decides, upon getting ill again, that she will not put her creative career on hold this time, "come hell or high water."
It's her personal Ganges, and the determination to stay artistic takes the form of an improv troupe she joins, which we can think of as a kind of healing ceremony (with a laugh track). The whole show is like the reverse of a funeral rite, and ritual is a central concern and innate gift of David's — in one heartbreaking, sublime remembrance, the second time she knows she will lose her hair she lives it over "on my terms" by gathering loved ones at a salon on her birthday, having the hair tied into many ponytails and inviting each guest to cut off a lock before the stylist shaves off the rest; a year later they all bring the locks back at her next birthday.
To make it that far, she decides to draw on her affirmative anger as a source of power like her geek hero, The Hulk — and this association runs through her mind as she undergoes radiation to get rid of the cancerous tissue. "Radiation transforms you," she says, but what this ordeal has done, breaking through layers of lost confidence and weariness and fear, is change her all the more into her truest self.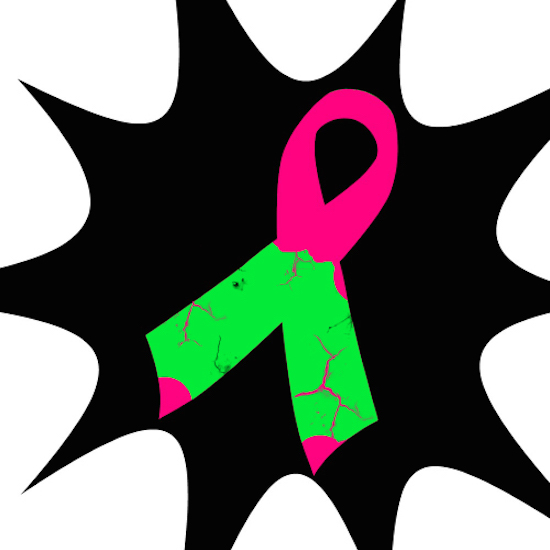 She experiences an, um, literal happy ending upon getting back to good heath, here to tell the tale as a sassy, compassionate prophet of never being blamed for living, and never backing down from the shadow of death.
Clever, crazy, wicked and wise, The Pink Hulk makes peace with human vulnerability and fights for life with a raging joy.
The Pink Hulk is featured at festivals across New York and New England this summer, and continues at The Paradise Factory in New York City through July 8, 2016, details here.
***
MORE POSTS by ADAM McGOVERN: OFF-TOPIC (2019–2020 monthly) | textshow (2018 quarterly) | PANEL ZERO (comics-related Q&As, 2018 monthly) | THIS: (2016–2017 weekly) | PEOPLE YOU MEET IN HELL, a 5-part series about characters in McGovern's and Paolo Leandri's comic Nightworld | Two IDORU JONES comics by McGovern and Paolo Leandri | BOWIEOLOGY: Celebrating 50 years of Bowie | ODD ABSURDUM: How Felix invented the 21st century self | CROM YOUR ENTHUSIASM: C.L. Moore's JIREL OF JOIRY stories | KERN YOUR ENTHUSIASM: Data 70 | HERC YOUR ENTHUSIASM: "Freedom" | KIRK YOUR ENTHUSIASM: Captain Camelot | KIRB YOUR ENTHUSIASM: Full Fathom Five | A 5-part series on Jack Kirby's Fourth World mythos | Reviews of Annie Nocenti's comics Katana, Catwoman, Klarion, and Green Arrow | The curated series FANCHILD | To see all of Adam's posts, including HiLo Hero items on Lilli Carré, Judy Garland, Wally Wood, and others: CLICK HERE