Alexander Theroux
By: Anthony Miller
August 17, 2014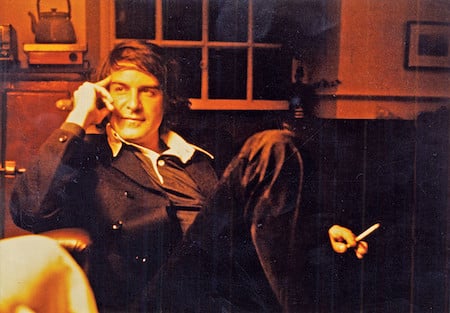 ALEXANDER THEROUX (born 1939) is for the reader who exults in obscure words, abundant lists, and unapologetic omnivorousness. Brother to novelist and travel writer Paul and uncle to novelist Marcel and journalist Louis, he's the Theroux who demands to be most scrupulously read. His books would not suggest an upbringing in mid-twentieth-century Medford, Massachusetts. He spent time in a Trappist monastery and in the seminary before pursuing his love of literature and teaching at Harvard, MIT, and Yale. Whether writing about living in Estonia or rock lyrics, he melds the scholarly and the splenetic. His enthralling essays in The Primary Colors and The Secondary Colors are free-ranging excursions into the author's vast and eccentric storehouse of chromatic facts, quotations, and associations. He is an authority on Amelia Earhart, Baron Corvo, and antique ice-cream scoops, among many other subjects. He was the perfect author for a monograph on fellow polymath and Cape Cod resident Edward Gorey. Theroux defended all things polysyllabic, encyclopedic, and maximalist in his essay "Theroux Metaphrastes," an encomium to amplificatio in which he declared: "A book is not a Shaker bedroom." Nowhere are his invention and vituperation on more extraordinary display than in his incomparable 1981 novel Darconville's Cat. An anatomy of love and hate, rejection and revenge, its lexical brio is guaranteed to send the most secure sesquipedalian scurrying to an O.E.D. "It is a word-drunk book," wrote Anthony Burgess, who named Darconville's Cat one of the 99 best novels since 1939, "but one needs an occasional break from fictional sobriety." Theroux told me in 2007 that his then new novel Laura Warholic shared with Darconville's Cat his "fascination with love and language, loss and limerence." (I confess I had to look up "limerence.") With his paeans to prolixity, Theroux continually illuminates, agitates, astonishes, and inspires.
***
On his or her birthday, HiLobrow irregularly pays tribute to one of our high-, low-, no-, or hilobrow heroes. Also born this date: Mae West, Ted Hughes.
READ MORE about members of the Anti-Anti-Utopian Generation (1934-43).