Regression Toward the Zine (16)
By: Joshua Glenn
December 15, 2013
PREVIOUSLY: The zines Thrift SCORE, Beer Frame, and Crap Hound from the Joshua Glenn Zine Collection.
In this installment: Mystery Date, Hey There, Barbie Girl!, and Plotz.
*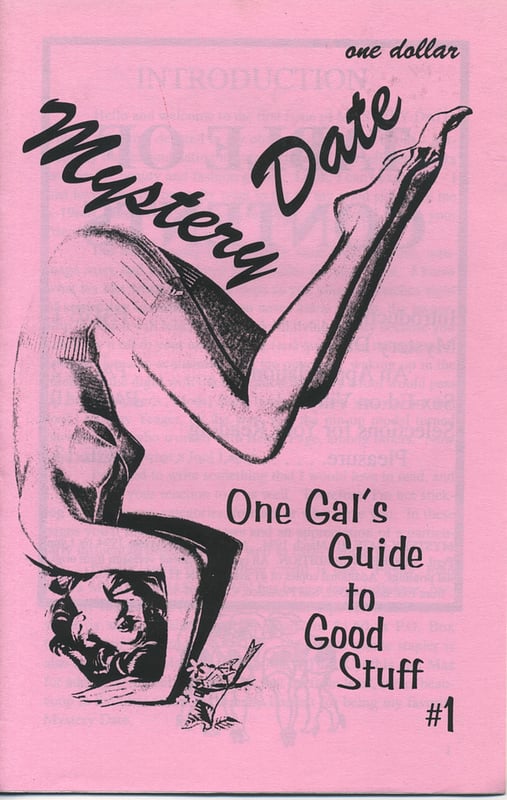 Perhaps the closest friend I've made via swapping zines is Lynn Peril of Mystery Date. Lynn, who often writes for HiLobrow, maintains an extraordinary archive of "memorabilia" in her lovely Oakland, Calif., home. Plenty of zines were fascinated by kitsch, but Mystery Date offered keen analysis and insight into what these crazy boardgames, books, magazines, products, and movies meant. Lynn's zine represented the pinnacle of Zine Revolution-era achievement; she fully deserved to be the cover girl for volume 1 of Re/Search's excellent Zines! anthology.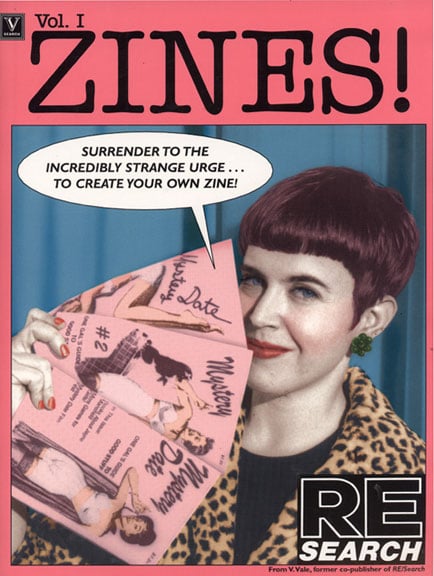 Here's a photo I took a few years ago of Lynn in her home office: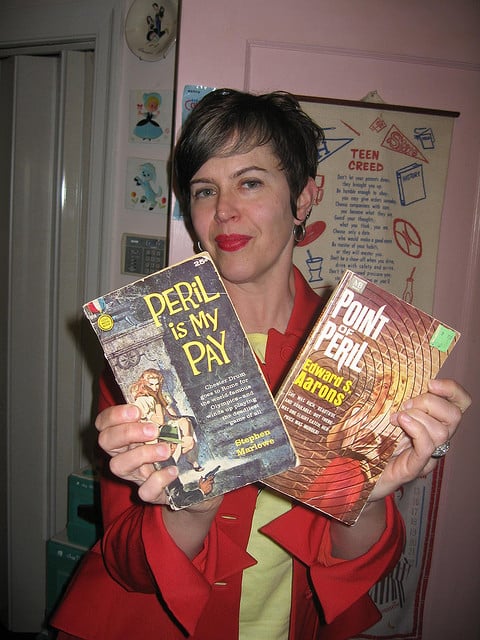 Mystery Date was just a jumping-off point for Lynn, who has published three must-read history/cultural criticism books in recent years: Pink Think: Becoming a Woman in Many Uneasy Lessons, College Girls: Bluestockings, Sex Kittens and Co-eds, Then and Now, and Swimming in the Steno Pool: A Retro Guide to Making It in the Office. She's also the author of Bust Magazine's "Museum of Femoribilia" column.
Below: a time-stamped documentation of the first encounter in our long-time friendship.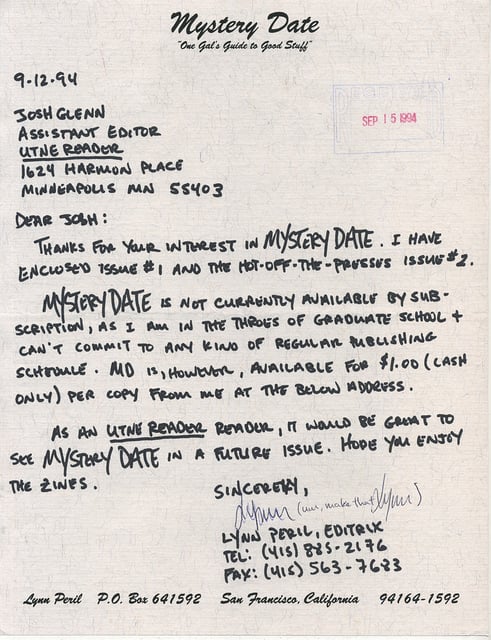 *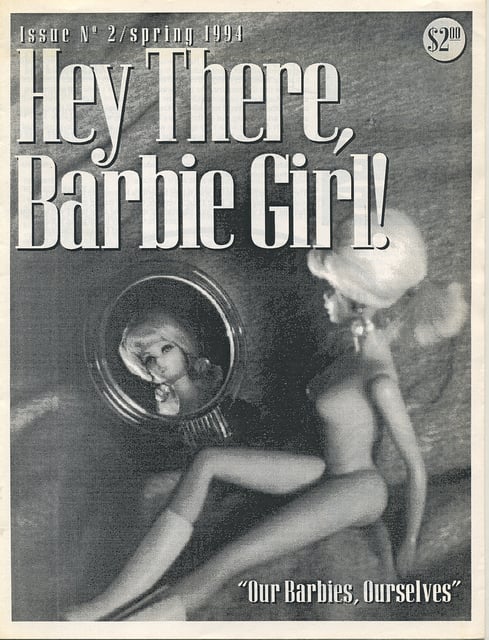 Hey There, Barbie Girl! offered what Factsheet 5 described as "a satirical deconstruction of Mattel's little plastic cash cow." After four issues, editor Barb Kligman received a cease-and-desist letter from Mattel. At which point — in 1995 — she started publishing another excellent DIY periodical, Plotz: The Zine for the Vaclempt.
Published during every major Jewish holiday (for a while there), Plotz boasted in-your-face columns like Out the Jew (Ralph Lauren; Winona Ryder; Kathie Lee Gifford; Geraldo Rivera was born Jerry Rivers, didja know?) and Yiddish Word of the Month (to "plotz" is to burst). Out of the zine grew a very funny, very attractive 2004 book titled Jewish Holiday Fun For You!
Plotz had great stationery too: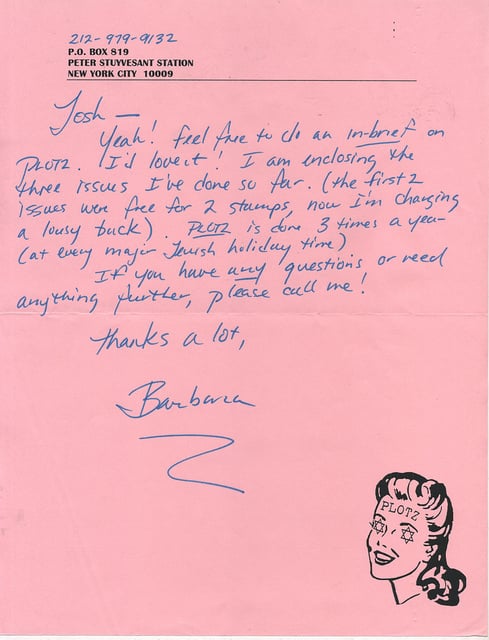 *
NEXT: The zines Bust, Heinous, McJob, and Temp Slave from the Joshua Glenn Zine Collection.
This is a 25-part series in which HiLobrow editor Joshua Glenn, who from 1990–93 published the zine Luvboat Earth and from 1992–2001 published the zine/journal Hermenaut, bids a fond farewell to his noteworthy collection of zines, which he recently donated to the University of Iowa Library's zine and amateur press collection. CLICK HERE to view the online finding aid for this collection.