Out
By: Gordon Dahlquist
August 18, 2013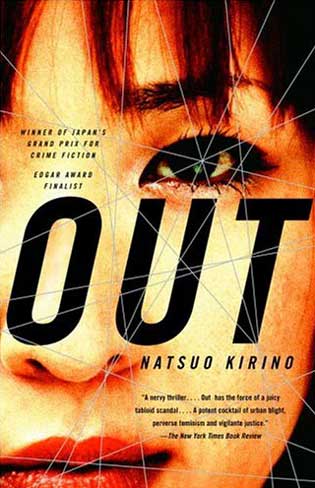 By her own account Natsuo Kirino's writing career began with hardscrabble work, anything she could write to support herself — romance novels, screenplays, manga scripts. Now a major novelist in Japan, only three of her eighteen novels have been translated into English: two more recent books rooted in social commentary, Grotesque and Real World, both from 2003, and her breakthrough book from 1997, Out, a taut and unforgiving thriller that unfolds as darkly as anything from Jim Thompson, if Jim Thompson was a cold-eyed feminist.
Centered on four women who make up a night-shift crew at a box-lunch factory, Out follows an unexpected murder and its tangled aftermath. Yayoi is a young mother whose salaryman husband Kenji has fallen for a nightclub hostess and proceeded to burn through not only his paycheck, but the family's savings in his vain pursuit. When Kenji comes home drunk and defiant, Yayoi reacts with uncharacteristic anger and strangles him. With no idea what to do, she contacts Masako, a downsized financial manager who's taken the night-shift job in order to avoid the husband and son to whom she no longer feels any emotional attachment. Masako in turn recruits their shift leader Yoshie, an older woman burdened with caring for an elderly mother-in-law and a thieving daughter, who agrees to help cover up the murder for a price. But when a fourth member of the shift-crew — Kuniko, narcissistic, unreliable and debt-ridden — deals herself into the scheme, Masako's careful preparations begin to unravel, and all four women find their carefully leveraged lives in jeopardy.
While Grotesque and Real World too are portraits of social entrapment – one a tale of unhappy women whose self-loathing drives them to prostitution, the other a group portrait of hopeless teenagers — those books carry a lick of determinism, as if the needs of social critique occasionally trump the psychology. Out, by contrast, crackles with possibility. Each woman's life is sharply defined — suffocatingly so — by social obligation, by status, by money, but the crime cracks open these contained existences, exposing all four to danger, as well as to unimagined opportunity. Out is shot through with the frisson of adrenaline that follows a narrow escape – from a car crash, or a fall, or a fight – a trembling that stretches between what did happen and what might have, or what might still.
The great achievement of the book is to credibly map these hand-to-mouth battles onto the tensions in Japanese society, without seeming reductive. The extremes that follow – and Out isn't for the faint-hearted – descend like pronouncements from an oracle, expressions of a primal justice that our everyday lives do well to avoid.