Elliot Page
By: Jerrold Freitag
February 21, 2013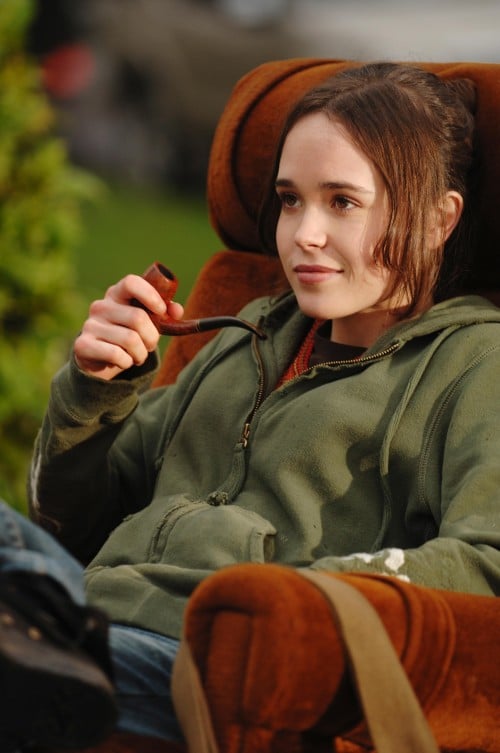 Like many of our other favorite Canadians, ELLIOT PAGE (born 1987) has access to an intellectual geography that Americans buried along the commodified Route 66. Within Page's vast internal borders there's no disparity between what's funny and what hurts. Well before Juno, Page was already the sharpest knife in the drawer; check out his eight episodes of the great Canadian television drama camp ReGenesis (Quincy meets X Files). If you still hadn't seen him by Trailer Park Boys, he freaked you out in Hard Candy. Citizen Page is so tuned in to the interconnectivity of environmental woes, he's at its repair from its brightest angle in Vanishing of the Bees. He breathes life into interviews with Craig Ferguson and Leonardo DiCaprio; he makes Letterman nervous, makes Barbara Walters need a nap. Postmodernism bred actors who winked at us knowingly, signaling that they knew it was all a construct; all an act. I don't mind pretending along with Mr. Page that things might instead be as they seem.
This post has been updated to reflect Elliot Page's December 2020 announcement that he is transgender. The following note was appended by Jerrold Freitag on 4 December 2020.
Thank you, Elliot. And congratulations? I don't know. I'm quite ignorant here. I do not understand much about your road. But you're helping me think about a matter dear to many of my fellow citizens here on earth. Many in places i can't reach. You're helping me be just a little bit better today and less of an asshole than yesterday. That's as close as i can get to a mantra. So rock on, brother, sister, anyone you want to be… Why should I care, when bees are at death's door? Ain't it the absolute least I can do; to respect you being whoever and however you want? You're not even asking my support — though I'd give it. You've asked nothing of me. Isn't that freedom's acid test? Freedom's only criteria being not to infringe on others' freedom? A fine model for any relationship, large or small. Political or personal. You're still my hero.
***
On his or her birthday, HiLobrow irregularly pays tribute to one of our high-, low-, no-, or hilobrow heroes. Also born this date: David Foster Wallace and Anaïs Nin.
READ MORE about members of the Social Darwikian Generation (1983-92).