BRAINIAC Q&A (18)
By: Joshua Glenn
December 3, 2012
From late September 2002 through early 2006, HILOBROW's Joshua Glenn wrote THE EXAMINED LIFE, a weekly three-item column for the Boston Globe's Ideas section; and from late 2006 though mid-2008, he wrote BRAINIAC, an Ideas section blog that was repurposed as a three-item weekly column in the paper. This series reprints a few Q&As from Glenn's two Ideas columns. [Brainiac image via 4CP]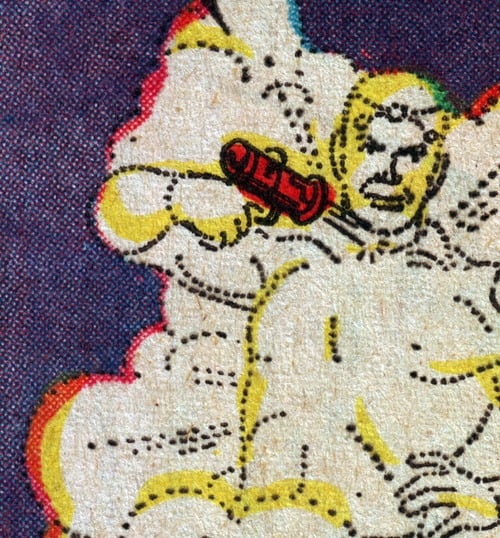 ***
January 16, 2005
CLASS NOTES FROM UNDERGROUND
Two years after its publication in England, Home Land (Picador), the latest novel from Sam Lipsyte — 36-year-old author of critically hailed works of fiction, as well as a contributor to all the right literary journals and book reviews — will finally hit American bookstores this month. Home Land is a sometimes maudlin, frequently angry and violent, invariably funny inquiry into the debased nature of life in and after high school in these United States. Even better, it's narrated in a series of ribald, digressive missives to the fictional Eastern Valley High School Alumni Newsletter. Lipsyte spoke with me via telephone from his home in Queens.
IDEAS: Your narrator, Lewis, uses updates to his school's alumni bulletin as a way to examine the years since graduation, which he's spent achieving — what?
LIPSYTE: Although Lewis announces, in his first update, that "I did not pan out," he doesn't think of himself as the loser that some of his classmates — the politician, the ballplayer, the rock star — reading a synopsis of his life might. That's because he's spent the past 15 years seeking out his idea of the True. What escapes even the critics who like the book, but who call me a "slacker novelist," is that you can have a valid life even if you don't play the game as it's been set up.
IDEAS: Yet Lewis's philosophy is self-contradictory. For example, he toys with writing a book titled The Seven Habits of Highly Disappointed People, but also insists that he's "more than satisfied to remain unsatisfied."
LIPSYTE: Lewis is unhappy with his situation — he's a lovelorn college dropout who freelances writing FunFacts for a big corporation's in-house newsletter. But as a result he's freer in many ways than his career-driven classmates. This is a contradictory situation, so his philosophy of life — as expressed, in particular, in the impromptu speech he makes at his class reunion near the end of the book — contradicts itself, as most honest philosophies do.
IDEAS: But if you renounce both success and failure, then what's left to do with yourself?
LIPSYTE: A friend of mine compared Lewis to the character Charlie Chaplin played, someone who maintains his dignity and optimism in the face of perpetual humiliations — also known as everyday life. That's it!
IDEAS: Why do you think it took two years to get your novel published in the United States?
LIPSYTE: I finished the book shortly after 9/11 — its title was inspired by the emergence in American discourse of the nationalistic term "homeland," which I found disturbing. Lewis is someone who stayed home after graduating high school, instead of venturing out into the world, but this has given him a keen perspective on everything wrong with this country. Unfortunately, publishers here weren't interested, at that particular time, in a dark, satirical look [at America].
***
READ MORE essays by Joshua Glenn, originally published in: THE BAFFLER | BOSTON GLOBE IDEAS | BRAINIAC | CABINET | FEED | HERMENAUT | HILOBROW | HILOBROW: GENERATIONS | HILOBROW: RADIUM AGE SCIENCE FICTION | HILOBROW: SHOCKING BLOCKING | THE IDLER | IO9 | N+1 | NEW YORK TIMES BOOK REVIEW | SEMIONAUT | SLATE