Jackie De Shannon
By: Devin McKinney
August 21, 2012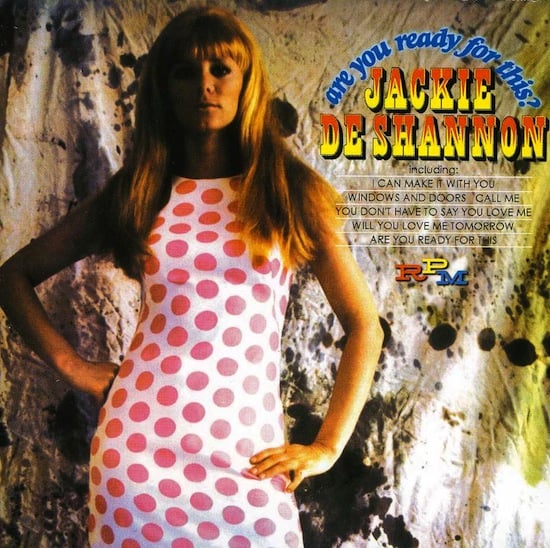 The pop star who changes masks to outmaneuver an audience is a cliché. For JACKIE DE SHANNON (born 1942), the identity switch was a necessity of commercial survival. Yet her masks once formed a coherent identity. It was predicated on the pure quality of her warm, scratched, passionate, longing voice; it lay in a continuity of sound and soul. You felt the fine sweet gravel of the voice and, whatever style it was singing, you said Hey — I know you.
Working the pop templates of 1963–69 with a succession of producers and co-writers, she did a folk album; a teendream album; a soul album; a glitzy ballad album; a hippie album; a singer-songwriter album. She hunted the hit combination through a scatter of styles, in the process defining folk rock ("Needles and Pins," "When You Walk in the Room") and scoring blockbusters ("What the World Needs Now," "Put a Little Love in Your Heart") so tepidly affirmative they convinced people she wasn't expressing herself.
Her costumes came and went, her sounds changed like shifting light, her masks and moods multiplied. She never stopped writing, singing, seeking the combination. With "Bette Davis Eyes" in 1981, she gave Kim Carnes a bigger hit than she'd ever given herself. But new times rewrote the rules and turned her from an expert crafter of commercial masks to a "minor pop aristocrat" making "vague stabs at meaningfulness" (Christgau).
Be that as it may, in her great years — see Breaking it Up on the Beatles Tour! (1965), Are You Ready for This? (1966), and Laurel Canyon (1968) — Jackie De Shannon had the combination, and it opened every lock in your personal house of love. Your doors swung wide, and she walked in. You asked her to stay. And she stayed.
***
On his or her birthday, HiLobrow irregularly pays tribute to one of our high-, low-, no-, or hilobrow heroes. Also born this date: Kim Cattrall.
READ MORE about members of the Anti-Anti-Utopian Generation (1934-43).