I'm Not Looking
By: Mike Fleisch
March 23, 2012
Department stores still have the ability to capture a collective shopping imagination… The customer should be offered ideas — what some retailers call their "story"… In the mass market the design will have to accommodate displays that construct ideas… perhaps on mannequins.
— Rodney Fitch & Lance Knobel in Retail Design, 1990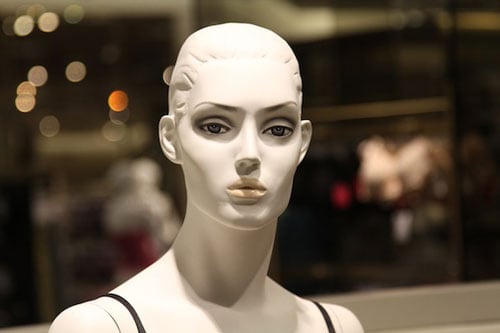 Even within the contiguous volume of a single suburban mall, from the cardinally-oriented anchors (Penney's, Dillard's/Macy's, Nordstrom, Saks, Neiman) to the ubiquitous national chains (Forever 21, Banana) to local one-of-a-kinds, you are likely to encounter a wide variety of aspirational figurative plaster models. These represent a tiny portion of actual humanity, but the iterations are impressive. Probably there's valuable research on figurative sculpture and the myriad domains of art, representation, race, class, body aesthetics, as relates to shopping enthusiasm/emotional connection/ability to see oneself in clothes, late capitalism, etc.
Somewhat closer to what I'm interested in here are the tropes of zombie cinema: mall as privileged space, recognition in the act of seeing, decaying flesh, lurching and aggressive motion, head possession toggle. But even these resonate as little more than a curious set of coincidences.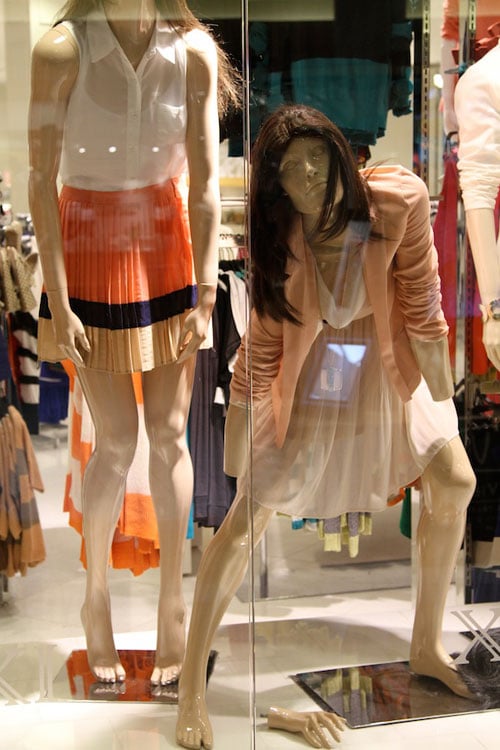 The retail space-consumer experience dynamic keeps a lot of people employed. Precise care is taken in crafting all aspects of embodied shopping (lighting, flow, music, color, etc.), presumably to engender feelings of safety, ease, comfort, and especially, projection. Mannequins would seem to epitomize the Mulveyite quality of "to-be-looked-at-ness."
But there's another dynamic that inconveniently accompanies traditional representations of beauty, particularly the located epicenter of depth and desire, those windows into the soul. But as Bresson's observation about the ejaculatory power of the eye teaches us, the window works both ways.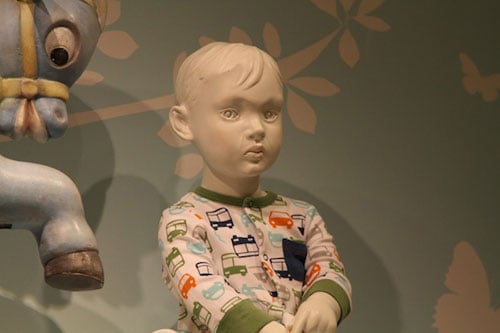 You can start to imagine mannequined retail air as patrolled by those pesky laser fields, invisible point light beams criss-crossing and segmenting your retail experience-space. The sensation ought to be considered: finding someplace along that line that projects out from every mannequin with a face, getting your eyes just right, and then switching in your head from observer to observed, from one who looks to objectified transgressor. Really, next time you're in a position to try this, do it. I think these images collectively hold up; but they are a hollow shell compared to the situated feeling that accompanied their capture.
[Note: silent movie; several seconds of initial black leader intentional]
***
Read more from artist-in-residence Mike Fleisch on HiLobrow.
HILOBROW's Artist-in-residence archive.