Angusonics (3)
By: James Parker
March 30, 2011
SHOT DOWN IN FLAMES
Third in a series of five posts, coauthored by HILOBROW's James Parker and Tommy Valicenti, singer/guitarist with the Boston rock band Mount Peru, parsing the solos of AC/DC's Angus Young. Young celebrates his 56th birthday on March 31st.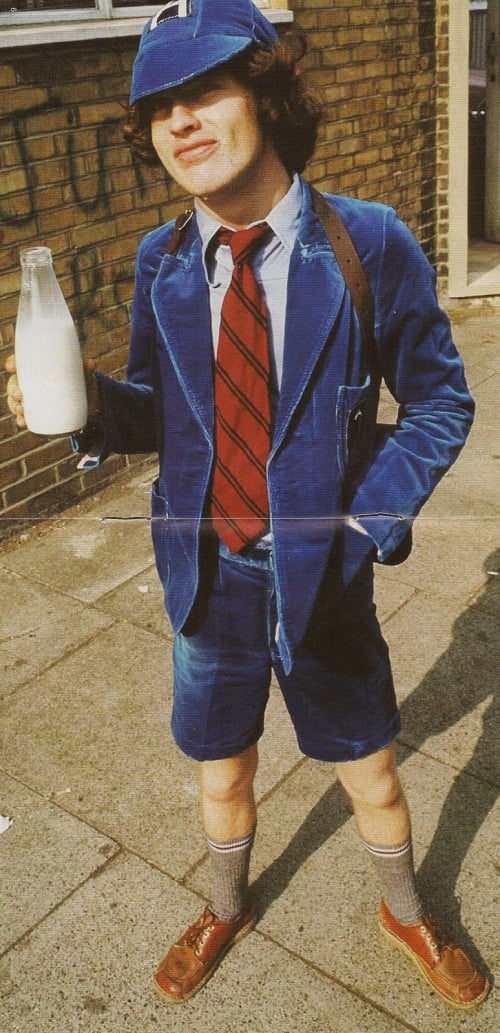 From Highway To Hell.
1979: World domination approaches. Atlantic Records, greedy for US airplay, has ousted big brother George Young and his partner Harry Vanda from the producer's throne, replacing them with Robert John 'Mutt' Lange, a South African. Mild trauma in the AC/DC camp — George has been the band's guru/enforcer, its Obi-Wan and Drew 'Bundini' Brown — but the universe, which desires in its core to be ruled by AC/DC, is unperturbed. Mutt Lange is simply what must happen next. Vanda-Young have given the band definition, attack, a mindset, the vicious bar-band wallop of Powerage — Mutt Lange will give them space. And thereby, HITS.
What is the Mutt Lange AC/DC sound? A fertile dryness, a compression that is paradoxically expansive, a kickdrum that renews itself with every downbeat. Multi-multi-multi-tracked guitars, panned hard in the left and right channels for a thicker, more 3-D effect. That strange, beery choir, triumphally decelerated, yelling "Hi-ighway tuh HELL!" Malcom's gaps are like shockwaves in this setting. Angus, meanwhile, is mercury. Or Mercury.
'Shot Down In Flames', in the best tradition of the Bon Scott lyric, tells a story: trotting around in his tight jeans, bulbous with mischief, this ladies' man is having a hard time with the ladies. The first one tells him to go to hell, the second has a boyfriend ("Toss off, buddy, she's mine."), so what can he do, spiralling down in flames, what can he do but throw a mid-song fit? "Hey you!" he shrieks at 1.55. "Angus! Shoot me!" Cue a series of rocketing pick-slide glissandi from his lead guitarist, shearing their way between Malcolm's monster chords. "That's NICE!" declares Bon, and continues to frazzle in lowbrow ecstasy — "Uh! Oh! Wooh!" — through a typically witty and idea-packed flight from Angus. When Jimmy Page solo'd, Robert Plant would arc his back and whoop like Maid Marian having her bottom pinched; Pete Townshend could force a sort of orgasmic bluster from Roger Daltrey; David Bowie theatrically fellated Mick Ronson's fretboard; but Angus really tickled Bon.
The guitar's first phrases, starting at 2.18, seem to describe a quizzical, slightly rueful internal monologue — what the fuck, shot down in flames again? — a tristesse from which we are then lifted on plumes of Angusonic vibrato. High notes pop, and by 2.34 we have regained a mood of slapstick determination. Give it another try, goddammit!