Caption Contest
By: Patrick Cates
December 17, 2010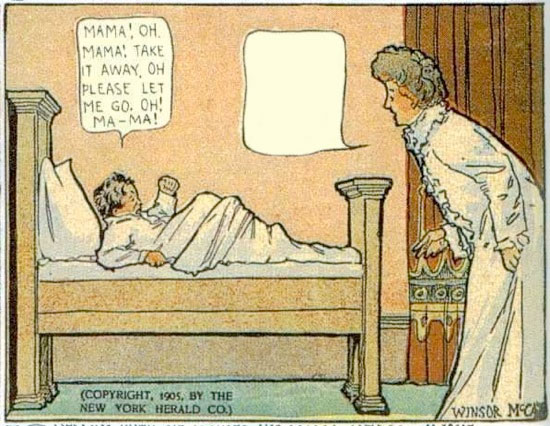 HILOBROW is pleased to announce a new contest. This time around, we have a sponsor! It's:

THE SET-UP: First prize is a signed copy of Emma Donoghue's Room, a novel about a boy who's lived his entire life in a single room with only his mother — and Old Nick, a creepy nighttime visitor — for company. That's why we've sampled a panel from the newspaper strip Little Nemo in Slumberland, by Winsor McCay, in which Nemo, waking up from a nightmare (in the room that he never seems to exit, except in his dreams), calls for his mother. "Mama! Oh Mama! Take it away. Oh please let me go. Oh! Ma-ma!" says Nemo. What is Nemo's mother saying to him?
THE CHALLENGE: Write a pithy one- or two-line response — brief enough to fit into the empty speech bubble — for Nemo's mother. Your line(s) should make the judges laugh, cry, shiver, or otherwise sit up and take notice. NB: The original comic is here. But looking at it won't help, because we're asking for an original piece of writing that needn't be Winsor McCay-esque.
THE JUDGES: HiLobrow editors Matthew Battles and Joshua Glenn, and HILOBROW's Magister Ludi, Patrick Cates.
THE PRIZES: First prize is a signed copy of Emma Donoghue's 2010 novel Room, provided by AbeBooks. Room was shortlisted for the Man Booker Prize and was one of the New York Times Book Review's "10 Best Books of 2010." Second prize is a coupon code entitling you to a discount of 50% for a purchase on AbeBooks, to a maximum savings of $30. (The code is valid for use on AbeBooks.com alone. It will expire on January 15, 2011.) Third prize is a COCKY THE FOX or HILOBROW t-shirt (your choice).
DEADLINE, GUIDELINES: Post entries as comments to this thread by 9 pm EST on December 31st. There is no limit to the number of captions you can submit; however, you must enter each caption as a separate comment.
RSS: Follow contest updates by subscribing to hilobrow.com/tag/contest/feed/
SHORTLINK to this post: https://www.hilobrow.com/?p=27895