What was the Hipster?
By: Joshua Glenn
December 2, 2010
Editor's note: This is one of the most popular posts, traffic-wise, ever published on HiLobrow. Click here to see a list of the Top 25 Most Popular posts (as of October 2012); and click here for an archive of all of HILOBROW's most popular posts.
*
Our friends at the journal n+1 (whose new issue is just out) recently published a small book titled What Was The Hipster? (edited by Mark Greif, Kathleen Ross and Dayna Tortorici). It features white papers by Greif, Jace Clayton, and Christian Lorentzen, the transcript of a public investigation into the rise and fall of the contemporary hipster, critical responses, and more.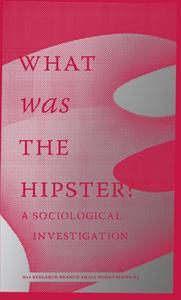 As someone obsessed with periodization, I was interested to read, in Greif's introductory essay, that
when we talk about the contemporary hipster, we're talking about a subcultural figure who emerged by 1999, enjoyed a narrow but robust first phase until 2003, and then seemed about to dissipate into the primordial subcultural soup, only to undergo a reorganization and creeping spread from 2004 to the present.
Greif is making a strong claim, here, that the hipster phenomenon as we currently know it was an expression of the generational cohort (born 1974-83) whom I've dubbed the Revivalists. The hipster phenomenon emerged when the oldest Revivalists were in their mid-20s (and the youngest were in their mid-teens), and began to recede precisely when the oldest Revivalists turned 30. Makes perfect sense.
Noting that the term "hipster" was first applied to certain black subcultural figures in the 1940s and to 1950s-era "white negroes," Greif notes that although the look of "Hipster, in its revival" [emphasis added] may have "overlapped enough with a short-lived moment of neo-Beat and fifties nostalgia (goatees, fedoras, Swingers-style duds) to help call up the term," the 1999-era crop of hipsters were white, and uninterested in fetishizing blackness. Instead, with their trucker hats, "wifebeaters," Pabst Blue Ribbon, mustaches, Americana T-shirts, tube socks, and tattoos, the hipsters "fetishized the violence, instinctiveness, and rebelliousness of lower-middle-class 'white trash.'"
Yep, this is what I've been saying for a few years now about the Revivalist generation. Whereas their immediate elders mix and match fragments of received cultural forms, which sometimes results in works of great originality, and sometimes simply means freshening up reheated entertainments with air quotes, Revivalists don't have an ironic take on bygone cultural forms; instead, they reboot them, like old videogames. The hipster takes to a risible extreme what all Revivalists — including n+1's editors — do, in one form or another. It's hard-wired into their generational DNA.
If Revivalists despise the hipster with white-hot intensity, it's for that reason.
***
READ MORE essays by Joshua Glenn, originally published in: THE BAFFLER | BOSTON GLOBE IDEAS | BRAINIAC | CABINET | FEED | HERMENAUT | HILOBROW | HILOBROW: GENERATIONS | HILOBROW: RADIUM AGE SCIENCE FICTION | HILOBROW: SHOCKING BLOCKING | THE IDLER | IO9 | N+1 | NEW YORK TIMES BOOK REVIEW | SEMIONAUT | SLATE
Joshua Glenn's books include UNBORED: THE ESSENTIAL FIELD GUIDE TO SERIOUS FUN (with Elizabeth Foy Larsen); and SIGNIFICANT OBJECTS: 100 EXTRAORDINARY STORIES ABOUT ORDINARY THINGS (with Rob Walker).