Traci Lords
By: Alexis Madrigal
May 7, 2010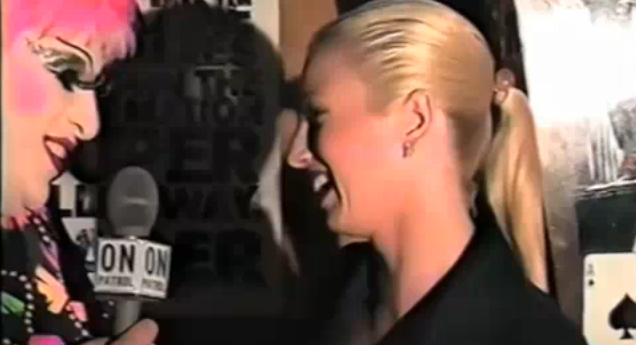 TRACI LORDS (born 1968) presents American culture with a question it doesn't really want to answer: once you've seen someone have sex, can you ever look at them the same ever again? Cajoled into X-rated films as an abused and damaged 15-year old, the three years she spent having sex on camera have trailed Lords for the rest of her life like a vestigial tail. She's scrapped her way to respectability, traveling through the John Waters wormhole (Cry-Baby) to a TV and movie career, including a wicked turn in Melrose Place, but every role she takes on seems just one more colorful interpretation of her pornographic stint. Even her terrible mid-1990s trance record, 1000 Fires, wasn't enough to force her out of the limelight. The lead Chemical Brothers-like single, "Control," even hit the top of the charts. The song's video cuts between Lords lip synching nasty things and clips of her skin being used as a screen for video projections. We insist that Lords play lust incarnate, delivering sex and absorbing culpability, but she asks that more oblique dramas play out on her body.
Image from: Traci Lords speaks to Brandy Wine 1995

***
Each day, HILOBROW pays tribute to one of our favorite high-, low-, no-, or hilobrow heroes on that person's birthday.
READ MORE about the Reconstructionist Generation (1964-73).
READ MORE HiLo Hero shout-outs.
SUBSCRIBE to HiLo Hero updates via Facebook.
SHARE this post, by clicking on the toolbar below.