Mad househusbands
By: Joshua Glenn
October 16, 2009
Editor's note: This is one of the most popular posts, traffic-wise, ever published on HiLobrow. Click here to see a list of the Top 25 Most Popular posts (as of October 2012); and click here for an archive of all of HILOBROW's most popular posts.
*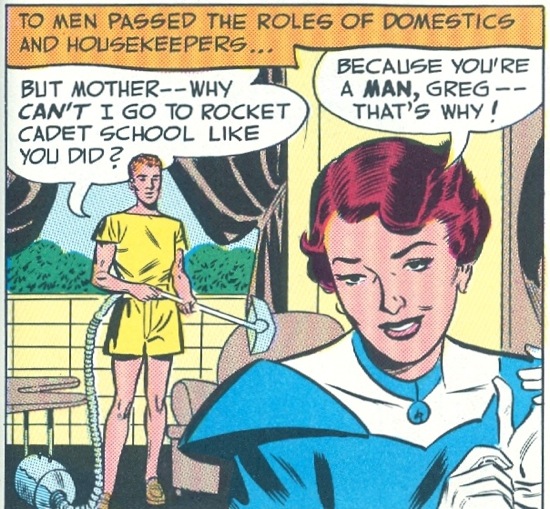 According to the Bureau of Labor Statistics, women will likely overtake men in the American workforce some time this month or next. In August, women held 49.9 percent of the nation's 132 million nonfarm jobs. Why? Because 80 percent of the 5.1 million people who have lost their jobs in this recession are men; and women are gaining the vast majority of jobs in the few sectors of the economy that are growing.
Doesn't having, then raising children keep many women out of the workforce? Not so much. A chart posted yesterday to the NY Times' Economix blog notes that women across the board have entered the labor market in higher numbers over the last three decades, but the biggest increases have been among mothers with young children: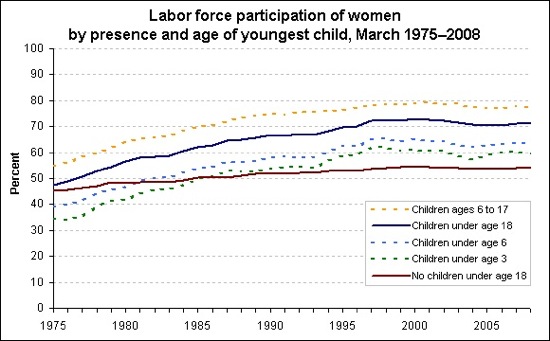 What does this mean for men, you ask? John Broome, author of "It's a Woman's World," a science fiction story that appeared in the DC comic book Mystery in Space (#8), asked the same thing way back in July 1952. As the panels shown here demonstrate, Broome predicted that women would one day cruelly discriminate against men — force them to work in the home, while women ran businesses and fought wars.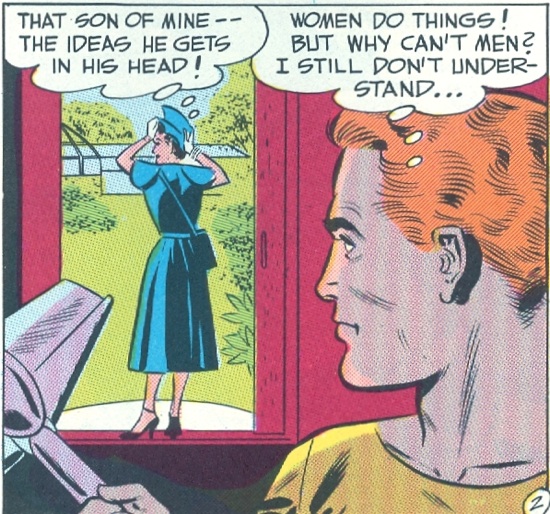 That actually sounds pretty good, to me. Broome, apparently, wasn't so sanguine about the prospect of being a househusband. Check out his story's happy ending: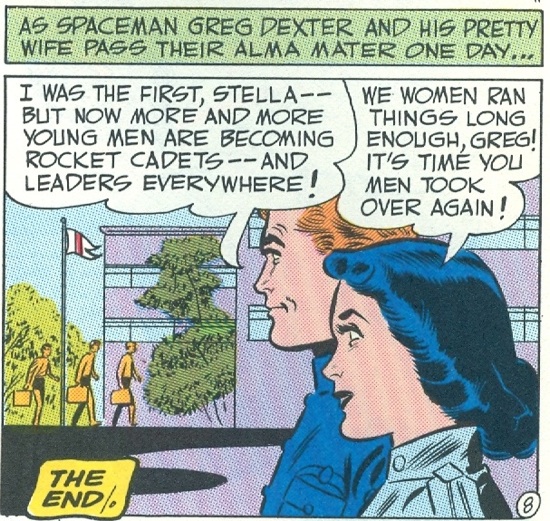 ***
READ MORE essays by Joshua Glenn, originally published in: THE BAFFLER | BOSTON GLOBE IDEAS | BRAINIAC | CABINET | FEED | HERMENAUT | HILOBROW | HILOBROW: GENERATIONS | HILOBROW: RADIUM AGE SCIENCE FICTION | HILOBROW: SHOCKING BLOCKING | THE IDLER | IO9 | N+1 | NEW YORK TIMES BOOK REVIEW | SEMIONAUT | SLATE
Joshua Glenn's books include UNBORED: THE ESSENTIAL FIELD GUIDE TO SERIOUS FUN (with Elizabeth Foy Larsen); and SIGNIFICANT OBJECTS: 100 EXTRAORDINARY STORIES ABOUT ORDINARY THINGS (with Rob Walker).