TEN DAYS (INTRO)
By: Peggy Nelson
April 6, 2020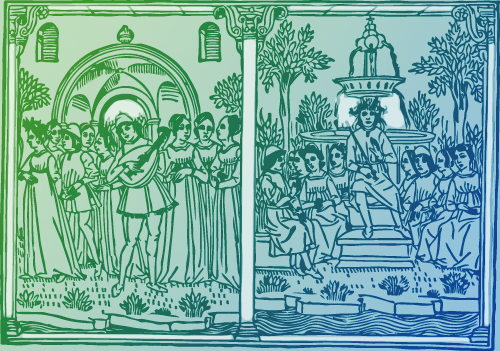 ***
Introducing TEN DAYS: a new Decameron for our time.
Starting tomorrow, ten different writers and artists will each post a tale meant to entertain, enliven, embold, or instruct. Some of these tales are in prose, some in poetry, some in images, and some in sound.
In Boccaccio's original Decameron (circa 1353), ten friends decamped for a large mansion outside of Florence for two weeks to wait out the black plague surging through their city, and whiled away the time (when not indulging in light agriculture, or heavy prayer) by telling each other stories.
"Decameron" in Italian translates literally as "ten days"; thus the title for our new effort here. So the impulse is the same, as is our current lockdown during a global pandemic. But our "large mansion outside of Florence" is cyberspace; and our "city" is the entire global village. Our plague is of course the COVID-19 novel coronavirus, for which there is, as of this writing, no cure, only mitigation. Accordingly, the participants in TEN DAYS are not co-located spatially, nor is the audience restricted to a walled garden to hear them. And we're doing just one story per day instead of ten per day, since our 21st-century stage specializes in Short Attention Span Theater—something I've written about, ironically enough, at length.
Of the ten voices featured here, some are known to HILOBROW readers, and some are new. We'll let each one surprise and delight you, then I'll collect together the authors and their links in a summary post, for easy sharing and reference.
In the meantime, wash your hands, and then feast your eyes!
***
Series: TEN DAYS on HILOBROW