DOLLY YOUR ENTHUSIASM (14)
By: Erin Osmon
February 11, 2023
One in a series of 25 enthusiastic posts, contributed by 25 HILOBROW friends and regulars, on the topic of favorite Country singles from the Sixties (1964–1973). Series edited by Josh Glenn. BONUS: Check out the DOLLY YOUR ENTHUSIASM playlist on Spotify.
*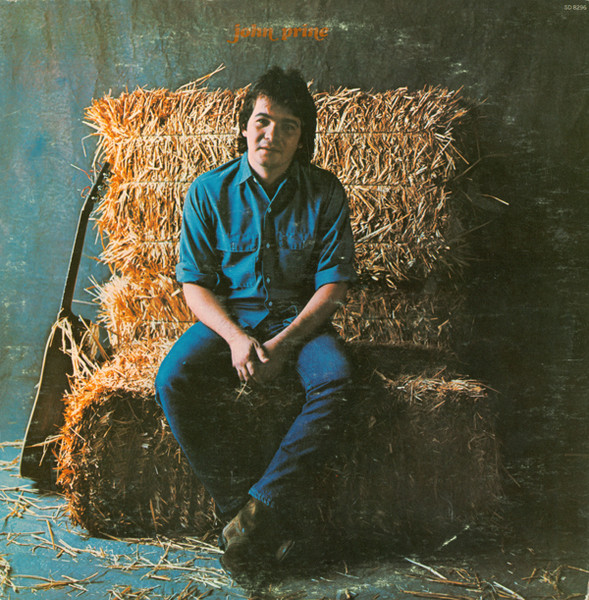 JOHN PRINE | "PARADISE" | 1971
In many American places, the county means little more than a jigsaw puzzle of cities and exurbs, a vaguely understood form where urban ambition, suburban agreeability, and airport-accessible country life are aggregated. The county is little more than a sum of its disparate parts, and so who would ever sing of it?
A Kentuckian who knows better.
When John Prine sang of Paradise, agrarian fantasy was at once celebrated and dismantled, and the county became a real and present truth. Across the Ohio River from the lower Midwest, counties foster a cable-knit ecosystem of the rural and unincorporated; the farmers and preachers, miners and community workers who live under the state's abstract banner of thoroughbred horse racing and college sports, but pledge their allegiance to a hyper-local existence bound by county lines, and led by magistrates who may very well be a neighbor, cousin, or friend.
When Prine was a toddler, in 1948, and already traveling between his family's home in Maywood, Illinois, and his ancestral land in Muhlenberg County, Kentucky, Merle Travis declared that "Kentucky Means Paradise." It was one of many novelty tunes the picker and Muhlenberg native wrote and recorded. On its face, it animated shangri-la through good 'ol down-home ennui; but it also signaled that Kentucky's pastoral loveliness, its rustic magnetism, was best exemplified by just one of its rural pockets: Paradise.
With his song "Paradise," Prine transformed Travis' suggestions into resonant musical exegesis. In detailing and contextualizing the destruction of his extended family's homeland by corporate coal mining, Prine comes across as defiant but never bitter or angry. His assertion that bad folks couch environmental torture in the language of progress is revolutionary — but entirely approachable when wrapped in the songwriter's warm, knowing wink. It's a mournful, anti-capitalist screed packaged as a campfire sing-along; a loving tribute and a cautionary tale that was timely but strengthened by the patina of passing years.
This duality, plus a preternatural gift for channeling and updating tradition, was Prine's superpower. It's exhibited throughout his 1971 self-titled debut, but perhaps no better than on "Paradise," where boyhood nostalgia entwines with adult devastation to form a narrative rife with country music flourishes. His brother Dave's primitive fiddle playing reads as an ancestral throughline, conjuring generations of rural players gathered at family reunions and on regional radio programs. Steve Goodman's high harmony singing rings like a blood relative.
Through Prine the county was amplified beyond its borders and today Muhlenberg stands for any land, any people plagued by commercial greed and environmental destruction, or any capsule of family and tradition threatened under the auspices of growth. It's an emblem transcending time and place — a tender memory, a location of the heart "just five miles away from wherever I am."
***
DOLLY YOUR ENTHUSIASM: INTRODUCTION by Josh Glenn | David Cantwell on Porter Wagoner and Dolly Parton's WE FOUND IT | Lucy Sante on Johnny & June Carter Cash's JACKSON | Mimi Lipson on George Jones's WALK THROUGH THIS WORLD WITH ME | Steacy Easton on Olivia Newton-John's LET ME BE THERE | Annie Zaleski on Tammy Wynette's D-I-V-O-R-C-E | Carl Wilson on Tom T. Hall's THAT'S HOW I GOT TO MEMPHIS | Josh Glenn on Commander Cody and His Lost Planet Airmen's BACK TO TENNESSEE | Elizabeth Nelson on Skeeter Davis's I DIDN'T CRY TODAY | Carlo Rotella on Buck Owens' TOGETHER AGAIN | Lynn Peril on Roger Miller's THE MOON IS HIGH | Erik Davis on Kris Kristofferson's SUNDAY MORNIN' COMIN' DOWN | Francesca Royster on Linda Martell's BAD CASE OF THE BLUES | Amanda Martinez on Bobbie Gentry's FANCY | Erin Osmon on John Prine's PARADISE | Douglas Wolk on The Byrds' DRUG STORE TRUCK DRIVIN' MAN | David Warner on Willie Nelson's WHISKEY RIVER | Will Groff on Tanya Tucker's DELTA DAWN | Natalie Weiner on Dolly Parton's IN THE GOOD OLD DAYS (WHEN TIMES WERE BAD) | Charlie Mitchell on Stonewall Jackson's I WASHED MY HANDS IN MUDDY WATER | Nadine Hubbs on Dolly Parton's COAT OF MANY COLORS | Jada Watson on Loretta Lynn's DON'T COME HOME A DRINKIN' (WITH LOVIN' ON YOUR MIND) | Adam McGovern on Johnny Cash's THE MAN IN BLACK | Stephen Thomas Erlewine on Dick Curless's A TOMBSTONE EVERY MILE | Alan Scherstuhl on Waylon Jennings's GOOD HEARTED WOMAN | Alex Brook Lynn on Bobby Bare's THE WINNER. PLUS: Peter Doyle on Jerry Reed's GUITAR MAN | Brian Berger on Charley Pride's IS ANYBODY GOING TO SAN ANTONE.
MORE ENTHUSIASM at HILOBROW
MÖSH YOUR ENTHUSIASM (1Q2024): ENTER SANDMAN | MILQUETOAST | CHRISTBAIT RISING | GOING BLIND | HERE COME THE COPS | & 20 other Eighties (1984–1993) Metal songs. STOOGE YOUR ENTHUSIASM (4Q2023): MOVE ON FAST | 96 TEARS | SHE CRACKED | WHAT A WAY TO DIE | PSYCHOTIC REACTION | & 20 other Sixties (1964–1973) proto-punk songs. CURVE YOUR ENTHUSIASM (3Q2023): PIZZA PURISM | BOY BANDS | THE '86 METS | LOVE ISLAND UK | ELTON JOHN | & 20 other reconsidered enthusiasms. TEEN YOUR ENTHUSIASM (2Q2023): ANDY GIBB | VALERIE BERTINELLI | KIM WILDE | ARLO GUTHRIE | MIKE PATTON | & 20 other heartthrobs from our adolescences. DOLLY YOUR ENTHUSIASM (1Q2023): WE FOUND IT | TOGETHER AGAIN | SUNDAY MORNIN' COMIN' DOWN | BAD CASE OF THE BLUES | FANCY | & 20 other Sixties (1964–1973) Country records. KILL YOUR ENTHUSIASM (4Q2022): LT. TASHA YAR | JOYCE SUMMERS | COL. HENRY BLAKE | MRS. LANDINGHAM | ALEX KAMAL | & 20 other TV deaths. BLURB YOUR ENTHUSIASM (3Q2022): LEFT-CORNER BRICK | JOY IS RESISTANCE | THE FUTURE IS PASSÉ | EVERY MINUTE AN OCEAN | SHUT UP, HE EXPLAINED | & 20 other apothegms to live by. KOJAK YOUR ENTHUSIASM (2Q2022): ARK II | WKRP IN CINCINNATI | BUCK ROGERS | THE WHITE SHADOW | POLICE WOMAN | & 20 other Seventies (1974–1983) TV shows. KICK YOUR ENTHUSIASM (1Q2022): KUILL | CATO | COSMO | TRIXIE | VOLSTAGG | & 20 other sidekicks. NERD YOUR ENTHUSIASM (4Q2021): TIME | THE POST OFFICE | ARDUIN | DOUBT | SUMMATIONS | & 20 other nerdy passions. SWERVE YOUR ENTHUSIASM (3Q2021): WARHOL'S WALT WHITMAN | 70, GIRLS, 70 | TYRAEL'S MIGHT | SHIRATO SANPEI | THE LEON SUITES | & 20 other never-realized cultural productions. FIVE-O YOUR ENTHUSIASM (2Q2021): DARK SHADOWS | MANNIX | GET SMART | THE ADDAMS FAMILY | I DREAM OF JEANNIE | & 20 other Sixties (1964–1973) TV shows. FERB YOUR ENTHUSIASM (1Q2021): STEVEN UNIVERSE | TOP CAT | REN & STIMPY | SHE-RA AND THE PRINCESSES OF POWER | DRAGON BALL Z | & 20 other animated series. CARBONA YOUR ENTHUSIASM (2020): "Sex Bomb" | "Going Underground" | "Soft South Africans" | "Typical Girls" | "Human Fly" | & 20 other Seventies (1974–1983) punk singles. KLAATU YOU (2020 weekly): ZARDOZ | METROPOLIS | DARK STAR | SINS OF THE FLESHAPOIDS | SOLARIS | & dozens of other pre-STAR WARS sci-fi movies. CONVOY YOUR ENTHUSIASM (2019): THE TAKING OF PELHAM ONE TWO THREE | ROLLERBALL | BLACK SUNDAY | SORCERER | STRAIGHT TIME | & 20 other Seventies (1974–1983) action movies. SERIOCOMIC (2019 weekly): LITTLE LULU | VIZ | MARSUPILAMI | ERNIE POOK'S COMEEK | HELLBOY | & dozens of other comics. TUBE YOUR ENTHUSIASM (2018): LOONEY TUNES | THREE STOOGES | THE AVENGERS | ROCKY & BULLWINKLE | THE TWILIGHT ZONE | & 20 other Fifties (1954–1963) TV shows. WOWEE ZOWEE (2018 weekly): UNISEX | UNDER THE PINK | DUMMY | AMOR PROHIBIDO | HIPS AND MAKERS | & dozens of other Nineties (1994–2003) albums. KLUTE YOUR ENTHUSIASM (2017): THE KILLERS | BANDE À PART (BAND OF OUTSIDERS) | ALPHAVILLE | HARPER | BLOW-UP | & 20 other Sixties (1964–1973) neo-noir movies. #SQUADGOALS (2017 weekly): THE WILD BUNCH | BOWIE'S BAND | THE BLOOMSBURY GROUP | THE HONG KONG CAVALIERS | VI ÄR BÄST! & dozens of other squads. GROK MY ENTHUSIASM (2016 weekly): THE THEORY AND PRACTICE OF LUNCH | WEEKEND | MILLION YEAR PICNIC | LA BARONNE EMILE D'ERLANGER | THE SURVIVAL SAMPLER | & dozens more one-off enthusiasms. QUIRK YOUR ENTHUSIASM (2016): "Tainted Love" | "Metal" | "Frankie Teardrop" | "Savoir Faire" | "Broken English" | & 20 other Seventies (1974–1983) new wave singles. CROM YOUR ENTHUSIASM (2015): DARKER THAN YOU THINK | THE SWORD IN THE STONE | OUT OF THE SILENT PLANET | THIEVES' HOUSE | QUEEN OF THE BLACK COAST | & 20 other Thirties (1934–1943) fantasy novels. KERN YOUR ENTHUSIASM (2014): ALDINE ITALIC | DATA 70 | TORONTO SUBWAY | JOHNSTON'S "HAMLET" | TODD KLONE | & 20 other typefaces. HERC YOUR ENTHUSIASM (2013): "Spoonin' Rap" | "Rapper's Delight" | "Rappin' Blow" | "The Incredible Fulk" | "The Adventures of Super Rhyme" | & 20 other Seventies (1974–1983) hip-hop songs. KIRK YOUR ENTHUSIASM (2012): Justice or vengeance? | Kirk teaches his drill thrall to kiss | "KHAAAAAN!" | "No kill I" | Kirk browbeats NOMAD | & 20 other Captain Kirk scenes. KIRB YOUR ENTHUSIASM (2011): THE ETERNALS | BLACK MAGIC | DEMON | OMAC | CAPTAIN AMERICA | & 20 other Jack Kirby panels.