THOMAS DUNBAR (2)
By: Francis Stevens
January 9, 2023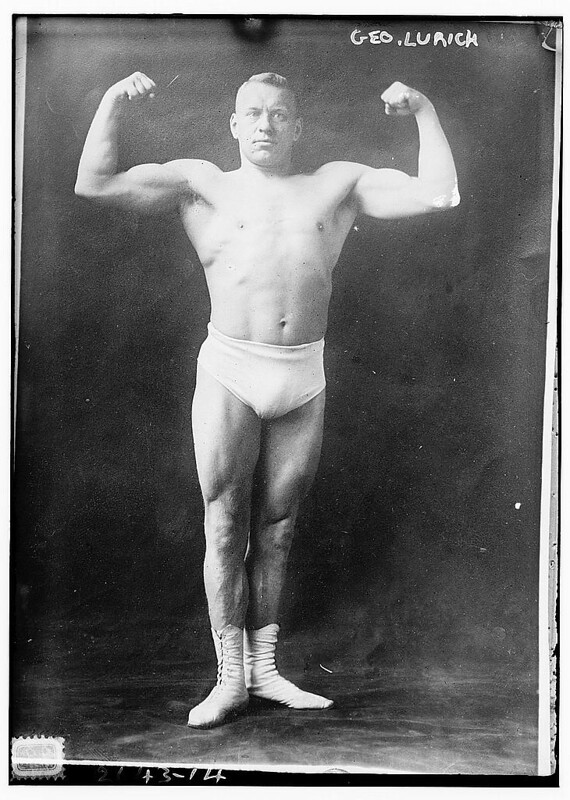 Gertrude M. Barrows, who would later write under the pen name Francis Stevens, published "The Curious Experience of Thomas Dunbar" in The Argosy in 1904. She was nineteen; this was her first proto-sf story. It's one of the earliest tales of a lab-created superman — and most likely the first such story by a female author. HiLoBooks is pleased to serialize it here for HILOBROW's readers.
ALL INSTALLMENTS: 1 | 2 | 3 | 4 | 5 | 6 | 7 | 8.
***
"Would you tell me — if you don't mind — your name?"
"Lawrence."
"Lawrence what?" I whispered. "Just ——?"
"Yes," he smiled (and his face ran into a very tempest of wrinkles) "just Lawrence. No more."
Then I slept.
And I did little but sleep, and wake, and eat, and sleep again, for some five days. And during this time I learned marvelously little of my host and his manner of life.
Most questions he evaded cleverly, but he told me that it was his auto which had nearly ruined my earthly tenement; Lawrence had himself taken me from the scene of the accident without waiting for an ambulance, telling the police and bystanders that I was an acquaintance. He had carried me to his own house, because, he said, he felt somewhat responsible for my injuries and wanted to give me a better chance for my life than the doctors would allow me.
He seemed to be possessed of a great scorn for all doctors. I knew long after that he had studied the profession very thoroughly, and in many countries, and truly held the right to the title he contemptuously denied himself.
At the time I considered only that he had cured me up in wonderfully short order, considering the extent of the injuries I had received, and that I had suffered not at all. Therefore I was grateful.
Also he told me, on I forget what occasion, that his mother was a Japanese woman of very ancient descent, his father a scholarly and rather wealthy American. And for some eccentric reason of his own, his dwarfed son had chosen to eschew his family patronym and use merely his Christian name.
During the time I lay in bed I saw no servants; Lawrence did all things necessary. And never, day or night, did the humming and sighing of the machines cease.
Lawrence spoke vaguely of great dynamos, but on this subject, as on most others, he was very reticent. Frequently I saw him in the dress of a mechanic, for he would come in to see me at all hours of the day, and I imagine must have inconvenienced himself considerably for my welfare.
I had no particular friends to worry about my whereabouts, and so I lay quiet and at peace with the world for those five days in inert contentment.
Then an hour came — it was in the morning, and Lawrence had left me to go to his laboratory — when I became suddenly savagely impatient of the dull round. Weak though I was, I determined to dress and get out into the open air — out into the world.
Mind you, during those five days I had seen no face save that of my dwarfed host, heard no voice but his. And so my impatience overcame my good judgment and his counsels, and I declared to myself that I was well enough to join once more in the rush of life.
***
RADIUM AGE PROTO-SF: "Radium Age" is Josh Glenn's name for the nascent sf genre's c. 1900–1935 era, a period which saw the discovery of radioactivity, i.e., the revelation that matter itself is constantly in movement — a fitting metaphor for the first decades of the 20th century, during which old scientific, religious, political, and social certainties were shattered. More info here.
SERIALIZED BY HILOBOOKS: Jack London's The Scarlet Plague | Rudyard Kipling's With the Night Mail (and "As Easy as A.B.C.") | Arthur Conan Doyle's The Poison Belt | H. Rider Haggard's When the World Shook | Edward Shanks' The People of the Ruins | William Hope Hodgson's The Night Land | J.D. Beresford's Goslings | E.V. Odle's The Clockwork Man | Cicely Hamilton's Theodore Savage | Muriel Jaeger's The Man With Six Senses | Jack London's "The Red One" | Philip Francis Nowlan's Armageddon 2419 A.D. | Homer Eon Flint's The Devolutionist | W.E.B. DuBois's "The Comet" | Edgar Rice Burroughs's The Moon Men | Charlotte Perkins Gilman's Herland | Sax Rohmer's "The Zayat Kiss" | Eimar O'Duffy's King Goshawk and the Birds | Frances Hodgson Burnett's The Lost Prince | Morley Roberts's The Fugitives | Helen MacInnes's The Unconquerable | Geoffrey Household's Watcher in the Shadows | William Haggard's The High Wire | Hammond Innes's Air Bridge | James Branch Cabell's Jurgen | John Buchan's "No Man's Land" | John Russell's "The Fourth Man" | E.M. Forster's "The Machine Stops" | John Buchan's Huntingtower | Arthur Conan Doyle's When the World Screamed | Victor Bridges' A Rogue By Compulsion | Jack London's The Iron Heel | H. De Vere Stacpoole's The Man Who Lost Himself | P.G. Wodehouse's Leave It to Psmith | Richard Connell's "The Most Dangerous Game" | Houdini and Lovecraft's "Imprisoned with the Pharaohs" | Arthur Conan Doyle's "The Sussex Vampire" | Francis Stevens's "Friend Island" | George C. Wallis's "The Last Days of Earth" | Frank L. Pollock's "Finis" | A. Merritt's The Moon Pool | E. Nesbit's "The Third Drug" | George Allan England's "The Thing from — 'Outside'" | Booth Tarkington's "The Veiled Feminists of Atlantis" | H.G. Wells's "The Land Ironclads" | J.D. Beresford's The Hampdenshire Wonder | Valery Bryusov's "The Republic of the Southern Cross" | Algernon Blackwood's "A Victim of Higher Space" | A. Merritt's "The People of the Pit" | Max Brand's The Untamed | Julian Huxley's "The Tissue-Culture King" | Clare Winger Harris's "A Runaway World" | Francis Stevens's "Thomas Dunbar" | George Gurdjieff's "Beelzebub's Tales" | Robert W. Chambers's "The Harbor-Master".