HADRON AGE SF (32)
By: Joshua Glenn
August 9, 2022
One in a series of posts about the 75 best sf adventures published during the genre's Hadron Age era (from 2004–2023, according to HILOBROW's periodization schema). For Josh Glenn's Hadron Age Sci-Fi 75 list (a work in progress), click here.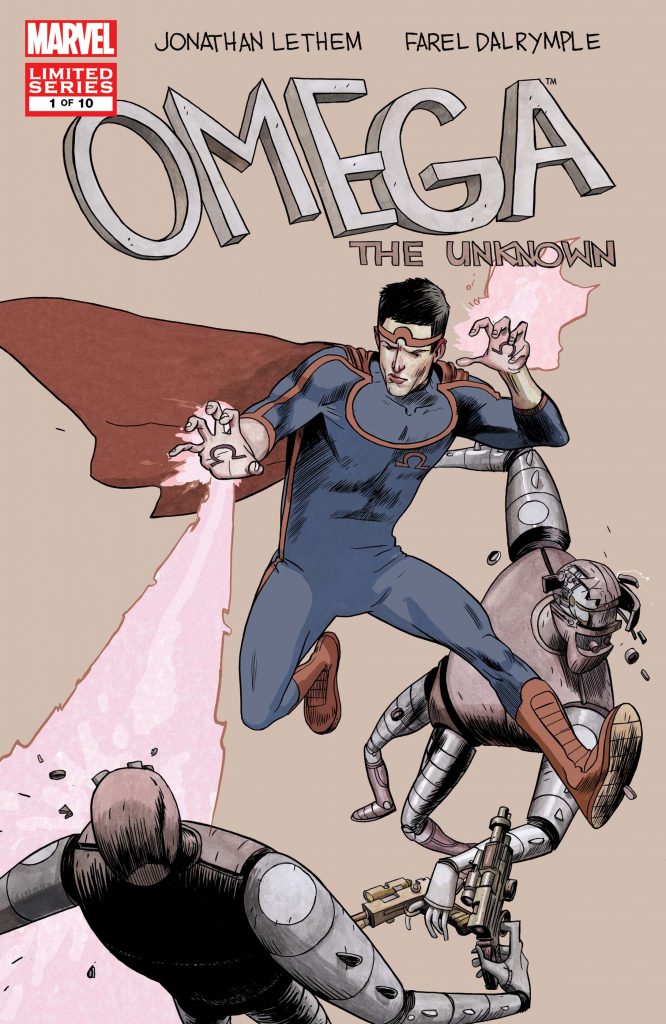 Jonathan Lethem & Farel Dalrymple's Omega the Unknown (2007–2008).
Omega the Unknown was a 1976–1977 Marvel comic — w. Steve Gerber (Howard the Duck) and Mary Skrenes, ill. Jim Mooney — about James-Michael, a 12-year-old boy who discovers that his parents are robots. He is rescued from alien mechanical beings by Omega, a silent superhero about whom he regularly dreams. Unusual in its oneiric plot and emphasis on the unusually analytical adolescent, the first issue of the never-completed series became a cult classic… rating a pithy mention, for example, in Jonathan Lethem's 2003 semi-autobiographical novel The Fortress of Solitude. Lethem, who was himself 12 when Omega the Unknown first appeared, would end up revamping the series in this 10-issue series illustrated by Farel Dalrymple. Here, the tactiturn Omega combats galaxy-spanning epidemic of nano-robots; and young Alexander is attacked by macro-scale robot warriors programmed to hunt down and kill members of Omega's order of heroes. The Mink, a nominal superhero more concerned with self-promotion than actual heroics, provides comic relief; he reminds this reader of a Canadian villain from Howard the Duck known as Le Beaver. Bright and awkward, Alex must find a new home, a new school, and new friends… and figure out his role in helping Omega save the world. Dalrymple's artwork, which as ever manages to be both action-packed and somehow awkward and self-conscious, is perfectly suited for Lethem's themes here.
Fun facts: There's a terrific guest-art appearance by the iconic RAW contributor Gary Panter, while Paul Hornschemeier, another indie comics favorite of mine, provides the coloring for the series.
***
JOSH GLENN'S *BEST ADVENTURES* LISTS: BEST 250 ADVENTURES OF THE 20TH CENTURY | 100 BEST OUGHTS ADVENTURES | 100 BEST RADIUM AGE (PROTO-)SCI-FI ADVENTURES | 100 BEST TEENS ADVENTURES | 100 BEST TWENTIES ADVENTURES | 100 BEST THIRTIES ADVENTURES | 75 BEST GOLDEN AGE SCI-FI ADVENTURES | 100 BEST FORTIES ADVENTURES | 100 BEST FIFTIES ADVENTURES | 100 BEST SIXTIES ADVENTURES | 75 BEST NEW WAVE SCI FI ADVENTURES | 100 BEST SEVENTIES ADVENTURES | 100 BEST EIGHTIES ADVENTURES | 75 BEST DIAMOND AGE SCI-FI ADVENTURES | 100 BEST NINETIES ADVENTURES | 75 BEST HADRON AGE SCI-FI ADVENTURES.