HADRON AGE SF (16)
By: Joshua Glenn
April 20, 2022
One in a series of posts about the 75 best sf adventures published during the genre's Hadron Age era (from 2004–2023, according to HILOBROW's periodization schema). For Josh Glenn's Hadron Age Sci-Fi 75 list (a work in progress), click here.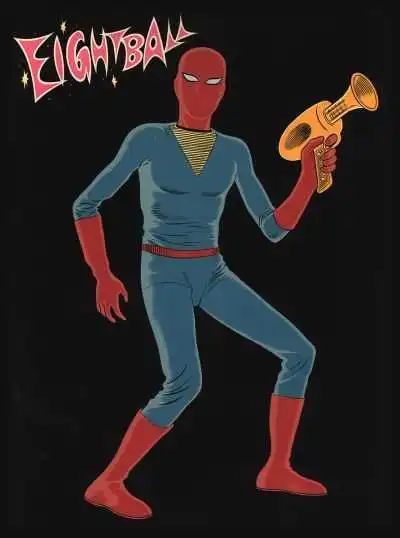 Daniel Clowes's The Death-Ray (serialized 2004; as a book, 2011).
Superhero comics are OK for adolescents, Clowes would have readers of his own work — for example, the "Dan Pussey" stories — understand, but adults who still enjoy them are pathetic. ("When that [2002] Spiderman movie came out, journalists called me asking for my opinion," he told me in an interview that same year. "I told them, 'Um, I liked Spiderman when I was 13 or 14.'") With The Death-Ray, first published as the final issue of his 1984–2004 solo anthology comic Eightball, Clowes expands upon this mordant line of thought — giving us a bullied high-school dweeb, Andy, whose vengeful fantasies are given an outlet when he miraculously develops superpowers and acquires a ray gun. Several years before the Mark Millar and John Romita Jr. comic Kick-Ass would explore similar territory, Andy his nihilistic buddy Louis — Andy is Louis's sidekick, then vice-versa — wage a campaign of terror on the jocks and jerks of 1970s Chicago. In a series of vignettes that vary in tone and style, jump backward and forward in time, and make masterful use of panel layout and perspective, we see Andy evolve into the kind of callous, misanthropic "superman" about whom Radium Age science fiction authors tried to warn us. A series of possible endings to this grim parable suggest that a superhero would necessarily be an emotionally stunted figure.
Fun fact: In a 2011 interview, Clowes articulated the story's autobiographical impetus: "I'm… interested in kind of exploring why as a teenager I was sort of interested in the kind of power fantasies behind being a superhero, and I'm kind of exploring what would happen if someone like myself at age 16 were to be given this kind of ultimate power and what kind of awful things would I have done."
***
JOSH GLENN'S *BEST ADVENTURES* LISTS: BEST 250 ADVENTURES OF THE 20TH CENTURY | 100 BEST OUGHTS ADVENTURES | 100 BEST RADIUM AGE (PROTO-)SCI-FI ADVENTURES | 100 BEST TEENS ADVENTURES | 100 BEST TWENTIES ADVENTURES | 100 BEST THIRTIES ADVENTURES | 75 BEST GOLDEN AGE SCI-FI ADVENTURES | 100 BEST FORTIES ADVENTURES | 100 BEST FIFTIES ADVENTURES | 100 BEST SIXTIES ADVENTURES | 75 BEST NEW WAVE SCI FI ADVENTURES | 100 BEST SEVENTIES ADVENTURES | 100 BEST EIGHTIES ADVENTURES | 75 BEST DIAMOND AGE SCI-FI ADVENTURES | 100 BEST NINETIES ADVENTURES | 75 BEST HADRON AGE SCI-FI ADVENTURES.