ISOLATION JAMS (2)
By: Mark Ramos Nishita
March 20, 2022
Beginning in March 2020, HILOBROW friend Mark Ramos Nishita (aka Money Mark) helped lift our spirits during the COVID lockdown by posting dozens of ingenious and funky "isolation jams" to his Instagram account. With Mark's permission, over the next few weeks we will present a curated selection of this series. Click on each installment's date to watch the video!
---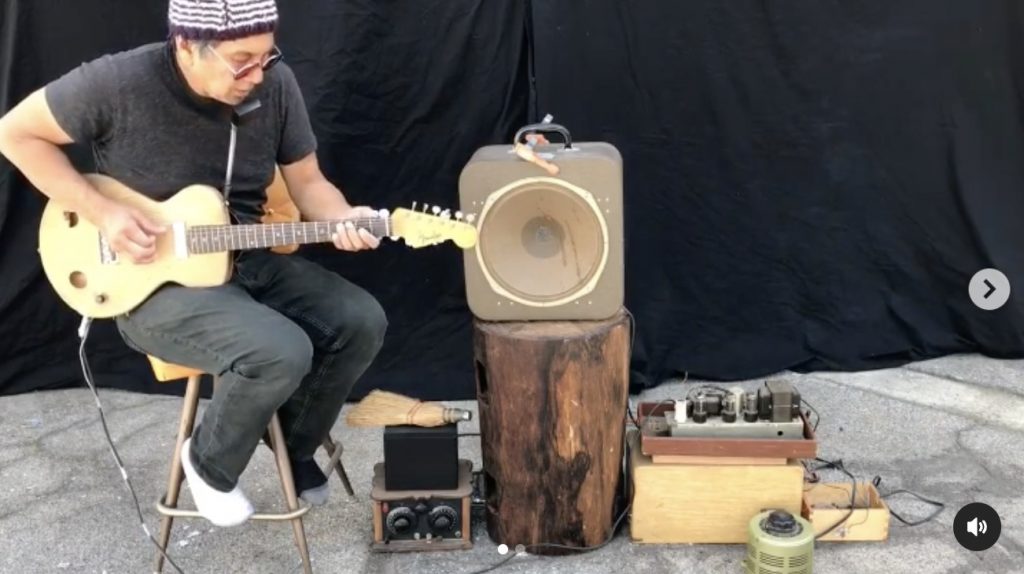 Isolation jams number 14… woke up and saw @gretathunberg on the cover of Rolling Stone. This post is inspired by the great women and femme energy of our time. The famous and the unsung. I believe this paradigm shift is the right way to go. Care-givers, farmers, child health workers, mothers… it's too many to name. They do, by far, a disproportionate share of the labor in this world to make sure we are fed, clothed and safe. This is not a debatable issue. Count me as an ally. I know good men are with me. Older folk, are you listening to the youth speak? Hope so. On set is a handmade guitar by @oldstyleguitarshop, a found typewriter case I turned into a speaker box, an amp gutted from a broken Thomas organ, my feedback mic mounted ala #lespaul right onto the guitar body and a Variac for sound soaking (technical) rolling stone artwork by my bud @obeygiant.
***
CURATED SERIES at HILOBROW: DRAWING TABLE WORLD by Theo Ellsworth | PARAMAX by Max Glenn | YUKO ODA by Yuko Oda | PLAGUE YEAR by Rick Pinchera | NOOSFERA by Charles Glaubitz | A SILENT HALLUCINATION by Alex Gerasev | BUNNY CITY by Gary Panter | HOP UP by Lucy Sante | HERE BE MONSTERS by Mister Reusch | DOWNTOWNE by Bradley Peterson | OUTBOUND TO MONTEVIDEO by Mimi Lipson | STERANKOISMS by Douglas Wolk | COOLING OFF THE COMMOTION by Chenjerai Kumanyika | UNFLOWN by Jacob Covey | ADEQUATED by Franklin Bruno | PINAKOTHEK by Lucy Sante | BIGFOOT ISLAND by Michael Lewy | DAILY DRUMPF by Rick Pinchera | WINDS OF MAGIC by James Parker | MUSEUM OF FEMORIBILIA by Lynn Peril | ROBOTS + MONSTERS by Joe Alterio | ANNOTATED GIF by Kerry Callen | NOMADBROW by Erik Davis | & many others.