ISOLATION JAMS (1)
By: Mark Ramos Nishita
March 17, 2022
Beginning in March 2020, HILOBROW friend Mark Ramos Nishita (aka Money Mark) helped lift our spirits during the COVID lockdown by posting dozens of ingenious and funky "isolation jams" to his Instagram account. With Mark's permission, over the next few weeks we will present a curated selection of this series. Click on each installment's date to watch the video.
Here are a few introductory words from Mark:
As a music creator and songwriter, I do my best work as a collaborator because I'm good at making sparks of ideas come alive. That's kind of what these Isolation Jams are — nothing big, just little vignettes of potent sound, sound poems, noise or melody. Ah! The melody. Not quite architectural all alone (or hmm, maybe sometimes they are) but mostly really important pieces of building material. Sometimes it's a bass line, or it's a beat or a cool noise, or a kind of shiny ornament of a sound. Come into my shop, browse up and down the aisles, and pick out something nice for your next tune. Enjoy these picks from HILOBROW!
---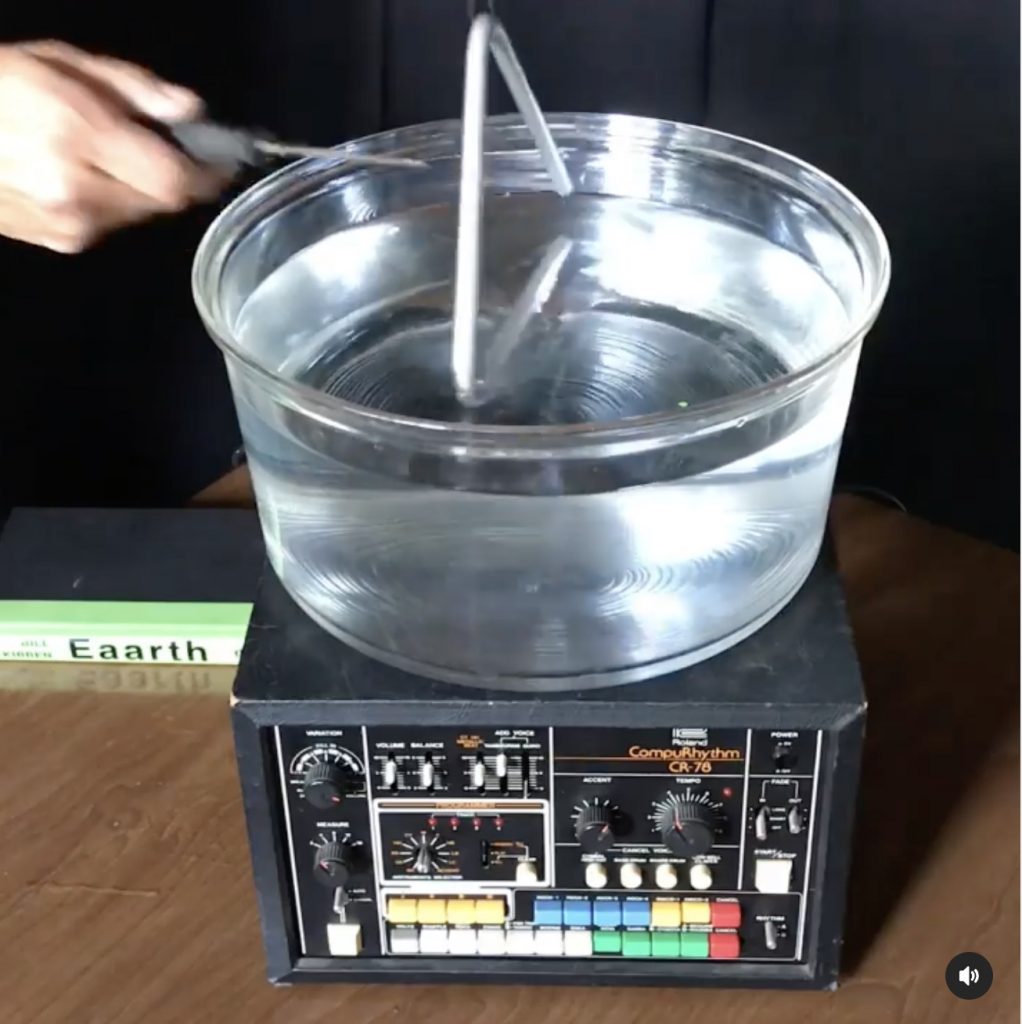 This experimental piece was inspired by John Cage. Been washing my hands so much in the basin — made me think of Water Music. My classic CR-78 and metal meets water. Our world, our habitat is a giant experiment! In geological time — we've been here for the tiniest fraction. C'mon, let's make it good. Everybody In.
***
CURATED SERIES at HILOBROW: DRAWING TABLE WORLD by Theo Ellsworth | PARAMAX by Max Glenn | YUKO ODA by Yuko Oda | PLAGUE YEAR by Rick Pinchera | NOOSFERA by Charles Glaubitz | A SILENT HALLUCINATION by Alex Gerasev | BUNNY CITY by Gary Panter | HOP UP by Lucy Sante | HERE BE MONSTERS by Mister Reusch | DOWNTOWNE by Bradley Peterson | OUTBOUND TO MONTEVIDEO by Mimi Lipson | STERANKOISMS by Douglas Wolk | COOLING OFF THE COMMOTION by Chenjerai Kumanyika | UNFLOWN by Jacob Covey | ADEQUATED by Franklin Bruno | PINAKOTHEK by Lucy Sante | BIGFOOT ISLAND by Michael Lewy | DAILY DRUMPF by Rick Pinchera | WINDS OF MAGIC by James Parker | MUSEUM OF FEMORIBILIA by Lynn Peril | ROBOTS + MONSTERS by Joe Alterio | ANNOTATED GIF by Kerry Callen | NOMADBROW by Erik Davis | & many others.