FINIS (5)
By: Frank L. Pollock
August 15, 2021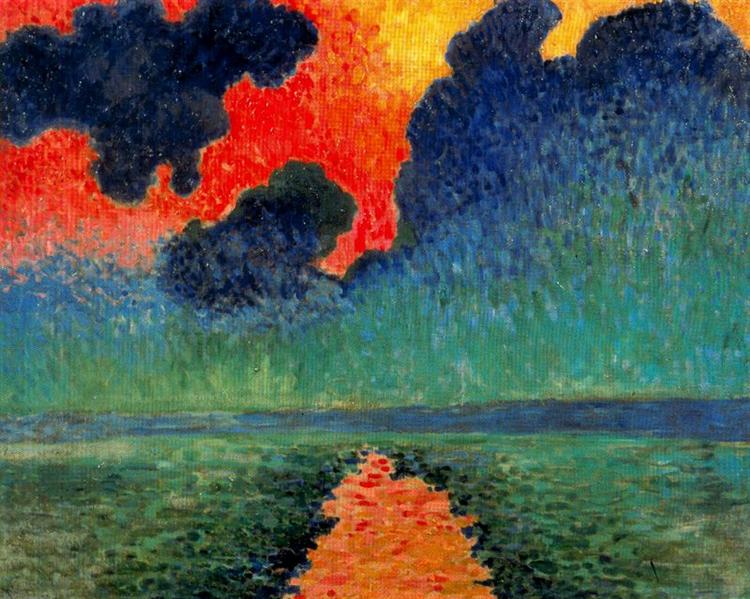 "Effect of Sun on the Water, London" (1906) by Andre Derain
HiLoBooks is pleased to serialize Canadian author Frank L. Pollock's 1906 proto-sf story "Finis" (also published as: "The Last Dawn") for HILOBROW's readers.
ALL INSTALLMENTS: 1 | 2 | 3 | 4 | 5.
***
This fever and horror lasted until he forgot that he had ever known another state; but at last the west reddened, and the flaming sun went down. It left the familiar planet high in the heavens, and there was no darkness until the usual hour, though there was a slight lowering of the temperature.
But when night did come it brought life-giving coolness, and though the heat was still intense it seemed temperate by comparison. More than all, the kindly darkness seemed to set a limit to the cataclysmic disorders of the day.
"Ouf! This is heavenly!" said Eastwood, drawing long breaths and feeling mind and body revived in the gloom.
"It won't last long," replied Alice, and her voice sounded extraordinarily calm through the darkness. "The heat will come again when the new sun rises in a few hours."
"We might find some better place in the meanwhile — a deep cellar; or we might get into the subway," Eastwood suggested.
"It would be no use. Don't you understand? I have been thinking it all out. After this, the new sun will always shine, and we could not endure it even another day. The wave of heat is passing round the world as it revolves, and in a few hours the whole earth will be a burnt-up ball. Very likely we are the only people left alive in New York, or perhaps in America."
She seemed to have taken the intellectual initiative, and spoke with an assumption of authority that amazed him.
"But there must be others," said Eastwood, after thinking for a moment. "Other people have found sheltered places, or miners, or men underground."
"They would have been drowned by the rain. At any rate, there will be none left alive by tomorrow night.
"Think of it," she went dreamily,"'for a thousand years this wave of fire has been rushing towards us, while life has been going on so happily in the world, so unconscious that the world was doomed all the time. And now this is the end of life."
"I don't know," Eastwood said slowly. "It may be the end of human life, but there must be some forms that will survive — some micro-organisms perhaps capable of resisting high temperatures, if nothing higher. The seed of life will be left at any rate, and that is everything. Evolution will begin over again, producing new types to suit the changed conditions. I only wish I could see what creatures will be here in a few thousand years.
"But I can't realize it at all — this thing!" he cried passionately, after a pause. "Is it real? Or have we all gone mad? It seems too much like a bad dream."
The rain crashed down again as he spoke, and the earth steamed, though not with the dense reek of the day. For hours the waters roared and splashed against the earth in hot billows till the streets were foaming yellow rivers, dammed by the wreck of fallen buildings.
There was a continual rumble as earth and rock slid into the East River, and at last the Brooklyn Bridge collapsed with a thunderous crash and splash that made all Manhattan vibrate. A gigantic billow like a tidal wave swept up the river from its fall.
The downpour slackened and ceased soon after the moon began to shed an obscured but brilliant light through the clouds.
Presently the east commenced to grow luminous, and this time there could be no doubt as to what was coming.
Alice crept closer to the man as the grey light rose upon the watery air.
"Kiss me!" she whispered suddenly, throwing her arms around his neck. He could feel her trembling. "Say you love me; hold me in your arms. There is only an hour."
"Don't be afraid. Try to face it bravely," stammered Eastwood.
"I don't fear it — not death. But I have never lived. I have always been timid and wretched and afraid — afraid to speak — and I've almost wished for suffering and misery or anything rather than to be stupid and dumb and dead, the way I've always been.
"I've never dared to tell anyone what I was, what I wanted. I've been afraid all my life, but I'm not afraid now. I have never lived; I have never been happy; and now we must die together!"
It seemed to Eastwood the cry of the perishing world. He held her in his arms and kissed her wet, tremulous face that was strained to his.
The twilight was gone before they knew it. The sky was blue already, with crimson flakes mounting to the zenith, and the heat was growing once more intense.
"This is the end, Alice," said Eastwood, and his voice trembled.
She looked at him, her eyes shining with an unearthly softness and brilliancy, and turned her face to the east.
There, in crimson and orange, flamed the last dawn that human eyes would ever see.
***
RADIUM AGE PROTO-SF: "Radium Age" is Josh Glenn's name for the nascent sf genre's c. 1900–1935 era, a period which saw the discovery of radioactivity, i.e., the revelation that matter itself is constantly in movement — a fitting metaphor for the first decades of the 20th century, during which old scientific, religious, political, and social certainties were shattered. More info here.
SERIALIZED BY HILOBOOKS: Jack London's The Scarlet Plague | Rudyard Kipling's With the Night Mail (and "As Easy as A.B.C.") | Arthur Conan Doyle's The Poison Belt | H. Rider Haggard's When the World Shook | Edward Shanks' The People of the Ruins | William Hope Hodgson's The Night Land | J.D. Beresford's Goslings | E.V. Odle's The Clockwork Man | Cicely Hamilton's Theodore Savage | Muriel Jaeger's The Man With Six Senses | Jack London's "The Red One" | Philip Francis Nowlan's Armageddon 2419 A.D. | Homer Eon Flint's The Devolutionist | W.E.B. DuBois's "The Comet" | Edgar Rice Burroughs's The Moon Men | Charlotte Perkins Gilman's Herland | Sax Rohmer's "The Zayat Kiss" | Eimar O'Duffy's King Goshawk and the Birds | Frances Hodgson Burnett's The Lost Prince | Morley Roberts's The Fugitives | Helen MacInnes's The Unconquerable | Geoffrey Household's Watcher in the Shadows | William Haggard's The High Wire | Hammond Innes's Air Bridge | James Branch Cabell's Jurgen | John Buchan's "No Man's Land" | John Russell's "The Fourth Man" | E.M. Forster's "The Machine Stops" | John Buchan's Huntingtower | Arthur Conan Doyle's When the World Screamed | Victor Bridges' A Rogue By Compulsion | Jack London's The Iron Heel | H. De Vere Stacpoole's The Man Who Lost Himself | P.G. Wodehouse's Leave It to Psmith | Richard Connell's "The Most Dangerous Game" | Houdini and Lovecraft's "Imprisoned with the Pharaohs" | Arthur Conan Doyle's "The Sussex Vampire" | Francis Stevens's "Friend Island" | George C. Wallis's "The Last Days of Earth" | Frank L. Pollock's "Finis" | A. Merritt's The Moon Pool | E. Nesbit's "The Third Drug" | George Allan England's "The Thing from — 'Outside'" | Booth Tarkington's "The Veiled Feminists of Atlantis" | H.G. Wells's "The Land Ironclads" | J.D. Beresford's The Hampdenshire Wonder | Valery Bryusov's "The Republic of the Southern Cross"