Best 1998 Adventures (3)
By: Joshua Glenn
October 8, 2020
One in a series of 10 posts identifying Josh Glenn's favorite 1998 adventure novels.
*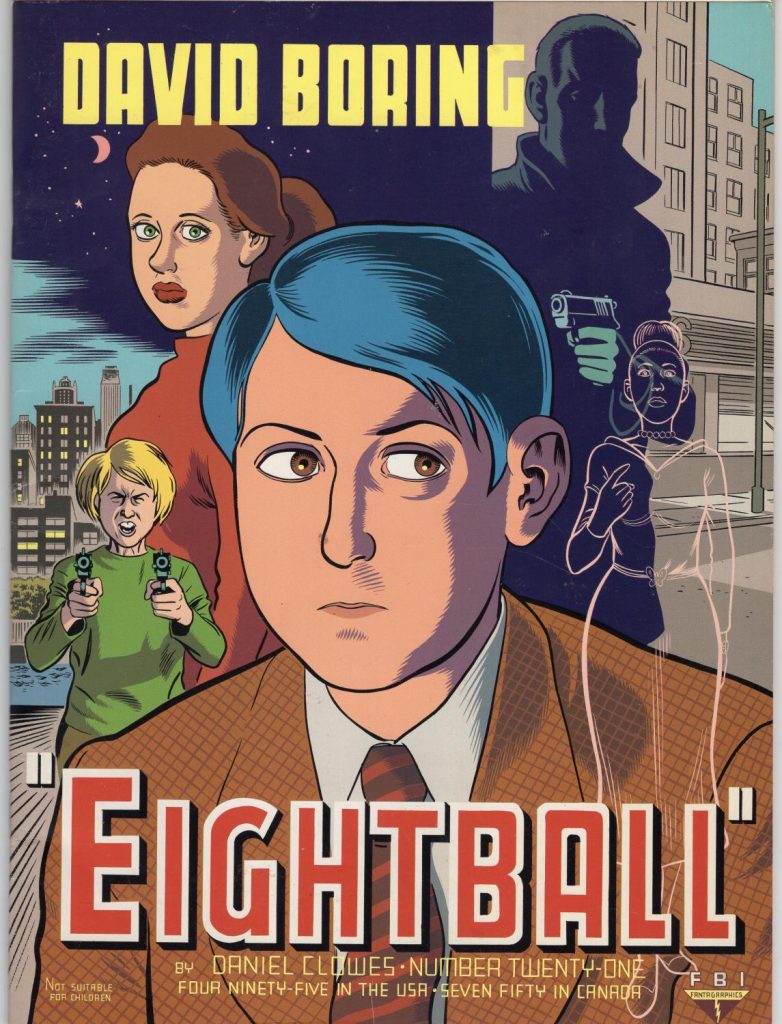 Daniel Clowes's apophenic graphic novel David Boring (serialized 1998–2000).
As some sort of international conflict involving germ warfare looms menacingly, David Boring roams an unnamed city in search of the perfect woman. He falls in love with Wanda, whom he (mistakenly) believes is the very one he's been seeking; however, she breaks up with him — and then a mysterious stranger shows up and shoots David in the head. He survives, with a small dent in his forehead, and ends up retreating with his mother, his roommate and friend Dot, and various others to a Boring family compound on the island Hulligan's Wharf; terrorist gas attacks have contaminated the mainland, they are informed. Romantic hijinks ensue, with the result that Dot ends up running away with David's cousin Iris, and his mother runs away with Iris's husband — who may or may not have killed Iris's mother. Back in the city, David encounters the man who shot him, as well as Wanda's sister, Judy, a married woman whom he now believes to be the woman he truly needs. A federal agent shows up, who — obsessed with Iris — determines to frame Dot and David for murder. After other misadventures, the friends make their way back to Hulligan's Wharf, where they hope to survive what may or may not be the end of civilization as we know it. One of my favorite aspects of the story is how David broods over specific panels in Golden Age comics written and drawn by his missing father; I find this extremely evocative.
Fun facts: Asked to describe David Boring in a one-sentence sales pitch, Daniel Clowes said, "It's like Fassbinder meets half-baked Nabokov on Gilligan's Island." The graphic novel was serialized in issues #19–21 of Clowes's comic book Eightball, and appeared in collected form in 2000.
MORE CLOWES on HILOBROW: Joshua Glenn's 1999 Q&A with Daniel Clowes | Joshua Glenn's 2002 Q&A with Daniel Clowes | Josh also has an essay, "Against Groovy," on Clowes' anti-boomer ferocity, anti-hipsterism, apocalyptic fantasy, and trashy messianism, in The Daniel Clowes Reader.
***
JOSH GLENN'S *BEST ADVENTURES* LISTS: BEST 250 ADVENTURES OF THE 20TH CENTURY | 100 BEST OUGHTS ADVENTURES | 100 BEST RADIUM AGE (PROTO-)SCI-FI ADVENTURES | 100 BEST TEENS ADVENTURES | 100 BEST TWENTIES ADVENTURES | 100 BEST THIRTIES ADVENTURES | 75 BEST GOLDEN AGE SCI-FI ADVENTURES | 100 BEST FORTIES ADVENTURES | 100 BEST FIFTIES ADVENTURES | 100 BEST SIXTIES ADVENTURES | 75 BEST NEW WAVE SCI FI ADVENTURES | 100 BEST SEVENTIES ADVENTURES | 100 BEST EIGHTIES ADVENTURES | 75 BEST DIAMOND AGE SCI-FI ADVENTURES | 100 BEST NINETIES ADVENTURES | 75 BEST HADRON AGE SCI-FI ADVENTURES | NOTES ON 21st-CENTURY ADVENTURES.