Best 1995 Adventures (5)
By: Joshua Glenn
August 23, 2020
One in a series of 10 posts identifying Josh Glenn's favorite 1995 adventure novels.
*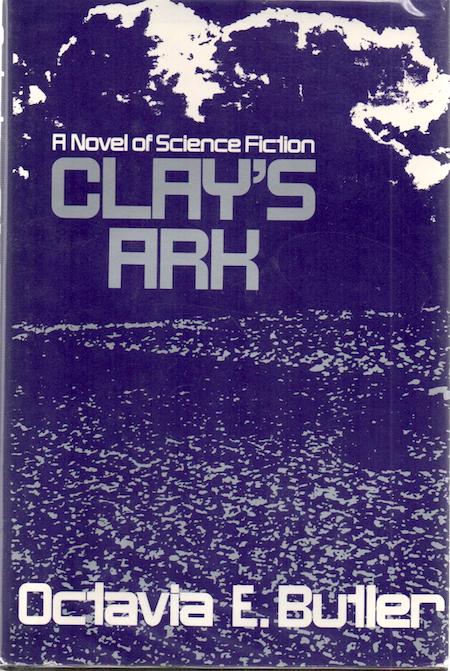 Octavia E. Butler's Patternist adventure Clay's Ark (1984).
In the year 2021, a doctor named Blake and his teenage daughters are captured by Eli Doyle, the only survivor of Clay's Ark, a spaceship that — upon its return from the first manned mission to Proxima Centauri — has crash-landed in southeastern California's Mojave Desert. Infected with an alien microorganism that gives him heightened sensory and physical powers, but which compels him to transmit the infection to others via sexual contact, Eli has isolated himself on an isolated ranch… where he and others whom he's captured (all of whom have been altered, by the microorganism, in ways that allow them to survive and thrive) are raising their sphinx-like offspring — intelligent quadruped mutants who perceive uninfected humans as food, and who can spread the microorganism through their bite. Society, meanwhile, has devolved into armed enclaves, marauding "car families," and other post-apocalyptic phenomena. Blake and his daughters must decide whether to resign themselves to living within Eli's enclave… or escape, and risk not only being captured by even worse predators, but aso creating an uncontrollable epidemic that could forever transform humankind. Though written last, Clay's Ark is chronologically the third in the Patternist series.
Fun facts: With the exception of Kindred in 1979, all of Butler's earlier books are set in the Patternist universe. The first Patternist installment, Patternmaster, was published in 1976.
***
JOSH GLENN'S *BEST ADVENTURES* LISTS: BEST 250 ADVENTURES OF THE 20TH CENTURY | 100 BEST OUGHTS ADVENTURES | 100 BEST RADIUM AGE (PROTO-)SCI-FI ADVENTURES | 100 BEST TEENS ADVENTURES | 100 BEST TWENTIES ADVENTURES | 100 BEST THIRTIES ADVENTURES | 75 BEST GOLDEN AGE SCI-FI ADVENTURES | 100 BEST FORTIES ADVENTURES | 100 BEST FIFTIES ADVENTURES | 100 BEST SIXTIES ADVENTURES | 75 BEST NEW WAVE SCI FI ADVENTURES | 100 BEST SEVENTIES ADVENTURES | 100 BEST EIGHTIES ADVENTURES | 75 BEST DIAMOND AGE SCI-FI ADVENTURES | 100 BEST NINETIES ADVENTURES (in progress) | 1994 | 1995 | 1996 | 1997 | 1998 | 1999 | 2000 | 2001 | 2002 | 2003 | NOTES ON 21st-CENTURY ADVENTURES.