Best 1994 Adventures (6)
By: Joshua Glenn
July 25, 2020
One in a series of 10 posts identifying Josh Glenn's favorite 1994 adventure novels.
*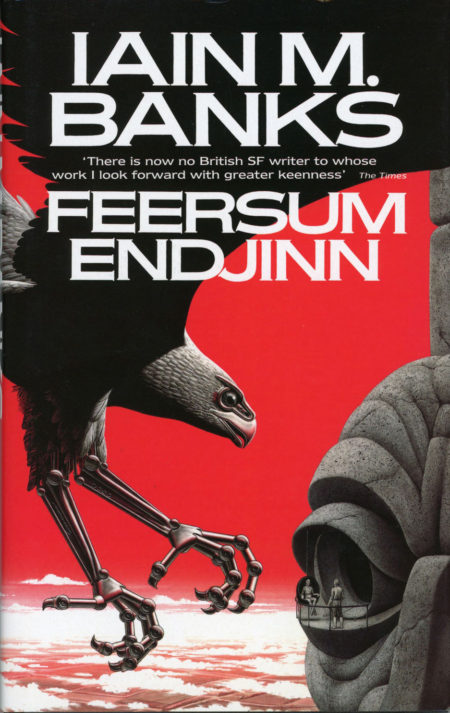 Iain M. Banks's sci-fi adventure Feersum Endjinn.
Too many fans of Banks's Culture series pooh-pooh this, his second non-Culture story — complaining in particular about the Riddley Walker-esque patois in which the character Bascule the Teller speaks. True, it's not as fun as the Culture books… but like them it's a staggering work of imagination, and a lot of fun. This one takes place in a vast, Gormenghastian castle-like structure known as the Fastness, around which the novel's protagonists clamber like ants (one thinks of Aldiss's Non-Stop), and also in the Cryptosphere, a vast dataspace that can be explored virtually, via avatar, and to which millions of personalities have been uploaded — but which is succumbing to entropy and chaos. Sessine, an assassinated military commander, wakes up in the Cryptosphere… only to be assassinated there, too; in this post-singularity future, we discover, a person can die several times, not only in the real world but virtually. We also encounter a top-ranked scientist, Hortis Gadfium, who is conspiring against the King; she is privy to new intel about an approaching catastrophe known as the Encroachment. Asura, a Leeloo-like figure, is tasked with activating the titular "fearsome engine" that will save the solar system… but she has amnesia; captured, she is subjected to a series of virtual-environment storytelling efforts to learn her secret. Meanwhile, Bascule, a Teller (whose job it is to project himself into the Cryptosphere in search of lost information), gets caught up in the political machinations and seeks refuge among chimeric animals. The final chase scene — involving a vacuum balloon ascending a space elevator — is terrific. And honestly, Bascule isn't that hard to understand!
Fun facts: "I used to have these model soldiers, and I wondered what it would be like to be one of those tiny soldiers in a giant house," Banks would later explain in an interview. "I used to have these epic journeys for them. I thought if you had a giant structure, basing it on furniture would be easy."
***
JOSH GLENN'S *BEST ADVENTURES* LISTS: BEST 250 ADVENTURES OF THE 20TH CENTURY | 100 BEST OUGHTS ADVENTURES | 100 BEST RADIUM AGE (PROTO-)SCI-FI ADVENTURES | 100 BEST TEENS ADVENTURES | 100 BEST TWENTIES ADVENTURES | 100 BEST THIRTIES ADVENTURES | 75 BEST GOLDEN AGE SCI-FI ADVENTURES | 100 BEST FORTIES ADVENTURES | 100 BEST FIFTIES ADVENTURES | 100 BEST SIXTIES ADVENTURES | 75 BEST NEW WAVE SCI FI ADVENTURES | 100 BEST SEVENTIES ADVENTURES | 100 BEST EIGHTIES ADVENTURES | 75 BEST DIAMOND AGE SCI-FI ADVENTURES | 100 BEST NINETIES ADVENTURES (in progress) | 1994 | 1995 | 1996 | 1997 | 1998 | 1999 | 2000 | 2001 | 2002 | 2003 | NOTES ON 21st-CENTURY ADVENTURES.