Best 1993 Adventures (1)
By: Joshua Glenn
June 29, 2020
One in a series of 10 posts identifying Josh Glenn's favorite 1993 adventure novels.
*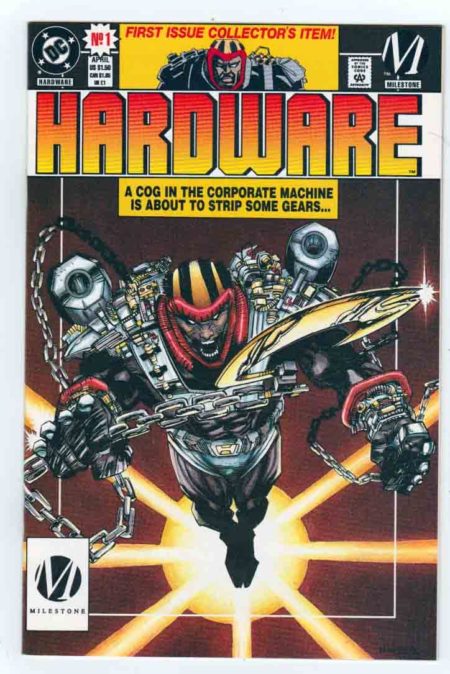 Dwayne McDuffie and Denys Cowan's Hardware comic (1993–1997).
When comics writer Dwayne McDuffie, comics artist Denys Cowan, and other African American talents founded Milestone Comics (published and distributed by DC) in 1993, in order to provide better representation for minorities in comics, McDuffie and Cowan's first title was Hardware. The Iron Man-inspired series features a brilliant corporate scientist, Curtis Metcalf, who creates a high-tech armored suit and goes to war against his supposedly liberal, humanitarian employer, Edwin Alva. ("A cog in the corporate machine is about to strip some gears…") We get a crash course in metallurgy, computer science, nanotechnology, and plasma weapons; one of the coolest aspects of the armor — Hardware 2.0 — is how it integrates the most advanced human technology with that of an alien civilization, the Cooperative. (One device of Cooperative origin, the Inertia Winder — which can absorb and store kinetic energy — seems to have been borrowed by Marvel Comics for its 2018 movie Black Panther.) Metcalf was a working-class prodigy discovered and educated by Alva; a personal, even existential aspect of his crusade concerns his discovery that despite all of Metcalf's extraordinary accomplishments, Alva has never considered him a worthy equal. Since 1997, Hardware has been incorporated into the DC Universe, teaming up with the Blue Beetle, Superman, and others… and even joining the Justice League.
Fun facts: In her Afrofuturism series here at HILOBROW, Adrienne Crew notes — of African American half-human, half-tech superheroes like Cyborg, Deathlok, and Hardware — that these characters are "roboticized examples of the 'tragic mulatto' trope in American culture … mixed-race men and women tortured by their inability to find their place [in the world]."
***
JOSH GLENN'S *BEST ADVENTURES* LISTS: BEST 250 ADVENTURES OF THE 20TH CENTURY | 100 BEST OUGHTS ADVENTURES | 100 BEST RADIUM AGE (PROTO-)SCI-FI ADVENTURES | 100 BEST TEENS ADVENTURES | 100 BEST TWENTIES ADVENTURES | 100 BEST THIRTIES ADVENTURES | 75 BEST GOLDEN AGE SCI-FI ADVENTURES | 100 BEST FORTIES ADVENTURES | 100 BEST FIFTIES ADVENTURES | 100 BEST SIXTIES ADVENTURES | 75 BEST NEW WAVE SCI FI ADVENTURES | 100 BEST SEVENTIES ADVENTURES | 100 BEST EIGHTIES ADVENTURES | 75 BEST DIAMOND AGE SCI-FI ADVENTURES | 100 BEST NINETIES ADVENTURES (in progress) | 1994 | 1995 | 1996 | 1997 | 1998 | 1999 | 2000 | 2001 | 2002 | 2003 | NOTES ON 21st-CENTURY ADVENTURES.