Dwayne McDuffie
By: Adam McGovern
February 20, 2015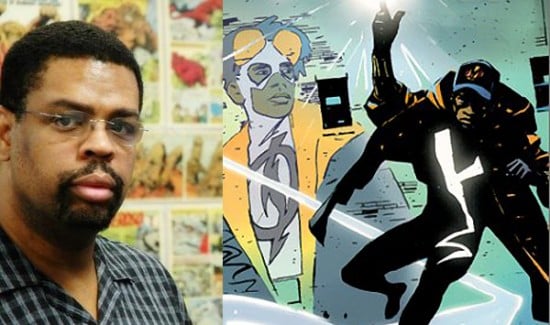 If they ever get a Justice League movie right, it will be a planet we find a flag already planted on by the hypermind of DWAYNE McDUFFIE (1962—2011). McDuffie was the guiding vision of the early-2000s Justice League TV cartoon that defined the franchise and its folkloric meanings for a generation, and showed mass culture how this modern pantheon should be done. He also co-conceived the Milestone Comics universe, an early-1990s imprint putting characters of color to the forefront of a theretofore colonial pop-culture genre and refreshing the superhero idiom like few others at the end of its founding century were doing. (It also replenished the artform's talent pool, giving starts to some of the most original practitioners still distinguishing the medium today.) McDuffie created Milestone stars like Icon, "the Black Superman" (which McDuffie always resisted calling him), and Static, beloved by another cartoon-watching generation for his own animated series as Static Shock. McDuffie knew that classics got that way by being fresh the first time, which is what he did for books like Fantastic Four and Justice League of America itself in the mid-2000s, the first with the editors' largesse and the latter with their incessant meddling, but both brilliant and both accentuating a lineup that looked like America, with multicultural casts and multilayered yet crystal-clear characterizations and storylines. The way for franchises to move forward and mean something new to those who will always need them was known to McDuffie, and few voids as vast have been opened by a creative innovator who died too young. The future belonged to Dwayne McDuffie, and though he won't be there, lucky ones will be looking all around them at what his eyes already saw.
***
On his or her birthday, HiLobrow irregularly pays tribute to one of our high-, low-, no-, or hilobrow heroes. Also born this date: Poison Ivy, Scott Wannberg, Manny Farber, Kurt Cobain, Rihanna.
READ MORE about members of the Original Generation X (1954–1963).