Best 1991 Adventures (8)
By: Joshua Glenn
May 28, 2020
One in a series of 10 posts identifying Josh Glenn's favorite 1991 adventure novels.
*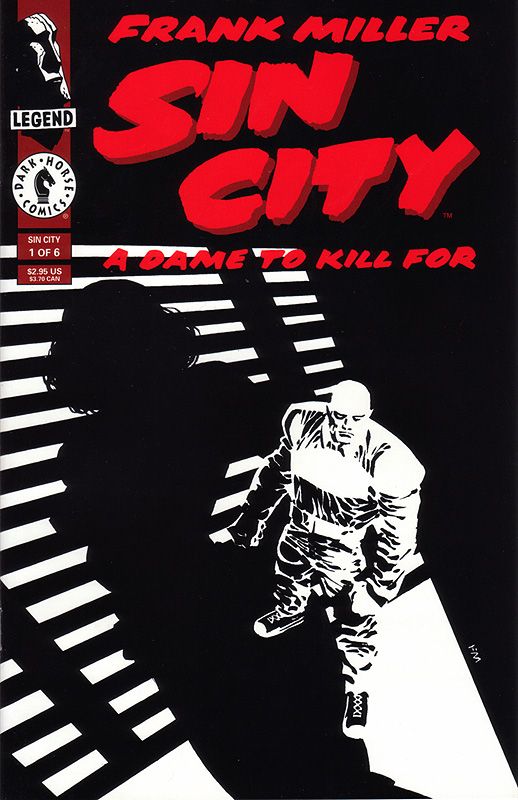 Frank Miller's neo-noir Sin City comics (serialized 1991–2000).
"It's kinda like the old Rolling Stones song, where 'every cop's a criminal, and all the sinners are saints,'" Miller has explained, "where the lowlifes would often be heroic, and the most stridently beautiful and sweet women would be prostitutes." Sin City is an interrelated series of mostly black-and-white "yarns," set in the titular city somewhere in the American West. We'll meet the same characters several times — including the massive, heavily scarred Marv, whom Miller would describe as "Conan in a trench coat"; Dwight McCarthy, a nihilist with a history of drinking, violence, and wild love affairs; Gail, an Uzi-wielding dominatrix who runs the red-light district with an iron fist; and Miho, a mute female assassin. In "The Hard Goodbye" (Dark Horse Presents issues #51–62) for example, Marv wakes up after a one-night stand to discover that Goldie, a woman who somehow was able to overlook his hideous appearance, is dead; he's been framed for murder, and he's out for revenge. And in "A Dame to Kill For" (November 1993–May 1994), Dwight attempts to rescue his former fiancée, Ava, from her abusive husband; but is she the victim? Writing in HILOBROW, Adam McGovern has hailed the series' "macabre cautionary desensitization and humorous overstatement."
Fun facts: The comics have been collected in various paperback and hardcover editions, each more gorgeous than the previous. "The Hard Goodbye," "The Big Fat Kill," and "The Yellow Bastard" were adapted as Robert Rodriguez and Frank Miller's 2005 movie Sin City, which stars Jessica Alba, Benicio del Toro, Brittany Murphy, Clive Owen, Mickey Rourke, Bruce Willis, and Elijah Wood. There was a 2014 sequel, and there is supposedly a TV series reboot in the works.
***
JOSH GLENN'S *BEST ADVENTURES* LISTS: BEST 250 ADVENTURES OF THE 20TH CENTURY | 100 BEST OUGHTS ADVENTURES | 100 BEST RADIUM AGE (PROTO-)SCI-FI ADVENTURES | 100 BEST TEENS ADVENTURES | 100 BEST TWENTIES ADVENTURES | 100 BEST THIRTIES ADVENTURES | 75 BEST GOLDEN AGE SCI-FI ADVENTURES | 100 BEST FORTIES ADVENTURES | 100 BEST FIFTIES ADVENTURES | 100 BEST SIXTIES ADVENTURES | 75 BEST NEW WAVE SCI FI ADVENTURES | 100 BEST SEVENTIES ADVENTURES | 100 BEST EIGHTIES ADVENTURES | 75 BEST DIAMOND AGE SCI-FI ADVENTURES | 100 BEST NINETIES ADVENTURES (in progress) | 1994 | 1995 | 1996 | 1997 | 1998 | 1999 | 2000 | 2001 | 2002 | 2003 | NOTES ON 21st-CENTURY ADVENTURES.