Best 1989 Adventures (9)
By: Joshua Glenn
April 23, 2020
One in a series of 10 posts identifying Josh Glenn's favorite 1989 adventure novels.
*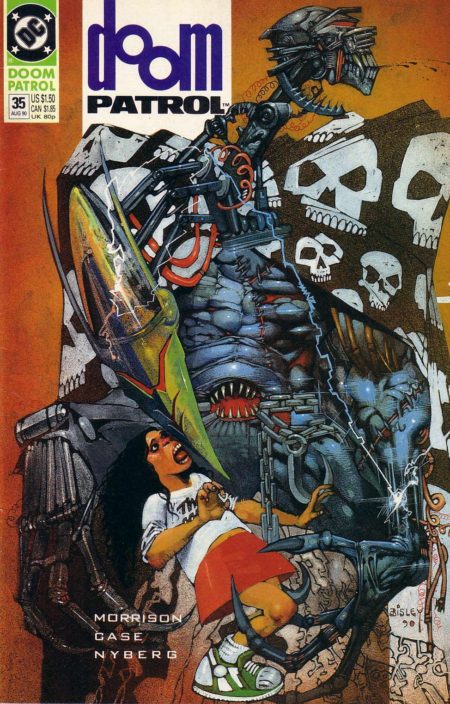 Grant Morrison and Richard Case's Doom Patrol comic (1989–1993).
"Le Poète est semblable au prince des nuées/Qui hante la tempête et se rit de l'archer," laments Baudelaire, in "L'Albatros." "Exilé sur le sol au milieu des huées,/Ses ailes de géant l'empêchent de marcher." The Doom Patrol, as the superhero team first appeared in DC's My Greatest Adventure #80 (June 1963), could relate. The Chief, a wealthy, paraplegic, brilliant scientist-inventor; Robotman, a former daredevil and race-car driver turned cyborg; Elasti-Girl, a former athlete and actress who can expand or shrink her body at will; and Negative Man, a former test pilot who can release a negatively charged energy being from his body — they perceive their so-called gifts as a curse, dooming them to a life of alienation. Scottish comic book writer Grant Morrison, part of the far-out British Invasion of American comics that included as Alan Moore and Neil Gaiman, took over the relaunched Doom Patrol series in 1989; DC stopped submitting the title to the CCA for approval around that time. The resulting run — from issues 19 through 63 — was wild. The Chief (whom, we will later discover, may have had something nefarious to do with the origin stories of his comrades) leads Robotman (a brain, remember, trapped in a body without nerves), Rebis (a queer, transgender, transracial entity combining Negative Man, his energy spirit, and Eleanor Poole, a black doctor), Crazy Jane (a victim of sexual abuse; each of her 64 alternate personalities has a different super-power), and a monkey-ish psychic named Dorothy against the Scissormen — metatextual, Struwwelpeter-like inquisitors who worship a god that exists at the crossroads where realities meet, and whose cut-up dialogue reads like Dada poetry. Ultimately, the Doom Patrol's weirdness proves to be the key to its effectiveness: They often team up with so-called villains in order to combat the neo-fascist, Foucauldian forces that police sexual identity and gender norms. Richard Case's trippy artwork is simultaneously engaging and nightmare-inducing.
Fun facts: The last line of Morrison's run quotes the Smiths' "Asleep": "There is another world/There is a better world/Well, there must be…." It's a beautiful statement of revolutionary optimism for an era that had largely abandoned utopian idealism.
***
JOSH GLENN'S *BEST ADVENTURES* LISTS: BEST 250 ADVENTURES OF THE 20TH CENTURY | 100 BEST OUGHTS ADVENTURES | 100 BEST RADIUM AGE (PROTO-)SCI-FI ADVENTURES | 100 BEST TEENS ADVENTURES | 100 BEST TWENTIES ADVENTURES | 100 BEST THIRTIES ADVENTURES | 75 BEST GOLDEN AGE SCI-FI ADVENTURES | 100 BEST FORTIES ADVENTURES | 100 BEST FIFTIES ADVENTURES | 100 BEST SIXTIES ADVENTURES | 75 BEST NEW WAVE SCI FI ADVENTURES | 100 BEST SEVENTIES ADVENTURES | 100 BEST EIGHTIES ADVENTURES | 75 BEST DIAMOND AGE SCI-FI ADVENTURES | 100 BEST NINETIES ADVENTURES (in progress) | 1994 | 1995 | 1996 | 1997 | 1998 | 1999 | 2000 | 2001 | 2002 | 2003 | NOTES ON 21st-CENTURY ADVENTURES.