Best 1988 Adventures (9)
By: Joshua Glenn
March 28, 2020
One in a series of 10 posts identifying Josh Glenn's favorite 1988 adventure novels.
*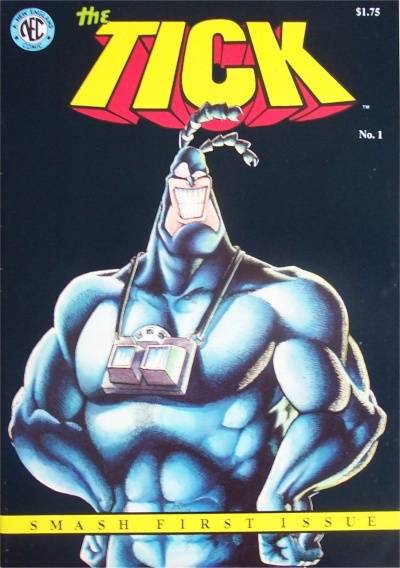 Ben Edlund's parodic superhero comic The Tick (1988–1993).
In 1986, Brockton, Mass., high-school student Ben Edlund created a parodic superhero along the lines of, for example, Megaton Man; or, going back further, Superduperman, as a newsletter mascot for the New England Comics chain of stores. The Tick, a 300-pound, seven-foot-tall doofus whose desire to fight evildoers is admirable but often misguided, is — in his earliest incarnation — an escapee from a mental institution. He's bugged out. Beginning in 1988, New England Comics would publish a dozen installments, in low-budget black-and-white, of The Tick comic… which was surprisingly complex and awesome, considering the fact that Edlund was still a MassArt student, at that point. The titles tell the tale: e.g., "High Rise Hijinx" (June 1988), "Night of a Million-Zillion Ninja" (December 1988), "Spoon!" (February 1990), "Some Obstacles and a Partial Resolution" (October 1991). The Tick's sidekick, the hapless Arthur, was introduced in the 4th issue. There have been many superhero parodies, but this one was different: It is impossible not to love the Tick, who is given to issuing garbled, Adam West-esque pronunciamentos about crimefighting. The Tick's milieu — underappreciated superheroes, hanging out together but not really getting along — is highly entertaining; Edlund would help create a supervillain version for Dr. Horrible's Sing-Along Blog. A high point for low humor.
Fun facts: Edlund walked away from The Tick comic after signing a deal to adapt the characters into a Saturday morning cartoon for Fox. The 1994 series, in which Townsend Coleman voiced the Tick and Mickey Dolenz (!) voiced Arthur in the first season, attracted a legion of new fans for the character. Two live-action TV series have also been based on the character; I enjoyed the short-lived 2001 series starring Patrick Warburton and David Burke, haven't seen the more recent series from Amazon yet.
***
JOSH GLENN'S *BEST ADVENTURES* LISTS: BEST 250 ADVENTURES OF THE 20TH CENTURY | 100 BEST OUGHTS ADVENTURES | 100 BEST RADIUM AGE (PROTO-)SCI-FI ADVENTURES | 100 BEST TEENS ADVENTURES | 100 BEST TWENTIES ADVENTURES | 100 BEST THIRTIES ADVENTURES | 75 BEST GOLDEN AGE SCI-FI ADVENTURES | 100 BEST FORTIES ADVENTURES | 100 BEST FIFTIES ADVENTURES | 100 BEST SIXTIES ADVENTURES | 75 BEST NEW WAVE SCI FI ADVENTURES | 100 BEST SEVENTIES ADVENTURES | 100 BEST EIGHTIES ADVENTURES | 75 BEST DIAMOND AGE SCI-FI ADVENTURES | 100 BEST NINETIES ADVENTURES (in progress) | 1994 | 1995 | 1996 | 1997 | 1998 | 1999 | 2000 | 2001 | 2002 | 2003 | NOTES ON 21st-CENTURY ADVENTURES.